The Morning Dispatch: Is the COVID Surge Led by Protests or Partiers?
Plus, Tim Scott takes center stage.
Happy Wednesday! Can you guess which Morning Dispatcher listened to Kanye West's new song 24 times yesterday?
Quick Hits: Today's Top Stories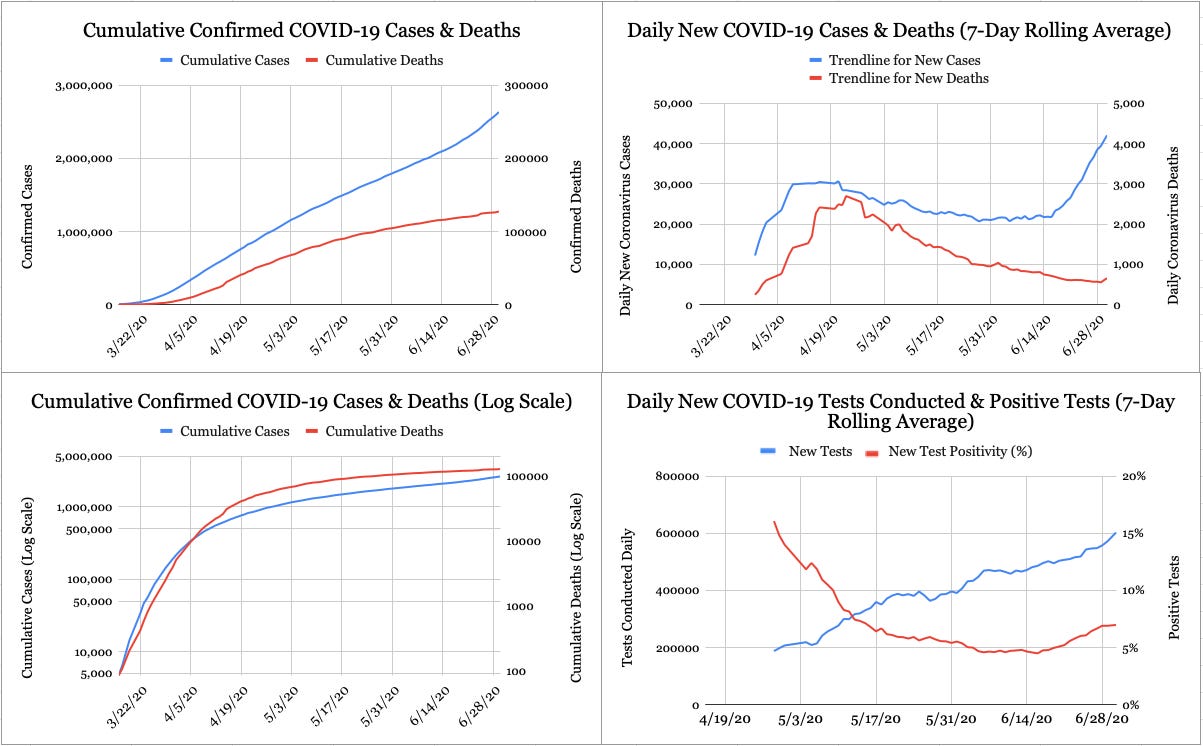 Are COVID Surges Attributable to the Recent Protests?
Over the last month, the two biggest stories in America have been the anti-racism protests sparked by the death of George Floyd and the rapid resurgence of COVID-19 following two months of the virus slowing. The obvious question linking the two: Have weeks of mass assembly and protest been an accelerant to viral transmission?
It's been difficult to drill down on this question, in part because of accusations of politicization and fuzzy data collection. New York City and San Francisco, for instance, have opted not to have their COVID contact tracers ask potentially infected people whether they attended a protest—a strategy that has undoubtedly made the relationship between protests and the pandemic harder to suss out. 
Nevertheless, enough data has trickled in to give us a rough idea of our answer. Based on what we know now, while the George Floyd protests may have presented an increased infection risk to the protesters themselves, it seems they haven't yet caused broader infection spikes in the cities in which they took place.
Let's unpack this a little. To begin with, there's the fact that many protesters have taken steps to cut down on transmission—maintaining some level of social distancing even in a crowd, wearing masks, and, most critically, protesting outdoors, where passing along a critical load of the virus is far more difficult.
This is the reason most frequently cited for why many hoped the protests would not lead to case spikes, but it's not a sufficient explanation in itself. After all, as any epidemiologist would tell you, all these precautions are simply a matter of managing risk—they might limit spread within a group, but there's no guarantee they can prevent it. 
Sure enough, the data from those cities and states that have kept tabs on infections at protests shows that in many cases some transmission was in fact taking place. In Boston, 400 protesters later tested positive for COVID. In Houston, police officers reported increased cases among their ranks after the protests. And in South Carolina, demonstrators cut off in-person protests early after 13 demonstrators tested positive for the virus. 
And yet many of the cities that experienced the biggest protests, like New York, Philadelphia, and Minneapolis, have seen no major changes yet to their former coronavirus trajectories. The city of San Francisco might not be keeping track of protest attendance in its contact tracing, but Alameda County, which includes many of its suburbs, is asking those questions—and county officials say the protests are "not emerging as a risk for the most recent cases that we're seeing in the county."
So what gives here? The missing link here appears to be in the behavior not of the protestors but of everyone else. These mass protests didn't begin back in April, when most of the country was still hermetically sealed away, but in June, when it was already well on its way to reopening. The protesters were the ones making headlines, but the whole country was already beginning to get comfortable mingling again.
Or at least they were getting comfortable, until the protests started. For many, the prospect of major civic unrest proved just as powerful an inducement to stay at home as the virus itself had months before. According to a fascinating new study of cellphone data in 300 U.S. cities from the National Bureau of Economic Research, this actually meant that social distancing increased on the whole in cities with major protests during the days when those protests were at their fiercest.
This one-two punch—that protests may have raised the risk of infection among the marchers but indirectly lowered it in their communities more widely—has been garbled in some press reports, which have erroneously suggested that it demonstrates no link between protests and the pandemic at all. This is both misleading and decreasingly true: Although the protests are ongoing, the major social unrest that accompanied them for much of June has largely subsided. Going by the logic of the NBER report, this would suggest that ongoing protests could be more likely to have a net positive effect on new infections.
On the other side of the coin, some commentators have pointed to the relative youth of many new COVID patients as a strong indicator that protests, overwhelmingly constituted of the young, may have played a major role in the latest surge. There may be something to this—but experts we spoke to point out that young people are also likeliest to be participating in high-risk activities like socializing at bars. As Dr. Anthony Fauci testified yesterday in Congress: "Bars, really not good. Really not good."
While there are undeniable partisan pressures to think of the latest round of COVID transmission as being simply due to protests or simply due to increased economic activity, the reality is that these things likely feed into one another. One place where the disease has taken off in recent days is Atlanta, a city that was racked by protests and is in a state that was one of the earliest in the nation to begin the reopening process. To suppose there wasn't some overlap beggars belief; it isn't as though America is made up of those who protest police brutality and those who get drinks with their friends.It's the exponential logic of infection: Bars may be more dangerous than protests, but the more bar infections take place, the more dangerous protests will get, and the more protest infections take place, the less safe anyone will be at a bar.
'There Are Days, I Am Sure, He Feels Like a Man Without a Home'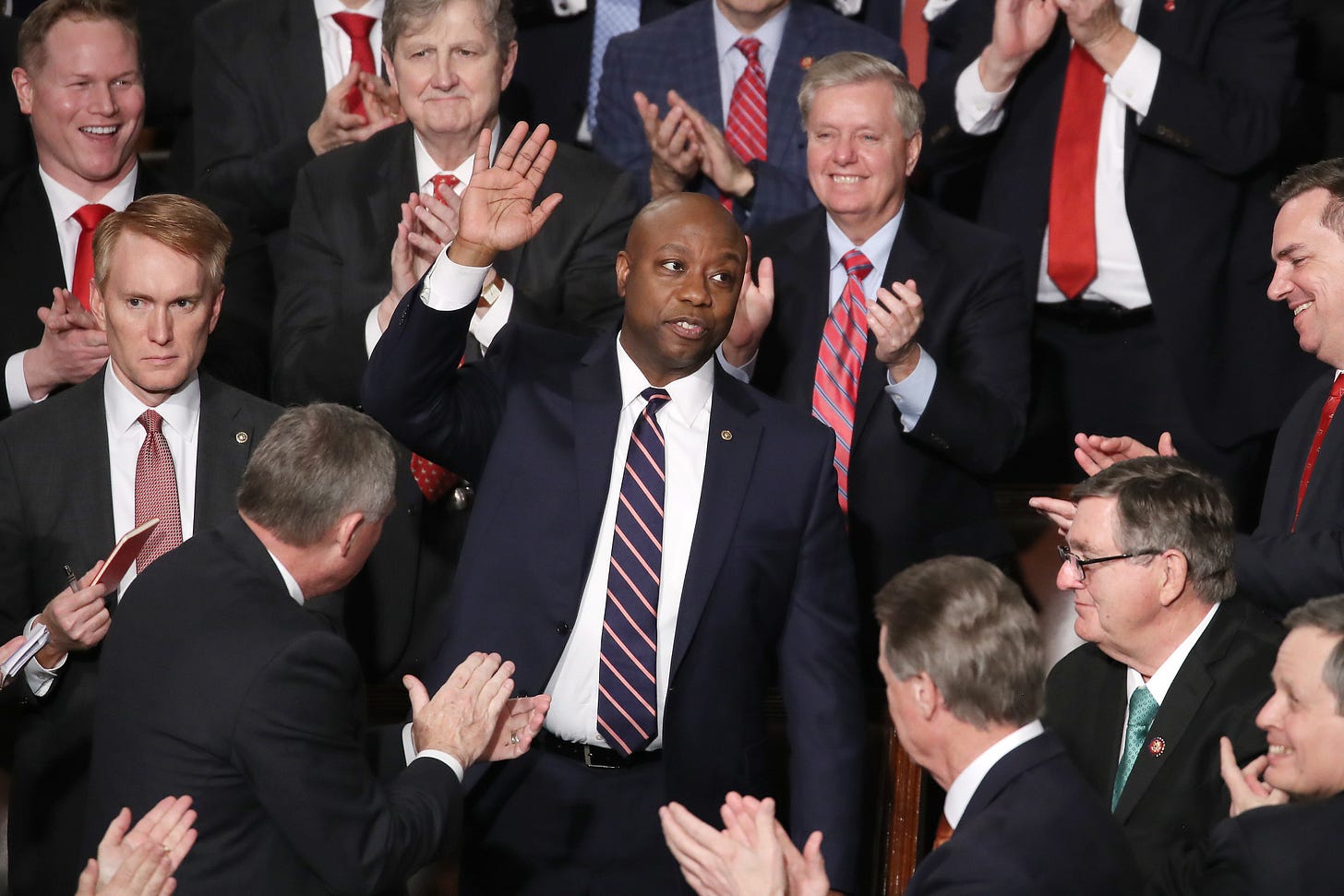 South Carolina Sen. Tim Scott has been in the news recently for his work on the GOP's (now stalled) police reform efforts. But even without major legislation pending, he's one of the most interesting members of Congress.
Declan talked to Scott and some of his colleagues—including Mitt Romney, Ben Sasse, Trey Gowdy, and Marco Rubio—about Scott's role in the Republican party. Some excerpts of his profile are below, but you can read the whole thing here.
On Scott's decision to join the Republican Party:
If it weren't for a handful of Democrats running for the Charleston County Council 25 years ago, Scott's career could have been a whole lot more conventional—and a whole lot less impactful. He was a successful businessman in Charleston—he owned his own Allstate agency—when he began thinking about a career in public service. The local Democratic Party told him to "get in line." The Republican Party? "We'd love to see you run."

"There's no doubt that number one, philosophically, I'm a Republican," Scott told me. "I was then, I am now. But everybody that I knew that was African American was a Democrat. So my natural inclination was at least to give it a shot."

Does he wish more black politicians made the choice he did, forever losing the 'lone black Republican in the Senate' tagline included in every story about him? "Misery loves company." I could hear his smile through the phone. "I welcome all to come and have some of this! That would be awesome!"

But one quarter-century and a national political career later, he's happy with his decision. "Sometimes you gotta thank God when they say no," he said with a laugh. "Had I been a Democrat—even if I was lucky enough to somehow convince South Carolina voters to vote for me as a Democrat—then my relationship with the White House would have been completely different now. … I find myself having access to the president when I need it the most, and when I want it usually."
On the tightrope he tries to walk between the different aspects of his identity:
To Scott, his blackness and his partisan affiliation makes perfect sense: He's lived the American dream, rising from poverty to build a series of successful businesses. He's a devout Christian committed to the preservation of religious liberty. But to interlopers projecting their own experiences and beliefs onto him, two of his three core identities are in direct contradiction with one another. Leaning too hard into one elicits accusations of being traitorous to the other.

Look at Twitter. "Tim Scott was the house negro who run to the master to tell that other slaves were planning to run away. Slavery might be over but Tim Scott's mind is still in chains and shackles," one reply to Scott says. "I need you to STOP talking about Charlottesville like our President said something racist when you and I BOTH KNOW HE DIDN'T. STOP SPREADING THAT SHIT. IT'S A LIE and you KNOW it," reads another.

Scott himself tried to provide a window into his world on the Senate floor after Jeff Sessions' attorney general confirmation battle in February 2017. "I go on to read from folks who wanted to share their opinions about my endorsing Jeff Sessions," he read. "'You are a disgrace to the black race.' Anthony Burnum at @burmanr says, 'You are an Uncle Tom, Scott. You're for Sessions. How does a black man turn on his own?'" Scott took off his glasses. "I left out all the ones that used the N-word. Just felt like that would not be appropriate."

"If you sign up to be a black conservative, the chances are very high you will be attacked. It comes with the territory."

A lifetime of vitriol has certainly thickened Scott's skin. But the result is a heartbreaking numbness. "I felt this way in high school," he acknowledged. "I kind of liked everybody and didn't want to be pigeonholed. I was called everything from Oreo to the N-word. Which was fascinating back then. It's not quite as fascinating now because I've had it so often. It's"—he paused—"you know, you shrug your shoulders at most of it."
Worth Your Time
Presented Without Comment
Toeing the Company Line
Let Us Know
Who do you think has been the most influential member of Congress these past few years? What criteria did you use to arrive at your conclusion?
Reporting by Declan Garvey (@declanpgarvey), Andrew Egger (@EggerDC), Sarah Isgur (@whignewtons), Charlotte Lawson (@charlotteUVA), Audrey Fahlberg (@FahlOutBerg), Nate Hochman (@njhochman), and Steve Hayes (@stephenfhayes).