The Morning Dispatch: Meet the Impeachment Managers
Plus, Mike Bloomberg leads Trump by seven points in Michigan. Wait, what?
Happy Thursday! We were going to come up with a joke here, but there is nothing funnier this morning than Tom Steyer interrupting Bernie Sanders and Elizabeth Warren after the debate Tuesday night to say "I don't want to get in the middle of this, I just want to say hi Bernie," only for Sanders to walk away saying "yeah, good, okay."
Quick Hits: What You Need to Know
On to the Senate!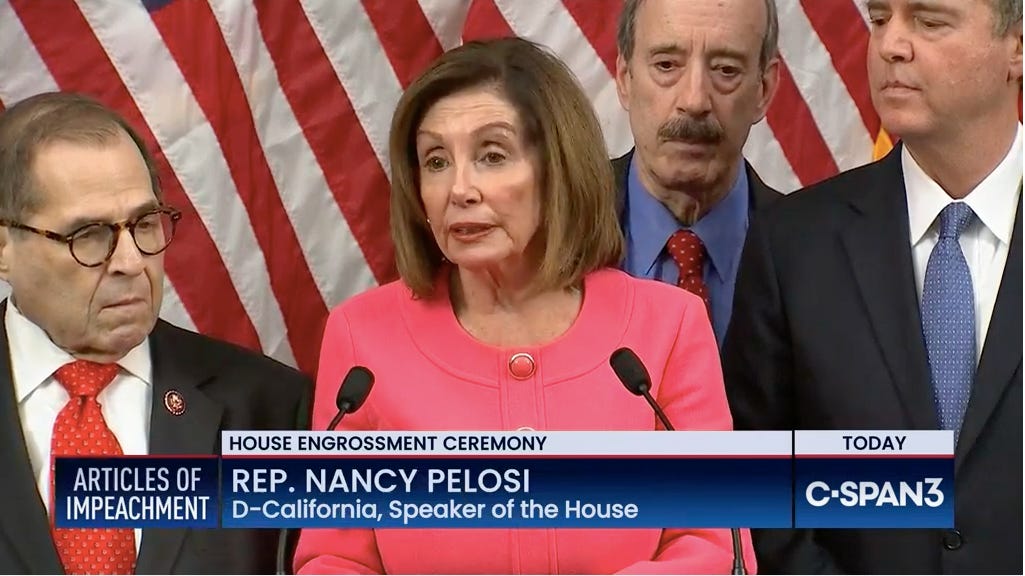 After nearly a month of helicopter-parenting the articles of impeachment against President Trump, House Speaker Nancy Pelosi has finally allowed them to leave the nest. On Wednesday afternoon, the House voted to send the articles to the Senate, where Mitch McConnell plans to begin Trump's trial on Tuesday. 
In a press conference, Pelosi pushed back on the notion that, with Trump's eventual acquittal in the GOP-led Senate practically a foregone conclusion, the impeachment inquiry was a waste of time and effort: "We are here today to cross a very important threshold in American history," she said. "When someone is impeached, they are always impeached. It cannot be erased." 
Pelosi also announced her selections to serve as impeachment managers—the lawmakers who will serve as prosecutors before the Senate, making the case for why senators should vote to convict. 
The managers selected were a who's who of the Democrats involved with the impeachment effort, plus a few members with particular legal expertise or experience with past impeachments. In the former camp, there's Adam Schiff and Jerry Nadler, the respective chairs of the two committees most heavily involved with the impeachment: Intelligence and Judiciary. 
Rounding out the cast: 
One name notably absent from the list is Michigan Representative Justin Amash, the Republican-turned-independent who has been an outspoken critic of Trump's Ukraine dealings. Amash would have given the proceedings a more bipartisan gloss but Pelosi apparently had other priorities. With impeachment managers locked and loaded, the cast of characters for next week's trial is almost done taking shape. But there's still one more major decision left to come, one from the other side of the aisle: The White House has yet to decide whether to bring prominent House Republicans on board to aid their defense. 
It's a question GOP lawmakers have been squabbling about behind the scenes for more than a week. House leaders want Trump to invite some of his standout defenders from the impeachment inquiry—Reps. Jim Jordan, John Ratcliffe, and Doug Collins among them—to assist White House counsel Pat Cipollone in orchestrating and running Trump's rebuttal to the charges. Reportedly, Trump himself loves the idea, but he has met with stiff resistance from Senate leadership, who would rather the trial be a dry and formulaic affair—one less likely to scare off fence-sitters like Susan Collins and Lisa Murkowski—than descend into another bare-knuckle brawl.
For their part, House Republicans insist they're in a position to help out with far more than optics, given the months of impeachment experience they've already got under their belts—experience that Cipollone's team, which was frozen out of the first half of the impeachment inquiry and opted not to participate in the second, currently lacks. "In prior impeachments, the president has had counsel in the room throughout the whole process," a House source familiar with the process told The Dispatch. "That obviously wasn't true in this case. So some of it would be the familiarity with the case itself, potentially to include a speaking role." 
But with the trial's start date looming, the White House has yet to make a decision on the matter, leaving the House Republicans in question twisting in the wind. We asked that source how soon they expected to hear for sure: "Presumably by next Tuesday, right?" 
What Is Mike Bloomberg Doing?
After sending out a meatball-related tweet and other, well, interesting content during Tuesday's debate, Mike Bloomberg awoke to an even more surprising headline: Mike Bloomberg holds seven-point lead on Trump in Michigan.
Here at The Dispatch, we are quick to caution our readers on the value of outlier polling. But nationally Bloomberg has been polling within a point of Mayor Buttigieg and well ahead of Andrew Yang and Amy Klobuchar. So it's time to dive in.
First, the money. Bloomberg has spent more than$200 million already but he's concentrating it in swing states. For example, Bloomberg aired television ads in Michigan over Thanksgiving and spent $1 million just in the first week. He's spending another $10 million to buy 60 seconds during the Super Bowl. And then there's the $100 million he's pledged to spend on digital advertising in Michigan, Wisconsin, Pennsylvania, and Arizona. For those keeping score at home: By the time Michigan primary voters head to the polls on March 10, Michael Bloomgerg is expected to have spent about $400 million across all of these media markets with the heaviest spends in Wisconsin, Florida, Texas, Arizona, Michigan, Pennsylvania, and North Carolina. Mama mia, that's a spicy meatball!
Second, the delegates. Since 1992, the DNC has instituted a 15 percent threshold for delegates. According to our friends at FiveThirtyEight, "there has never been a primary or caucus in which four candidates have earned more than 15 percent of the vote state- or territory-wide." Bloomberg is currently sitting at fifth nationally and in fifth or sixth even in states where he has already spent significant sums of money like California and Texas. That means he is on track potentially to win zero delegates. (Yes, the delegates are also allocated by congressional district so he could outperform his statewide polling in specific media markets and pick up a few delegates that way.)
So what's he doing? 
Hard to say. At first, there was a good case that he was planning to use the FCC's "lowest unit rate" rule, which requires television providers to offer steep discounts for advertising to federal candidates in the run-up to a primary or general election, to run tons of ads against Donald Trump at a cheaper rate and win the undying affection of the Democratic Party. But if you've seen any of Bloomberg's ads, they are almost entirely about … Bloomberg! 
So if he's intentionally skipping the debates, not campaigning in the early states, not on track to win any delegates, and not targeting Trump (and let's not forget his refusal to release any of the women who have accused him of fostering a hostile work environment from their NDAs), why is he up seven points against Trump in Michigan? 
It's hard to say, but maybe polls like this speak more to the general electorate's dissatisfaction with the current Democratic options than they do to Mike Bloomberg. 
Worth Your Time
Presented Without Comment
In light of Michael Avenatti being jailed yesterday:
Something Fun
There are 10 types of movies—and only 10.
Toeing the Company Line
Let Us Know
Amid all this impeachment mess, someone appears to have spotted former National Security Adviser John Bolton walking the streets of Doha, Qatar, by himself.
Will Tooke of the Huffington Post took the liberty of adding music to the clip.
"A Thousand Miles" by Vanessa Carlton was an excellent choice. But there are others. What song should John strut to? (Declan will edit some of your submissions together for tomorrow.)
Reporting by Declan Garvey (@declanpgarvey), Andrew Egger (@EggerDC), Sarah Isgur (@whignewtons), and Steve Hayes (@stephenfhayes).