The Morning Dispatch: Pardon Me?
Plus, an update on the primary election in Wisconsin's 7th District.
Happy Wednesday! Now that we (and LeBron) got Major League Baseball Commissioner Rob Manfred to apologize, we can return to our regularly scheduled programming.
Quick Hits: Today's Top Stories
Trump Goes on a Clemency Spree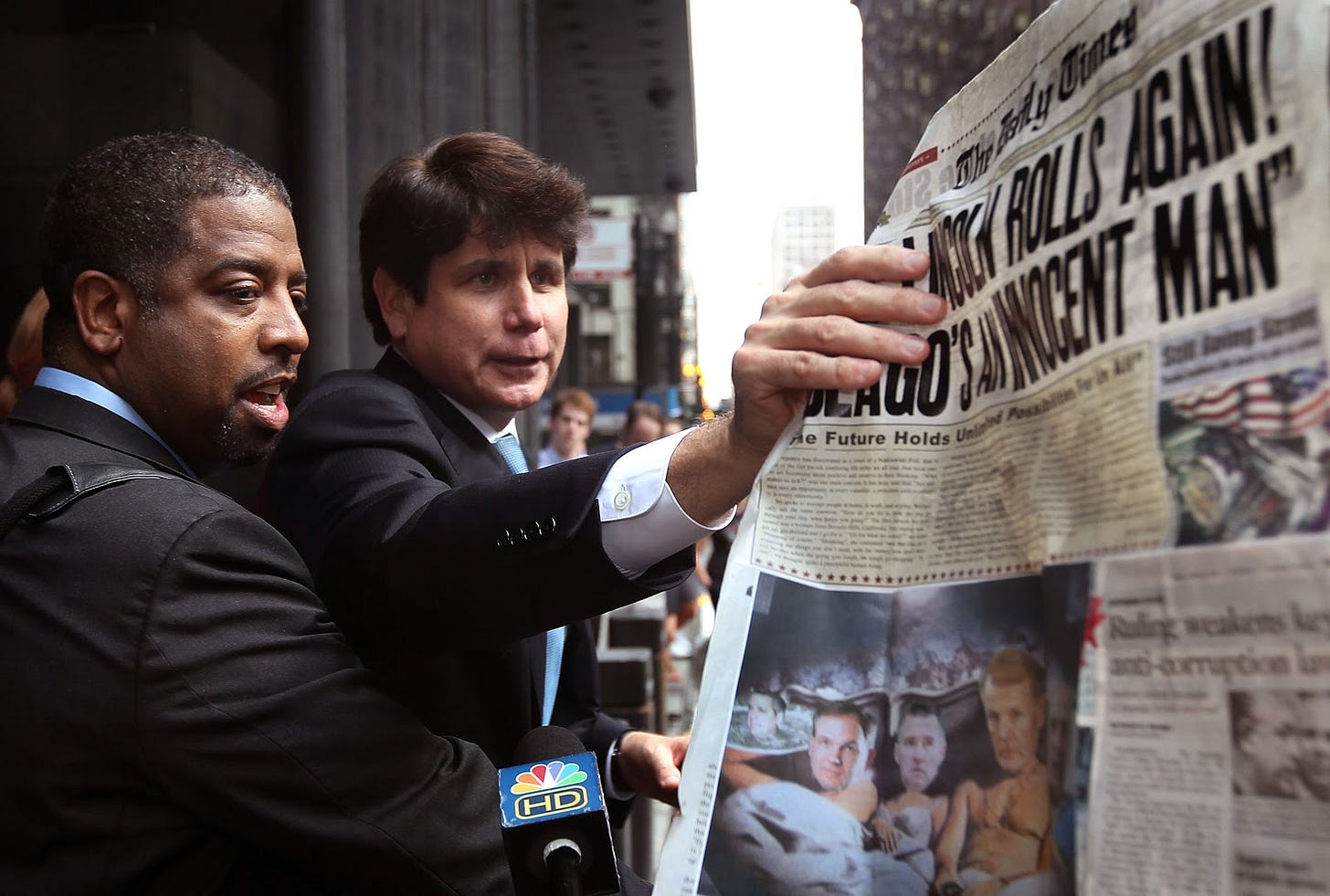 President Trump signed executive grants of clemency for 11 people on Tuesday, including Michael Milken, the famous "junk bond king" who pleaded guilty to racketeering and securities fraud charges in 1990; Bernie Kerik, the former New York Police Department commissioner who pleaded guilty to multiple charges of tax fraud and lying to officials in 2010; and Rod Blagojevich, the former governor of Illinois who was convicted of wire fraud and soliciting bribes in 2011. 
Milken and Kerik were pardoned after serving their time and both pardons were supported by Rudy Guiliani and a handful of other friends of the president. In the statement released by the White House, both were praised for their charitable work since re-entering society—Kerik "as a passionate advocate for criminal justice and prisoner re-entry reform" and Milken for giving "hundreds of millions of dollars in critical funding to medical research, education, and disadvantaged children." 
While both pardons may underscore the unfortunate importance of having politically powerful friends, the pardons themselves were largely ceremonial—the debt to society having already been paid. The pardon, for example, will not affect Milken's lifetime ban from working in the securities industry according, to the White House. And in 2015, many had come to view Milken as a "more benign figure" who had become "a prominent philanthropist and supporter of public health and medical research," as one story on CNBC put it.
Blagojevich, eight years into his 14-year sentence, is a different matter entirely. 
In 2008, Blagojevich was impeached and removed from office after being charged with racketeering, bribery, wire fraud, and attempted extortion in what then Chicago U.S. Attorney Patrick J. Fitzgerald called "a political corruption crime spree." The charges were related in part to Blagojevich's attempts to sell former Sen. Barack Obama's seat. In a recording made by the FBI, the former governor was heard to say, "I've got this thing, and it's f---ing golden. ... It's a f---ing valuable thing, you just don't give it away for nothing. If I don't get what I want ... I'll just take the Senate seat myself." Other charges, though, included attempts to extort the president of a children's hospital "in exchange for a Medicaid rate increase for pediatric specialists" and a horse racing executive in exchange for the "timely signing of a bill that benefited the horse racing industry."
He was convicted in 2011 on 17 counts. Prosecutors at the time asked for a 15 to 20 year sentence, citing "extensive corruption in office, the damage he caused to the integrity of Illinois government, and the need to deter others from similar acts" in a state where four of the previous nine governors had also been sent to jail. His defense attorneys argued that he was "a rambling man who didn't mean the comments heard on wiretap tapes." (Also, probably, trying to make a living and doing the best he can.)
The judge sentenced him to 14 years saying, "whatever good things you did for people as governor, and you did some, I am more concerned with the occasions when you wanted to use your powers ... to do things that were only good for yourself."
Since then, the case had gone through a series of appeals and rehearings. In 2015, the 7th Circuit overturned Blagojevich's conviction on five of the 17 counts but wrote "the evidence, much of it from Blagojevich's own mouth, is overwhelming." The judge resentenced him to continue serving the original 14-year sentence, rejecting the distinction offered by his defense attorneys between "someone who enriches himself, and someone who … tries to raise funds to advance a political agenda." 
In 2018, Blagojevich appealed his conviction to the Supreme Court. His team argued that any quid pro quo corruption must be "explicit" under the law and cited the Supreme Court's unanimous decision to overturn the conviction of former Virginia Gov. Bob McDonnell stating that the law was now unclear on "the location of the line between lawful campaign solicitation and felony extortion." 
The Justice Department under Attorney General Jeff Sessions filed an opposing brief bluntly rejecting those arguments: "petitioner's argument is without merit and this would be a poor case to address the argument in any event."
After the Supreme Court rejected the appeal, Blagojevich's wife appeared on Fox News to make her case to the president: "I see that the same people that did this to my family, the same people that secretly taped us and twisted the facts and perverted the law that ended up my husband in jail, these same people are trying to do the same thing they did to my husband, just on a much larger scale."
Shortly after, President Trump said publicly that he was "thinking very seriously" about commuting the remainder of the sentence. "I thought he was treated unbelievably unfairly. He was given close to 18 years in prison, and a lot of people thought it was unfair, like a lot of other things. And it was the same gang—the Comey gang and all these sleazebags—that did it," he said at the time. 
Of course, it may be worth noting that Comey had been in the private sector since 2005 and did not become FBI director until 2013—two years after Blagojevich was convicted. Then again, given that the president today commuted the remainder of his sentence saying that he "watched his wife on television," maybe not.
The Illinois Republican congressional delegation reacted to Trump's decision with dismay. "Blagojevich is the face of public corruption in Illinois," Reps. Darin LaHood, Adam Kinzinger, John Shimkus, Rodney Davis, and Mike Bost wrote. "Not once has he shown any remorse for his clear and documented record of egregious crimes that undermined the trust placed in him by voters."
A Wisconsin Update 
In last Thursday's Morning Dispatch, we gave you a sneak preview of this week's special election Republican primary in Wisconsin's rural 7th District, which pitted Tom Tiffany, a longtime state legislator and Scott Walker ally, against Jason Church, a veteran and lawyer whose military career was cut short by an IED blast in Afghanistan and who positioned himself as the race's Trumpier, more smashmouth alternative.
Well, the results are in: Tiffany carried the district handily, 57 percent to 42 percent, and winning 21 of the district's 26 counties.
Tiffany will go on to face Democrat Tricia Zunker, a law professor, in the special election on May 12.
In a way, the primary's outcome was not unexpected: Tiffany had long represented many in the district as a popular state assemblyman and senator, and had collected a number of important endorsements, including those of Walker and Sean Duffy, the district's outgoing congressman.
But Church was a strong challenger, with a personal history that commanded respect and a coherent narrative behind his candidacy. While both candidates portrayed themselves as eager allies of the president, it was Church who, as Andrew reported last week, seemed to grasp more fully the zeitgeist that made the president so appealing to working-class voters in such districts in the first place.
In many ways, the ascendance of the Trump GOP has been a rebuke of the legacy of politicians like Scott Walker, who made their bones pushing policies—free markets, balanced budgets, union-busting—that Trump has ignored or actively subverted. Yet results like the one in WI-07 last night add a quirk to that narrative: For many Republican voters, it seems, there's no real disconnect between Walker-style and Trump-style conservatism at all. 
Worth Your Time
At The Cut, Rebecca Traister has a deep look at Maine Sen. Susan Collins, and how she has adapted to the Trump era. "Collins has gone from pleasing an unusually high number of people, at least some of the time, to pleasing vanishingly few people almost never."

At the Washington Post, Greg Jaffe writes about how the war in Afghanistan shattered Joe Biden's faith in American military power. "Biden talks about America in grand, almost Reaganesque, terms. It's 'an idea stronger than any army, bigger than any ocean, more powerful than any dictator or tyrant,' he has said. But inside the Obama administration Biden was a consistent voice of caution."

Alex Burns, Nicholas Kulish, and a killer graphics team put together this New York Times piece mapping out Mike Bloomberg's philanthropy and what it's bought him. "Since leaving City Hall at the end of 2013, Mr. Bloomberg has become the single most important political donor to the Democratic Party and its causes," the piece reads. But those donations often come with strings attached—either implicit or explicit. 
Presented Without Comment
Okay, one comment: This is how you win Declan's business.
Something Fun
Soccer isn't the sport of choice for any of your Morning Dispatchers. (Editor's note: It's a close second to hockey for one of the editors, however, and Atletico Madrid's gritty upset of Liverpool in the Champions League yesterday afternoon was one for the ages.) This clip from a pro match in Turkey got us thinking: Is that just because there aren't enough dogs involved?
Toeing the Company Line
Let Us Know
Who should Trump pardon next?
Bernie Madoff: When one of your Morning Dispatchers saw Bernie Kerik's name in an email he misread it as this, and it made total sense.

Baby Yoda: He (she?) knows what he (she?) did.

Hillary Clinton: Taking the "you can't fire me I quit" approach to his failure to Lock Her Up.

Pilot Pete: While technically not illegal, his decision to give a rose to Victoria instead of Kelsey on The Bachelor this week was borderline criminal.

Roger Stone and Paul Manafort: Why keep delaying the inevitable?
Reporting by Declan Garvey (@declanpgarvey), Andrew Egger (@EggerDC), Sarah Isgur (@whignewtons), and Steve Hayes (@stephenfhayes).
Photograph of Rod Blagojevich by Scott Olson/Getty Images.