The Morning Dispatch: The Impeachment Trial Begins
Plus, an exclusive look at Trump administration in-fighting over nuclear program funding.
Happy Tuesday! For better or worse, this newsletter is going to feature a decent amount of impeachment news over the next several weeks. We've tried to shield you from as much meaningless partisan bickering as we could, but the Senate is finally getting to the meat and potatoes of the thing. Don't worry, we'll continue to supplement with plenty of other interesting stories.
Just the third impeachment trial the country has ever witnessed—we're living through history!
Quick Hits: What You Need to Know
President Trump's impeachment trial begins today.

Mitch McConnell laid out the proposed ground rules for the Senate trial in a four-page resolution last night. Impeachment managers and President Trump's legal defense team will each have 24 hours split over two days to make their respective cases, and the Senate will have to vote to admit evidence from the House's investigation.

The White House named eight Republican House members to the president's impeachment team.

CNN released a poll showing 51 percent of respondents in favor of Trump's conviction and removal compared with 45 percent opposed. Also, 69 percent of respondents believed the Senate trial should include testimony from new witnesses, and 26 percent said it shouldn't.
And Away We Go!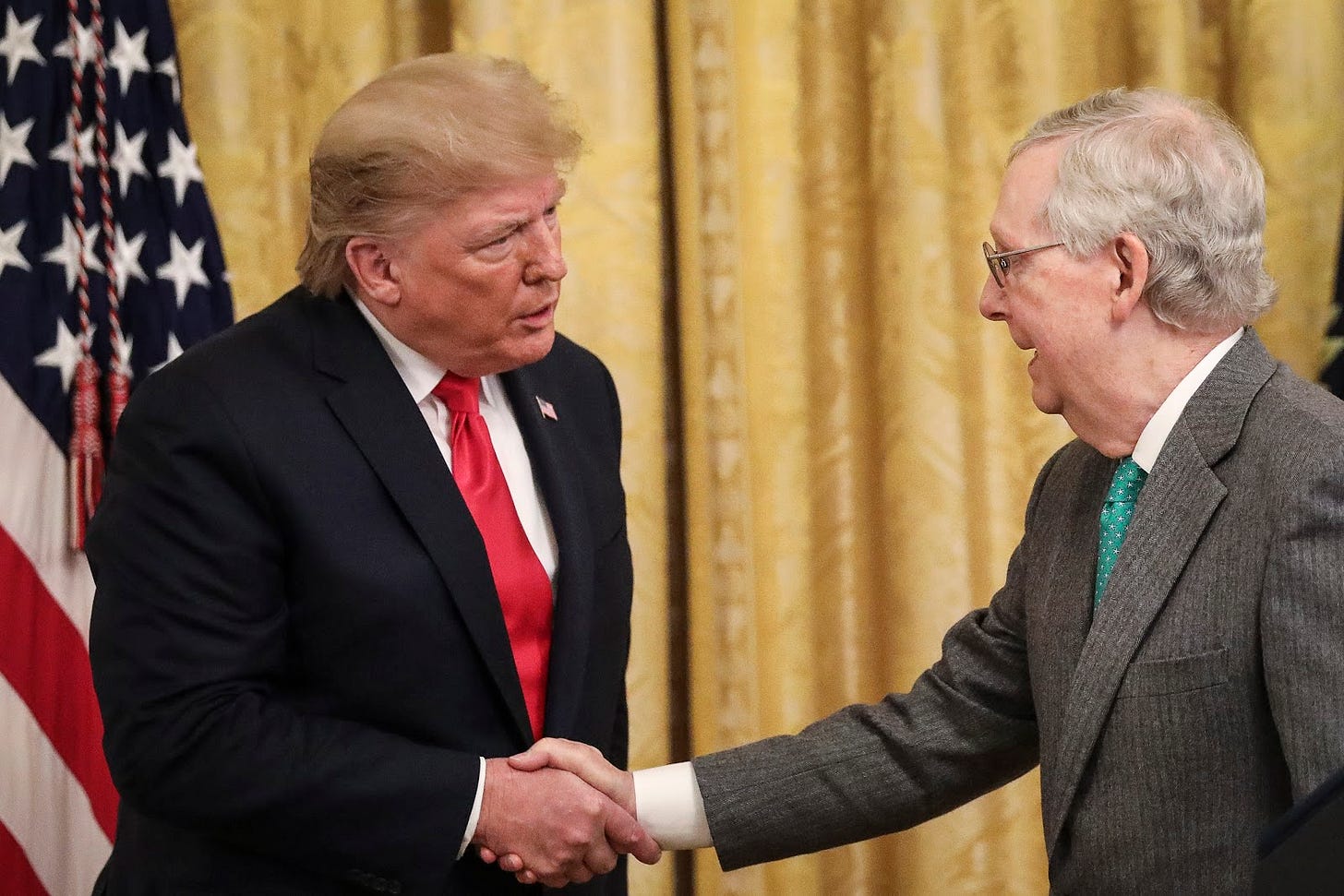 President Trump's impeachment trial gets under way in earnest today in the Senate. But it wasn't until last night that we finally got a real sense of what the affair will look like.
On Monday evening, Majority Leader Mitch McConnell unveiled the proposed rules that will govern the trial. They're designed to move things along quickly. After a full day of procedural wrangling today, the House will present its full case beginning Wednesday afternoon. It will have 24 hours to do so, spread over two session days. The White House will then be allotted the same amount of time. Afterward, the Senate will question the parties for up to 16 hours.
As we wrote in Friday's Morning Dispatch, last week's hot impeachment topic concerned whether McConnell was likely to allow the Senate to subpoena its own witnesses or to consider new evidence that has cropped up since the House filed its articles of impeachment. McConnell's proposed rules guarantee neither. In fact, in a move that has Democrats howling, the proposed Senate rules will not even permit the House's evidence to be entered in the Senate trial without a separate vote—and that only after the question of whether to subpoena new witnesses has already been disposed of, following the presentation of both sides' arguments.
All of this is catnip to the president's legal team, which revealed portions of its impeachment strategy on Monday as well. In a lengthy legal brief, they called for a speedy rejection of the House's charges, and indicated that Trump's substantive defense remains simple: The president did nothing wrong, and convicting him would be not only a gross miscarriage of justice but also a blow that would "permanently weaken the presidency."
"House Democrats have not presented any evidence that the president made any linkage between either a meeting or the security assistance and the investigation that House Democrats claim," an official working with the president's legal team told reporters on a White House conference call Monday. "The facts show that the president was not pressuring anyone to do anything about any investigation."
The White House will rely heavily on McConnell to keep things running smoothly and quickly, as many of the arguments they are preparing to make will require the Senate to admit no additional evidence if they are to function. Case in point: On that same call, the official argued that the impeachment was preposterous because Trump had not broken any law.
"To impeach a president, to remove a president from office, an impeachable offense has to be a violation of established law," he said. "So anything that you might describe, that you might call an abuse of power because you think that it was bad, and that it wasn't the right use of power, that's not sufficient. There has to be a violation of established law."
But wait a minute—didn't an independent oversight body, the Government Accountability Office, just determine that the White House did break the law by withholding military aid from Ukraine? The official's response: "It's not in the articles of impeachment. We're going to trial on a specific set of charges … The charging document doesn't include anything about that GAO report. So in our view, that's not properly part of the accusation that's been brought to the Senate."
One more interesting note on Trump's legal team: The White House announced Monday night that several House Republicans who defended him fiercely during House impeachment proceedings, including Jim Jordan, Doug Collins, and Elise Stefanik, will assist his legal team during the trial. The announcement brought an end to a weeks-long, behind-the-scenes squabble between Trump, who loved the idea of bringing his gung-ho House defenders on board, and GOP senators who winced at the idea.
Among those to whom the announcement was apparently news: some of those House Republicans themselves. Earlier Monday, one of your Morning Dispatchers asked a spokesman for Jordan whether they were still expecting to play a role at the trial. "Doesn't appear so," he replied, adding that they didn't think other House Republicans would participate either.
When we followed up with him after the White House announcement, the spokesman responded with a "mind blown" emoji. 
It's Budget Hawks vs. Defense Hawks Over Our Nuclear Arsenal
On the website, Steve has an interesting look at a growing behind-the-scenes fight between defense hawks and budget hawks over the modernization of the U.S. nuclear arsenal. Top national security officials have been urgently calling for additional modernization funding for literally decades. But with few exceptions, other priorities have won out. Now, top nuclear experts and Republicans in Congress are warning that time is up. 
Lisa Gordon-Hagerty, the under secretary of energy for nuclear security and the administrator of the National Nuclear Security Administration (NNSA), requested $20 billion in funding for her agency in fiscal year 2021. That would be an increase over 2020 funding levels, but well short of what many nuclear experts believe is needed to begin a serious modernization effort. And yet, Gordon-Hagerty's request was rejected and the White House budget office proposed $17.4 billion. 
In mid-December, Gordon-Hagerty wrote to her boss, energy secretary Dan Brouillette, with a stark warning. 
After years of underfunding, Gordon-Hagerty wrote, failing to fully fund NNSA would "seriously risk the nation's deterrent capability, and put at risk the nation's status as a superpower … Reductions of this magnitude bring into question our ability to provide a safe and secure and effective nuclear deterrent. At this level of funding, NNSA will need to reduce the size and composition of the stockpile almost immediately."

There is no longer time to put off the long-needed improvements, she argued in the memo. 

"We have been at a tipping point for years and we will begin managing to failure many parts of the nuclear security enterprise. This reduction will directly reduce the effectiveness of the nuclear deterrent and is essentially unilateral disarmament by the United States of America … A budget of $17.487 billion with a 2.1 percent increase for four years is a $16.3 billion shortfall and will cut NNSA's modernization program in half. These reductions do not meet the commitments of the policies set forth in the 2018 Nuclear Posture Review, 2017 National Security Strategy and Nuclear Weapons Council requirements."

Gordon-Hagerty's memo was not well-received. According to three sources with knowledge of the matter, her appeal was rejected and she was instead told by Brouillette (among others) to sign a letter endorsing the lower amount and offering assurances that the NNSA mission could be achieved despite the lack of resources. She was being asked in effect, to lie. She refused.
Last week, defense hawks in both chambers of Congress wrote to President Trump requesting a meeting to discuss the funding. They are hoping to get on his schedule when he returns from the World Economic Forum in Davos, Switzerland, later this week. The White House budget is expected on February 11.
Says Rep. Liz Cheney, House Republican Conference Chair and a signer of the letter: "Modernizing America's nuclear forces is crucial to our security. Our adversaries, including Russia and China, are making strides that threaten to overcome the superiority and effectiveness of our nuclear deterrent. President Trump has been clear about his commitment to fully funding NNSA at $20 billion this year with sufficient increases in following years. This shouldn't even be a debate." 
Worth Your Time
Four years ago, Russian hackers pantsed America's cybersecurity apparatus with a bargain-budget election meddling operation that proved wildly successful—stealing troves of emails from the Clinton campaign and DNC, poking around state election websites for vulnerabilities, and stirring up discord with astroturfed accounts on social media. This time around, are we any better prepared? Andy Kroll examines the question in this fascinating feature for Rolling Stone. 

Baffled by conflicting media narratives over Monday's gun rights rally in Virginia? Be sure to read Stephen Gutkowski's on-the-ground report from the event in the Free Beacon. 

In other rally news: Later this week, thousands of members of the pro-life movement will flock to the National Mall to participate in this year's March for Life. In light of that, check out this piece from National Review's Alexandra DeSanctis, which concerns new research suggesting fetuses are capable of feeling pain significantly earlier than previously thought.
Presented Without Comment
Pop Culture Recommendation
When the hip-hop world mourned Mac Miller's tragic and untimely death in the fall of 2018, it also mourned the end of the Pittsburgh-born rapper's discography. Or so it thought. Turns out, Miller was deep in the process of recording another album, which his production partner Jon Brion completed "based on his time and conversations" with Miller.
We recommend you check out Circles, out now.
Toeing the Company Line
To kick off our impeachment coverage, Jonah takes a deep dive into the history of executive privilege, which the administration has cited to keep close advisers from testifying. As he writes, "All presidents have worked assiduously to protect executive privilege, starting with George Washington."

Here is a link to Steve's piece, in case you missed it in the excerpt.

And if you were off yesterday, don't miss Sarah on the 10-year anniversary of Citizens United.
Let Us Know
The version of Martin Luther King Jr. presented in history textbooks, on statues and memorials, and by politicians across the political spectrum is a far cry from the man who led a movement to fundamentally change the fabric of the country in the mid-twentieth century. In his day, King was an incredibly polarizing figure.
Who (or what) is someone (or something) that is controversial and divisive today, but will be universally beloved in a generation or two?
Reporting by Declan Garvey (@declanpgarvey), Andrew Egger (@EggerDC), Sarah Isgur (@whignewtons), and Steve Hayes (@stephenfhayes).
Photograph of Donald Trump and Mitch McConnell by Drew Angerer/Getty Images.