The Morning Dispatch: The Throwback Debate
Plus: More magical thinking on COVID at the White House.
Happy Thursday! Two post-debate Dispatch Lives down, two post-debate Dispatch Lives to go. Thank you to the thousands of you who tuned in—if you missed it, you can catch the gang breaking down the Kamala Harris and Mike Pence showdown here. 
Quick Hits: Today's Top Stories


A Glimpse of What Post-Trump Politics Could Look Like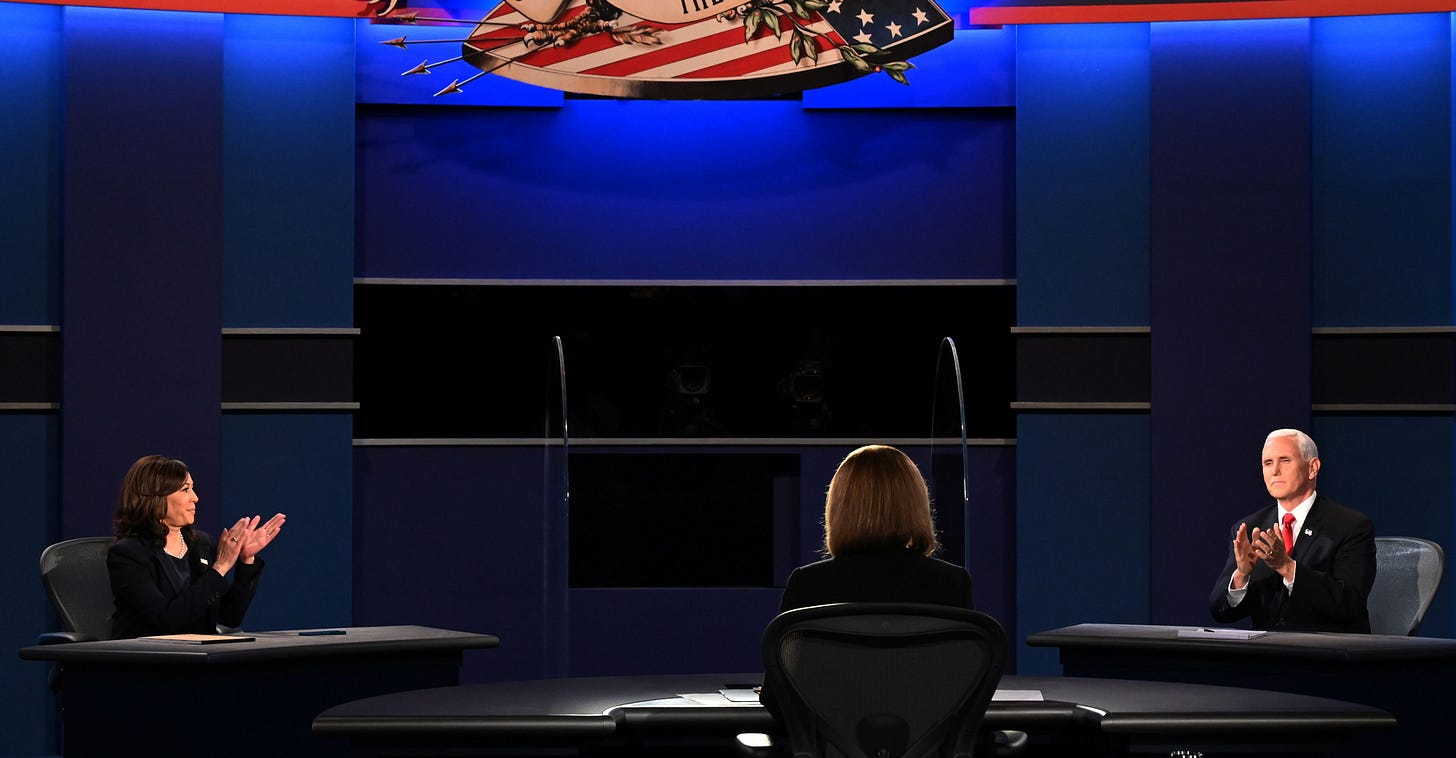 Last night's vice presidential debate felt exceedingly … normal, in a year that's been anything but. Sure, a pair of decorative (but ineffective) plexiglass barriers separated the two candidates on stage and a fly spent two minutes and three seconds perched atop Mike Pence's white helmet of hair. But Americans who tuned in to last night's debate would be forgiven for wondering if they'd been transported through time back to 2012.
What the contest between Pence and Sen. Kamala Harris lacked in crosstalk, name calling, and conspiracy mongering, it more than made up for in good old-fashioned political posturing and obfuscation. Susan Page—USA Today's Washington Bureau Chief and the moderator of last night's affair—asked lots of questions of the two candidates. And they answered…some of them.
Given both Donald Trump and Joe Biden's age—and Trump's recent hospitalization—Page asked both vice presidential nominees if they'd talked to their respective running mates about contingency plans if their health fails. Pence responded by criticizing the Obama administration's response to the 2009 swine flu. Harris recited her life story, beginning with being born to an immigrant mother at Kaiser Hospital in Oakland, California.
The exchange, early on in the debate, provided a window into how the rest of the night would go: Both candidates entered the debate planning to attack their opponent more than defend their own records—and no amount of prodding from Page could deter them.
Harris came out of the gate swinging, accusing Donald Trump and Mike Pence's federal coronavirus response of being "the greatest failure of any presidential administration in the history of our country." Referring to the Trump administration's lawsuit to overturn the Affordable Care Act, she addressed the audience: "If you have a preexisting condition, heart disease, diabetes, breast cancer, they're coming for you." She used a question about the role of American global leadership to raise claims that Russia paid bounties for American deaths in Afghanistan and Trump's alleged comments degrading American military casualties as "suckers."
Pence's mission—and he chose to accept it—was to remind voters that Biden and Harris are running on a very progressive platform. "Joe Biden and Kamala Harris consistently talk about mandates," Pence said, defending the White House's decision to hold a Rose Garden ceremony last week that seems to have been a superspreader event. "And not just mandates with the coronavirus, but a government takeover of healthcare, the Green New Deal, all government control." Pence mentioned the Green New Deal 11 times in the 90-minute debate, accused Biden and Harris of supporting "taxpayer funding of abortion all the way up to the moment of birth," and summed up his opponents' economic agenda this way: "More taxes, more regulation, banning fracking, abolishing fossil fuel, crushing American energy, and economic surrender to China."
When on defense, both nominees played pretend: Pence, that his running mate was Jeb Bush or Mitt Romney; Harris, that she doesn't have one of the most progressive voting records in the Senate. "We've always [told the American people the truth]," Pence said of he and Trump. Harris was adamant that "Joe Biden will not ban fracking," though last September, she told CNN that "there's no question I'm in favor of banning fracking."
There were other highlights: Harris shifted from her previous stance on a COVID-19 vaccine, saying she'd be "first in line" to take it if public health professionals recommend it. But she still insisted she wouldn't take it "if Donald Trump tells us that we should." Pence reduced the impeachment of Donald Trump to a mere "phone call" and made unfounded claims about "massive" opportunities for voter fraud this November. Harris refused yet again to answer questions about whether she and Biden support packing the Supreme Court and got tripped up explaining Biden's tax plan.
On net, Pence may have come out slightly ahead, but the Biden team is likely more than happy with Harris' performance. Trump is down nearly 10 percentage points nationally (and counting); nothing that happened last night was dramatic enough to fundamentally shake up the race, which—as Pence and Harris were apt to remind viewers—still belongs to Biden and Trump. 
But in some ways, the significance of Wednesday's debate extends beyond the next 26 days: It provided a blueprint of what a post-Trump national politics might look like. There were hyperbolic moments to be sure, but relative to last week's affair, the Pence-Harris contest was mainly one of evasions rather than theatrics, exaggerations and fibs rather than outright lies. "Boring" was a word thrown around a lot in its wake, in large part because neither candidate veered far from talking points.
"Some day these Fake Media Companies are going to miss me, very badly!!!" Trump tweeted last week, touting his own television ratings. The question that awaits Mike Pence and dozens of other Republicans lurking in the wings: Will the American people?
Trump Declares His Bout With COVID Over
From the president's perspective, one benefit of returning from Walter Reed to the White House has been that he can control the narrative of his own health even more tightly than before. He put that advantage to good use today, posting a video to Twitter in which he declared himself not only healing, but cured.
"They call them therapeutic," Trump said of the antibody cocktail from biotech company Regeneron he received. "But to me it wasn't therapeutic. It just made me better, okay? I call that a cure."
The statement came four short days after doctors were forced to put the president on supplemental oxygen to boost his dropping blood oxygen levels. He is less than halfway through what is typically a ten-day course of dexamethasone, a heavy steroid prescribed to treat severe COVID infections in which the body's immune system has gone berserk and becomes a contributor to the disease.
While the Regeneron cocktail, called REGN-COV2, has shown some promise in clinical trials, substantial questions remain about how effective it can be as a national anti-COVID tool. When the trial results were announced back in September, some epidemiologists suggested it was more a  "proof of concept" for antibody treatment than a hugely promising therapeutic in itself. Indeed, Regeneron's currently available data shows it to be useful only in a narrow window before the body's immune system has kicked in against the virus.
According to White House physician Sean Conley, Trump was able to hit that window last week—a blood sample showed no evidence of COVID antibodies on Thursday night before the cocktail was administered.  But the narrow timing will likely make the drug difficult and in many cases impossible to deploy in an ordinary hospital setting, given that by the time a patient is hospitalized it may already be too late to be effective.
That didn't stop the president, who has long spoken of miracle treatments for the coronavirus, from promising the drug to his viewers as a cure so amazing it was "much more important to me than a vaccine."
"If you're in the hospital, and you're feeling really bad, I think we're going to work it so that you get them, and you get them free," Trump said. "You're going to get better, and you're going to get better really fast."
Judging himself to be cured—but still very possibly contagious—Trump disregarded isolation rules and the temporary remote working spaces that had been set up for him in order to return to the Oval Office on Wednesday. It then fell to the rest of the White House staff to enforce Trump's quarantine as best they could; Trump's chief of staff Mark Meadows said all staff who interacted with him would do so while decked out in full personal protective equipment. (According to the CDC, it is safe to be around others ten days after COVID symptoms first appear provided there is no ongoing fever and other symptoms are improving.)
Meanwhile, the White House's COVID hotspot continues to metastasize. A FEMA memo obtained by ABC News puts the current number of White House staffers and contacts infected in recent days at 34, a number higher than any the administration has announced.
Despite this, the White House has gone out of its way to limit contact tracing of its internal outbreak. It has declined to trace the contacts of those who packed into the Rose Garden in honor of Trump's judicial nominee Amy Coney Barrett several days before Trump's infection surfaced - or the indoor reception that follwed. The administration has also declined to permit the CDC to do the same, seemingly in an effort to avoid any cases being definitively traced back to that event.
Worth Your Time
Something Fun
We have a vague sense this might be a metaphor for something, but we have no idea what.
Presented Without Comment
Also Presented Without Comment
Also Also Presented Without Comment
Toeing the Company Line
Let Us Know
As a gauge of how important last night's debate will or won't be, can you—without googling—remember a single thing from the Mike Pence v. Tim Kaine debate four years ago?
Reporting by Declan Garvey (@declanpgarvey), Andrew Egger (@EggerDC), Charlotte Lawson (@charlotteUVA), Audrey Fahlberg (@FahlOutBerg), James P. Sutton (@jamespsuttonsf), and Steve Hayes (@stephenfhayes).
Photograph by Eric Baradat/Getty Images.