The Morning Dispatch: Trump's Rough Day
You ever get the feeling there's too much news?
Happy Thursday! Man, was yesterday a news day for the ages. If it's any indication of what's to come in the days leading up to the election, we're in for quite a ride. Strap in and let's get to it.
Quick Hits: Today's Top Stories


Trump's Terrible, Horrible, No Good, Very Bad Day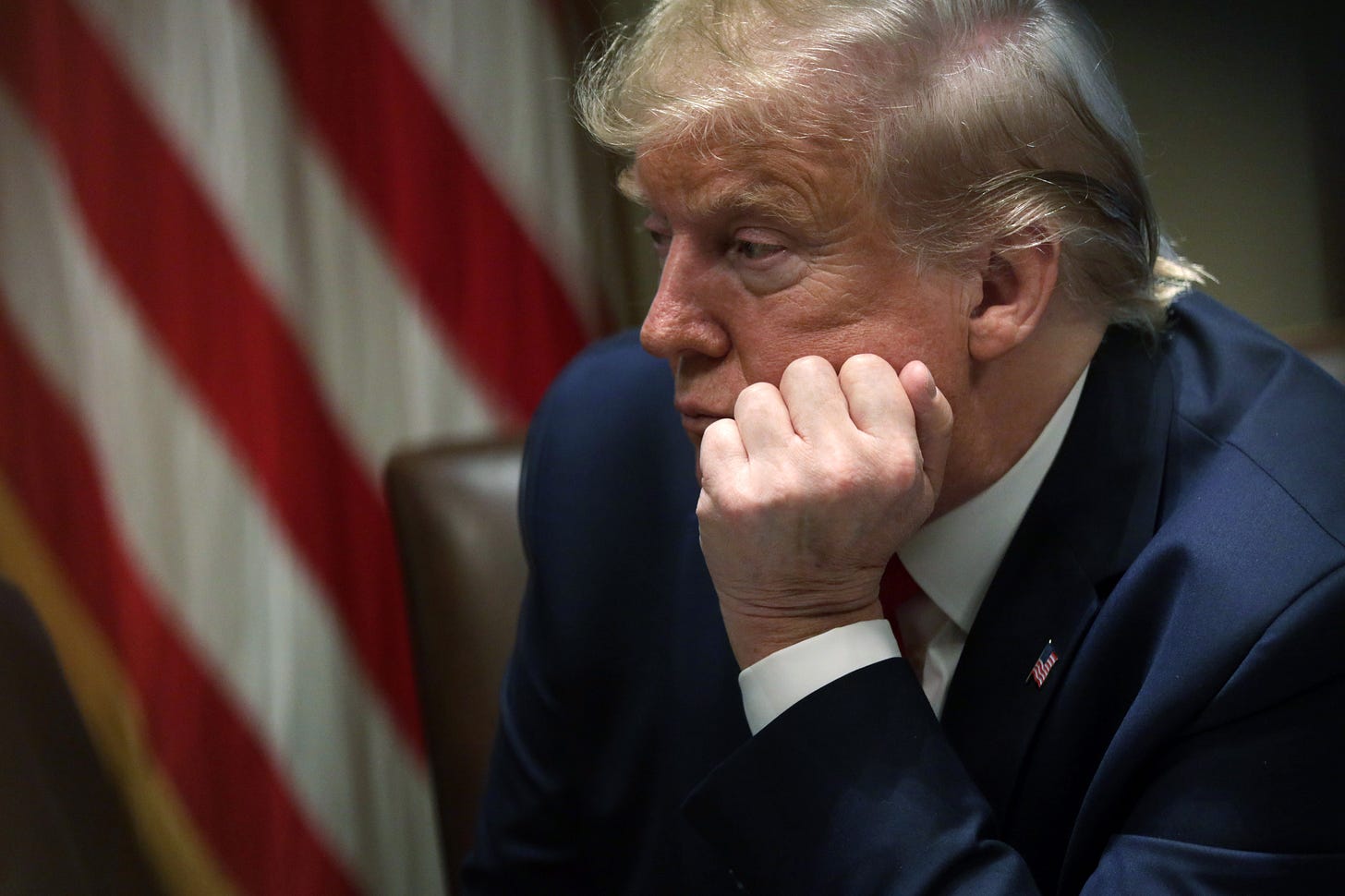 With less than two months until Election Day on November 3, Donald Trump had the kind of news day that would threaten to sink a traditional candidate. The revelations, any one of which might have dominated news cycles in a less frenzied time, came in rapid succession, leaving even those of us whose job it is to follow and report political news struggling just to keep up. They were not the kinds of stories whose meaning depends primarily on where you sit politically or how you view anonymous sources. Instead, they were developments that grew out of the words and actions of top Trump administration officials—with the most damaging revelations coming from the mouth of the president himself, in recordings of interviews he gave the country's most prolific chronicler of modern presidencies.
Woodward: Is it a cover-up if you admit it?
First, there were the details leaked in advance from Rage, Bob Woodward's upcoming second book on the Trump White House. In the critical earliest days of the pandemic's intrusion into America, Trump frequently pooh-poohed the possibility that it could pose a problem here: "When it gets a little warmer, it miraculously goes away," he said during a rally in early February. American cases would "soon be down to zero." 
But a full month before he hit send on that tweet, Trump made clear in a call with Woodward that he understood the lethality of the virus and knew well that it posed a far greater threat than the flu.
In an intelligence briefing on January 28, National Security Adviser Robert O'Brien warned Trump about the challenge ahead. "This will be the biggest national security threat you face in your presidency. ...This is going to be the roughest thing you face." Matthew Pottinger, a highly respected Asia specialist on the National Security Council, echoed these concerns, comparing the coming crisis to the influenza pandemic of 1918, which killed tens of millions worldwide. O'Brien, in an interview Wednesday afternoon with Fox News anchor Bret Baier, confirmed his dire warnings.
In a conversation with Woodward on February 7—audio excerpts of which were released Wednesday—Trump was clear-eyed about the dangers presented by the virus.
"It goes through air—you just breathe the air, and that's how it's passed. And so that's a very tricky one. That's a very delicate one. It's also more deadly than, you know, even your strenuous flus," Trump told Woodward. The coronavirus was "deadly stuff," he repeated—five times deadlier than the flu, perhaps more. 
It would be weeks before Trump would be anything close to that bracing in public. "That's a little bit like the flu, it's a little like the regular flu that we have flu shots for," he said during a February 26 press conference. "And we'll essentially have flu shots for this in a fairly quick manner."
Why the divergent rhetoric? Trump explained during another interview with Woodward in mid-March: "To be honest with you, I wanted to always play it down. I still like playing it down, because I don't want to create a panic."
The desire to try to stave off public paranoia wasn't unreasonable on its face. But the president's idea of "playing it down"—insisting all was well while dismissing or ridiculing those who were warning that the opposite was true—didn't just fail to calm down the nation as public health specialists contradicted his happy talk. It set the tone for the fragmentary, echo-chamber partisan reaction to the virus that dogs us to this day.
Even as Trump acknowledged that he'd deliberately played down the virus, White House press secretary Kayleigh McEnany insisted he hadn't done so. "The president never played down the virus," she said, breaking a promise from her first press briefing when she told reporters, "I will never lie to you, you have my word on that."
The president also boasted to Woodward about his diplomatic dalliance with North Korean strongman Kim Jong-un. According to Trump, his relationship with Kim had a kind of instant lust-at-first sight quality that he'd sometimes experienced with women. "You meet a woman. In one second, you know whether or not it's going to happen. It doesn't take you 10 minutes and it doesn't take you six weeks. It's like, whoa. OK. You know? It takes somewhat less than a second."
The president called the U.S. military "suckers" for failing to receive adequate compensation for America's longtime troop presence in South Korea. "We're defending you, we're allowing you to exist," Trump told Woodward, speaking of our South Korean allies.
While Trump's own words dominated the news out of the first leaked excerpts of Rage, other reporting on the book's contents make clear there is more coming, including the kind of in-the-room background reporting for which Woodward is famous—and controversial.
Trump is reported to have disparaged his top military advisers as copulative felines for their unwillingness to upset alliances in pursuit of a more confrontational trade policy. Gen. James Mattis, Trump's former secretary of defense, is supposed to have described him as "dangerous" and "unfit." Former Director of National Intelligence Dan Coats is reported to have expressed similar sentiments. Woodward reports that intelligence officials wondered aloud about Trump's odd behavior toward Vladimir Putin and Russia.
Dr. Anthony Fauci is supposed to have said that Trump's attention span is "like a minus number" and that "his sole purpose is to get re-elected." For his part, Dr. Fauci has (sort of) disputed those quotes. "If you notice, it was 'others' who have said that," he told Fox News yesterday—referring to the fact that Woodward claims to have gotten his quotes secondhand. "You should ask 'others.' I don't recall that at all." Fauci also said that "I didn't get any sense that he was distorting anything" about the pandemic.
Woodward's book will not be released for another five days, but it's clear that these early leaks are just a preview of what's to come. Trump gave Woodward 18 on-the-record interviews for the book, a fact that prompted much finger-pointing among supporters yesterday and led Tucker Carlson to cast Trump as a hapless victim of Sen. Lindsey Graham who, Carlson claims, had urged the president to cooperate with Woodward.
Department of Homeland Security
Last week, the political discussion in Washington was dominated by a debate over anonymous sources and when to trust them. An article in The Atlantic by editor-in-chief Jeffrey Goldberg reported that the president had disparaged military leaders, calling them "suckers" and "losers." Trump critics seized on the report as more evidence that Trump doesn't respect the sacrifices of military leaders and his defenders dismissed the claims as unreliable, given the unwillingness of Goldberg's sources to go on the record. 
The second major story Wednesday involved claims from a senior official at the Department of Homeland Security, who put his name to several, detailed accusations that top DHS officials had manipulated intelligence for political purposes. Brian Murphy, who formerly headed the DHS intelligence branch, accused top Trump officials of repeatedly ordering him to massage intelligence reporting to better fit the White House's political messaging. Several of those orders are detailed in the complaint:
The whistleblower complaint was released by the House Intelligence Committee, whose chair, Rep. Adam Schiff, subsequently subpoenaed Murphy to testify before the House Intelligence Committee later this month. Schiff has been an outspoken and highly partisan critic of the Trump administration, a fact that the president's defenders noted immediately. "The complaint alleges repeated violations of law and regulations, abuses of authority, attempted censorship of intelligence analysis, and improper administration of an intelligence program related to Russian efforts to influence the U.S. elections," Schiff said in a letter announcing the complaint.
Attempting to silence Fauci
The Woodward book wasn't Wednesday's only big Fauci-related story, nor was the whistleblower complaint Wednesday's only big story alleging the White House exerted political pressure on its experts to present misleading information to the public. Internal Health and Human Services emails obtained by Politico show a senior HHS public affairs staffer repeatedly trying to get the National Institutes of Health to change Fauci's planned remarks for media interviews.
"I continue to have an issue with kids getting tested and repeatedly and even university students in a widespread manner," Paul Alexander, a senior adviser to HHS assistant secretary for public affairs and longtime GOP political strategist Michael Caputo, said in one such email. "And I disagree with Dr. Fauci about this. Vehemently."
"Can you ensure Dr. Fauci indicates masks are for the teachers in schools. Not for children," Alexander said in another email just this week. "There is no data, none, zero, across the entire world that shows children especially young children, spread this virus to other children, or to adults or to their teachers."
"No one tells me what I can say and cannot say," Fauci told Politico. "I speak on scientific evidence."
Pence and QAnon
After all that, this wacky affair reads almost as an afterthought: the Associated Press reported yesterday that Vice President Mike Pence plans to attend a fundraiser next week whose hosts are apparent adherents of the QAnon conspiracy theory, "a wide-ranging conspiracy fiction spread largely through the internet, centered on the baseless belief that Trump is waging a secret campaign against enemies in the 'deep state' and a child sex trafficking ring run by satanic pedophiles and cannibals. It is based on cryptic postings by the anonymous 'Q,' purportedly a government insider."
The QAnon theory is nearly three years old now, but has gained new notoriety at several points this year—a candidate espousing it won a Republican primary in Georgia earlier this year, and President Trump has described her as a "future Republican star." Pence himself formerly told CBS in August that "I don't know anything about QAnon, and I dismiss it out of hand."
Will It Matter?
The obvious question, after a brutal day like Wednesday was for Trump: Will it matter?
We won't speculate here. It's clear that Trump defenders struggled to minimize or dismiss the flurry of reporting yesterday, whether the mendacity of McEnany or the odd theorizing of Tucker Carlson on Fox News. Carlson wondered why Trump would talk to Woodward at all and placed the blame on Senator Lindsey Graham. But Carlson's theory— deflecting any blame for the decision from Trump and placing the culpability on Graham alone—was an odd one. "Why would he do something like that? You'd have to ask him. But keep in mind that Lindsey Graham has opposed, passionately opposed, virtually every major policy initiative that Donald Trump articulated when he first ran, from illegal immigration, to pulling back from pointless wars, to maintaining law and order at home. Lindsey Graham was against all of that more than many Democrats. So, maybe you already know the answer." A senator who has been one of Trump's most enthusiastic and obsequious congressional supporters for his entire presidency is secretly sabotaging the president by recommending Trump talk to a journalist?
If the subtext of Joe Biden's pitch to America—and sometimes the text—is a return to normalcy, understood roughly as an end to current chaos, days like yesterday would seem to bolster his case. But it's worth noting that there have been many stories over the past five years that would have extinguished the careers of a conventional politician but haven't proven fatal to Trump. And while yesterday was an intense news day by typical standards, we may look back from November and see it instead as relatively normal.
Worth Your Time
Something Fun
In a world of bloated, indistinguishable campaign spots, this one gets top marks for both brevity and originality.
Presented Without Comment
Toeing the Company Line
Let Us Know
Is President Trump serious about the prospect of nominating a current GOP senator to the Supreme Court? Hard to say. But if the screws were on you to choose: Hawley, Lee, Cotton, or Cruz?
Reporting by Declan Garvey (@declanpgarvey), Andrew Egger (@EggerDC), Charlotte Lawson (@charlotteUVA), Audrey Fahlberg (@FahlOutBerg), James P. Sutton (@jamespsuttonsf), and Steve Hayes (@stephenfhayes).
Photograph by Alex Wong/Getty Images.