The Morning Dispatch: Withdrawal Mayhem
Plus, John Bolton teases possible testimony.
Happy Tuesday! Today's the big day—or at least the medium day! The wires have all been plugged in, various nodes connected—we have a website! You'll notice it's much less … website-y than many of the outlets you may be familiar with. That's by design! It's meant to be simple and unfancy.
What we're lacking in pop-up videos and toenail fungus ads we hope to make up for in seasoned and thoughtful reporting and analysis. If you like what you see, we hope you'll subscribe here.
Quick Hits: What You Need to Know
Kerfuffle: The Pentagon Calls Withdrawal Letter 'Active Disinformation'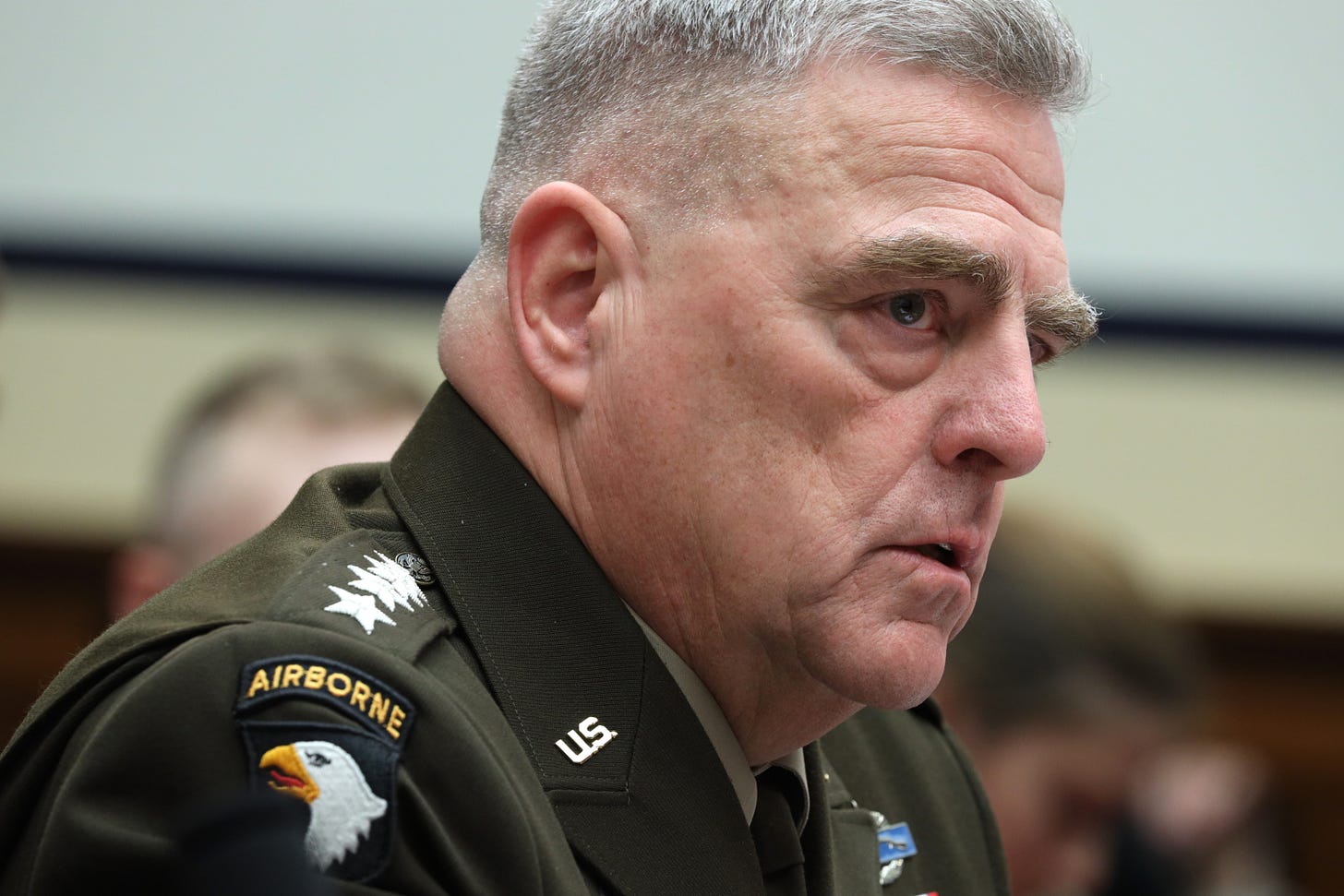 On the home page, we have a scoop that adds more detail to the embarrassing story about the Iraq withdrawal that wasn't—at least for now.
In the middle of the afternoon Monday, a letter posted online set Washington abuzz about the possibility that the U.S. would be withdrawing troops from Iraq after 17 years. The missive from a top U.S. military official to his Iraqi counterpart provided notice that the U.S. would be moving troops out of Baghdad "to prepare for onward movement." The letter, from Brigadier Gen. William Seely, ended: "We respect your sovereign decision to order our departure." From our story:
The posting of the letter online unleashed a mad, behind-the-scenes scramble at the Pentagon, the White House and on Capitol Hill, as elected officials, policymakers, military advisers and journalists sought to understand whether the letter intended to communicate what its plain language suggested…

On Capitol Hill, lawmakers and staff seeking clarity on the letter reached out to contacts in the Trump administration. At 3:46 p.m., Annie Dreazen, a staffer in the Pentagon policy office responded to an email inquiry from the House Armed Service Committee, writing that she'd consulted advisers with Operation Inherent Resolve (OIR), the name of the task force charged with fighting ISIS in Iraq and Syria. She, too, had big news: The letter that had captured the attention of Washington, DC, was phony and likely part of an effort to sow information chaos.

"OIR has confirmed with us at the working level that this is active disinformation," Dreazen wrote, noting that the Pentagon was "fairly certain that this is a fake."
Moments later, top Pentagon officials talking to reporters wouldn't say the letter was fake but could not confirm its authenticity, either. "I don't know what that letter is," said Secretary of Defense, Mark Esper. "We're trying to find out where that's coming from, what that is. But there has been no decision made to leave Iraq, period."
2020 and Iran
While the administration is sorting out the mess, the whole situation in the Middle East is causing a different problem for the Democrats running for the White House. The presidential hopefuls' first real voting test, the Iowa caucus, is now less than a month away. And just as that test approaches, the candidates have been forced to grapple with the fact that the dynamic of the race might be about to change for one reason: the sudden escalation of hostility with Iran.
In 2019, there were enough policy debates and horse-race developments—Warren's surging! No, Buttigieg! No, Bernie!—to keep campaign reporters busy. But nothing much really changed. Sure, there was a year of Trumpian sound and fury for candidates to try to capitalize on: government shutdowns, trade wars, the Mueller report, the Ukraine scandal and impeachment. But all along, the narrative of the race remained the same for Democratic voters: Trump is taking this country down the tubes. Who's best equipped to beat him, and to put us on a better track?
This week's Iran developments threaten to upend all that. While the likelihood of out-and-out war remains relatively slim, the mere possibility is the sort of thing that can voters pull up and reassess what they're looking for in a candidate.
Certain 2020 contenders, of course, stand to capitalize on the change more than others. These break down roughly in two groups. The first is the candidates who can appeal to the peaceniks: Bernie Sanders and, to a lesser extent, Tulsi Gabbard. Then there's those whose experience and affect promise a steady hand on the plow in turbulent times: Joe Biden and, again to a lesser degree, Pete Buttigieg.
"As a Dem primary issue this benefits two people," Democratic strategist Max Burns tells The Dispatch. "Biden, who remains Dems' choice as most trusted candidate on foreign policy—justifiably given his history—and Sanders, who distills the anti-war sentiment of the left and has an unassailable record of opposing Middle East adventurism."
Sanders has leaned hard into the issue—and hard to the left—on the campaign trail this week. He has repeatedly referred to Suleimani's killing as an "assassination"—differentiating him from most other candidates, who agree the Iranian leader was an enemy combatant—and taken the opportunity to point out his own long track record of being bearish on foreign intervention. (In an appearance on CNN last night, Sanders outrageously compared the U.S. killing of Suleimani, a terrorist with the blood of hundreds, maybe thousands, of American troops on his hands, with Russian authoritarian Vladimir Putin assassinating dissidents. We're serious.) He's also called on Congress to pass legislation prohibiting the White House from carrying out attacks in Iran without Congressional approval "to restrain President Trump from plunging our nation into yet another endless war."  
Biden, on the other hand, was quick to denounce Suleimani, saying in a statement immediately following the news that "No American will mourn" his passing. While he too took issue with Trump's action against Suleimani, his objections, unlike Sanders', were largely on specific procedural grounds: "The administration's statement says that its goal is to deter future attacks by Iran, but this action almost certainly will have the opposite effect… I hope the administration has thought through the second- and third-order consequences of the path they have chosen. But I fear this administration has not demonstrated at any turn the discipline or long-term vision necessary—and the stakes could not be higher."
It's too early to see how voters are reacting to the Iran news yet. But if it's still looming large in their minds come caucus time next month, this conflict could end up being one of the most important moments of the 2020 cycle—even if not another bullet is ever fired. 
John Bolton Shakes Up Impeachment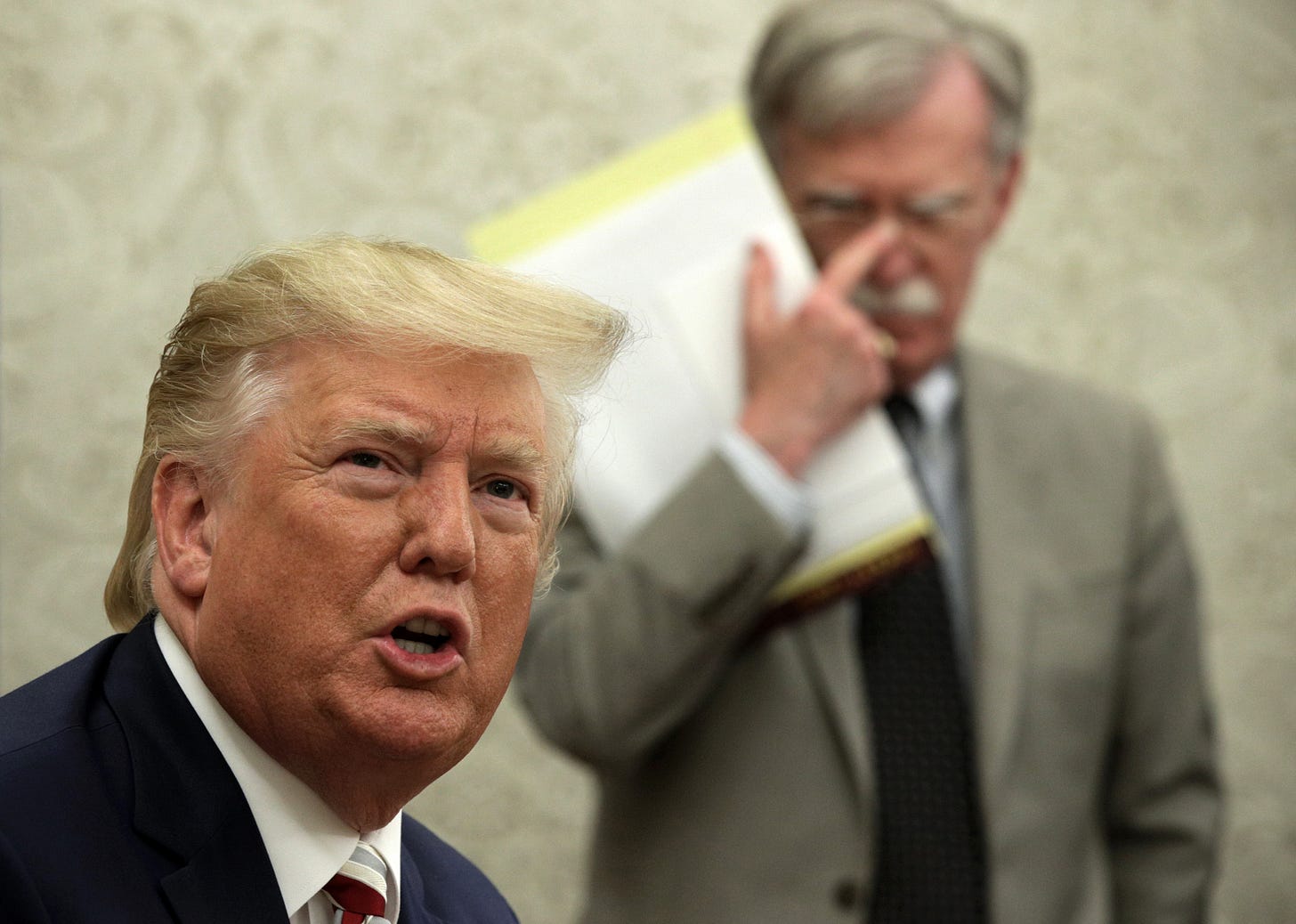 We've been hesitant to devote too much time to impeachment in recent weeks. The script has been written, the actors are all in their place—the director just needs to shout "Action!" and events will begin unfolding in the manner our deep levels of partisanship dictate.
But a mustachioed proverbial wrench was thrown into the impeachment mix on Monday when former National Security Advisor John Bolton announced his willingness to testify in the Senate trial.
"If the Senate issues a subpoena for my testimony," Bolton wrote on his eponymous PAC website, "I am prepared to testify."
Bolton had previously avoided spilling his secrets during the House proceedings, signaling he would not testify until the courts cleared up the ongoing dispute between Congress and the White House over executive privilege. The House ultimately did not subpoena him.
But as a witness, Bolton would be difficult to top. As national security advisor, he would have had direct knowledge of President Trump's actions in Ukraine. Jonathan Swan reported for Axios several months ago Bolton "was the most prolific note-taker at the top level of the White House." You could argue Republicans—many of whom have griped over previous witnesses' secondhand knowledge of events as they unfolded—would love to hear from him.
Not quite.
A GOP senate aide told The Dispatch that Bolton's announcement does not change Mitch McConnell's impeachment strategy, saying the majority leader views the "Clinton model"—establishing the basic parameters of a Senate trial up front and saving questions about witnesses until later—as the best approach.
And some Republicans seem to prefer making their judgment based on less information. Marco Rubio told CNN he would not vote to subpoena Bolton, and later tweeted:
Democrats, for their part, have welcomed Bolton's decision. Given that Bolton has a trove of "new relevant information," Chuck Schumer argued Senate Republicans that oppose subpoenaing him "would make absolutely clear they are participating in a cover up."
Under Senate rules, just 51 votes are needed to issue a subpoena—regardless of what leadership thinks. If the 47 Democratic or Democratic-caucusing independent senators vote as a bloc, that means just four Republicans would need to break ranks to get this guy (and his glasses) in front of them under oath.
The trio of Lisa Murkowski, Susan Collins, and Mitt Romney will be worth keeping an eye on, though the former two are playing coy so far. Speaker Pelosi hasn't even sent over the articles, a GOP Senate aide noted to The Dispatch, saying it's too early to be speculating on hypothetical witnesses. Romney, for his part, told CNN he'd "like to hear what [Bolton] has to say," though stopped short of committing to a subpoena vote.
What Would Bolton Even Say?
Much like they did with Robert Mueller, or Michael Cohen, or Gordon Sondland, or Michael Avenatti, Democrats seem to be pinning their hopes on a bombshell testimony from Bolton that moves the needle in a way previous witnesses' hasn't. But even though Bolton has thus far played hard to get, there's no guarantee his deposition would be explosive, or even damaging to Trump.
John Cornyn told Fox News that Bolton's testimony could be "helpful to the president" and that he might "want to know what [Bolton] has to offer."
As New York Times columnist Ross Douthat pointed out, the hawkish John Bolton has gotten much of what he's long-advocated for with Iran from the administration in the past week. Could that be tied to yesterday's announcement? That would disappoint those who have long hoped that Bolton would emerge as an unlikely "Resistance hero."
Worth Your Time
Ever get the urge to go see an incredibly dreadful movie under the influence of powerful pharmaceuticals? These folks who talked to Maura Judkis of the Washington Post know exactly how you feel. This article earns its spot on the list for the following line: "To be clear, The Washington Post does not endorse illicit drug use. And for most people, 'Cats' is unnerving enough sober."

The latest issue from our friends at Commentary contains a whole bunch of great retrospective essays about the 2010s. Our favorites: this piece from Christine Rosen about the dawn, rise, adulation, and vilification of social media and this one from Matthew Continetti on the decade-long rise of populism. 

The New York Times' 1619 Project, which attempted to reframe the way we think about the American founding, generated immeasurable buzz from proponents and detractors alike. This piece, from The Atlantic's Conor Friedersdorf, is among the more thoughtful critiques of the Times' project. "I hope the Times Magazine's work succeeds in causing more Americans to recognize the remarkable faith that African Americans showed in our country's promise even in eras when America least deserved it," he writes. "Yet the core reframing that the 1619 Project advocates would unwittingly set back, rather than advance, the causes of equity and racial inclusion."
Presented Without Comment
Something Fun
In absolutely heartbreaking news, Taika Waititi, one of the directors of The Mandalorian, revealed that Baby Yoda's name is not, in fact, Baby Yoda. He'd better receive a title deserving of his greatness.
Toeing the Company Line
As we mentioned above, our website is live! Head over to www.thedispatch.com to check out great pieces today from Sarah Isgur on 2020 and Timothy Sandefur on what the Founding Fathers really thought about slavery.

Advisory Opinions is out with an all new episode, with Sarah and David discussing John Bolton's potential testimony, Trump's tweets and the War Powers Act, and Chief Justice Roberts' Roe v. Wade decision. Give it a listen here.
Let Us Know
Once you've had a chance to take a look at the new Dispatch website (have we mentioned you should check out the new Dispatch website??), let us know which of these features we should build in next.
More ads! I surf the web not just to gain knowledge and information, but also to discover great deals on miracle diet pills and meet hot singles in my area!

More autoplay videos! Nothing beats a sudden blast of audiovisual content when I'm trying to read!

More dog content! Jonah's pooches will be confined to Twitter no more!
Reporting by Declan Garvey (@declanpgarvey), Andrew Egger (@EggerDC), Sarah Isgur (@whignewtons), and Steve Hayes (@stephenfhayes).
Photograph of Mark Milley by Alex Wong/Getty Images. Photograph of Donald Trump and John Bolton by Alex Wong/Getty Images.