Why America Should Offer Refuge to Those Who Flee Hong Kong
It's the right thing to do, for one. But not doing so could hurt us economically.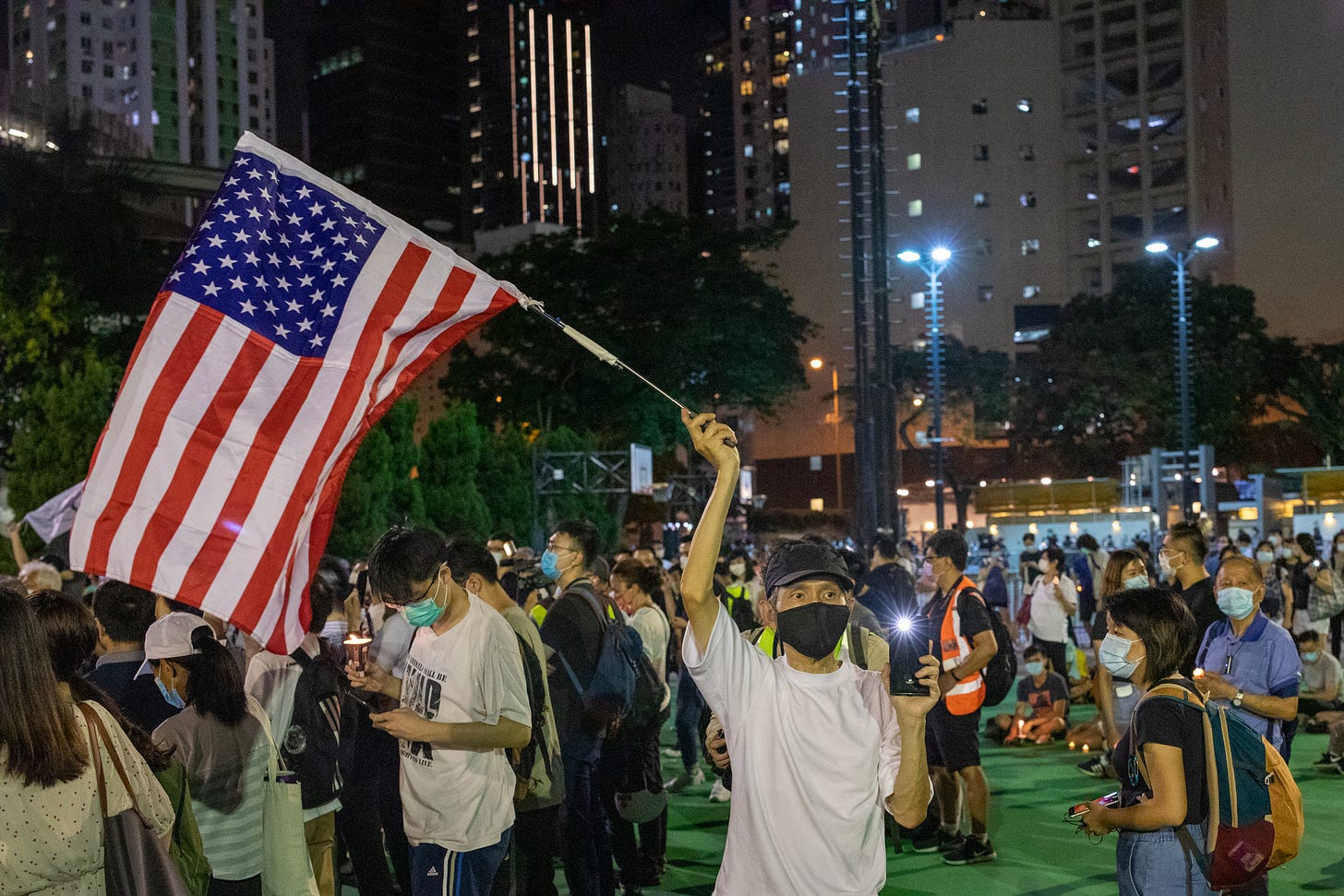 While the coronavirus pandemic has distracted the world since February, the Chinese Communist Party has moved to consolidate its control over Hong Kong, passing sweeping "national security" laws to crack down on protests in the city and placing Hong Kong's civil liberties—afforded under the longstanding "one country, two systems" arrangement—at risk.
The situation for the former British colony seems increasingly dire. And U.S. policymakers appear to have few options available to help shape the response. One new idea is beginning to take hold: Let Hong Kong residents move to America.
The idea of letting in refugees fleeing the CCP has become an increasingly pertinent question for U.S. policymakers in recent months, and the response has been encouragingly bipartisan.
In the past few weeks alone, two major bills aimed at the issue passed the Senate with overwhelming support in the Senate. The first bill would place sanctions on Chinese officials involved in the Hong Kong crackdown; the second aims to give refugee status to Hong Kongers at risk of persecution by the Chinese state. Both of these initiatives come on the heels of the Hong Kong Human Rights and Democracy Act, an earlier round of sanctions passed by near-universal majorities in both chambers of Congress and signed into law by the president in late 2019.
The earlier round of sanctions specifically targeted Chinese authorities involved in the repression in Hong Kong by freezing CCP officials' assets and barring access to American visas, but the next proposed round of sanctions would go a step further, enforcing sanctions on international banks that do business with Chinese government functionaries. The proposed refugee bill, the Hong Kong Safe Harbor Act, would direct the State Department to designate individuals involved with the Hong Kong resistance movement—protest organizers, volunteer medics, members of the local media, and so on—as humanitarian refugees who would then subsequently be permitted to settle in the United States.
American leadership on this issue can't come soon enough. The crackdown from Hong Kong police, acting at the behest of the city's pro-Beijing government, has been swift and forceful, and local authorities acting under the auspices of the new national security law have moved to ban books and political slogans and censor free expression in Hong Kong's school system. But despite the widespread arrests of local political dissidents and violent repression of pro-democracy demonstrations at the hands of CCP-backed law enforcement officers, thousands of young Hong Kongers remain defiant: "We do worry about our safety, but we know that if we comply with what the CCP is trying to impose, we will lose our values and our beloved homeland forever," one activist from a resistance group in the city tells me. "So even in fear, we stay and fight because Hong Kong is our home." 
"When West Berlin was under blockade from the Soviet Union, West Berliners didn't pack their stuff and leave their home, surrendering to the tyranny," another activist says. "We take inspiration from many freedom fighters before us; we will not surrender easily."
The Hong Kong people's defense of their freedoms stands as a powerful argument for allowing them refuge: At a time when America's native-born citizens are more skeptical and less educated about the philosophical and political foundations of our country than at any point in our recent history, we could do worse than to encourage those from entrepreneurial, liberty-loving culture to come make a new life here in our country.
America means something to those demonstrating against the CCP's presence in Hong Kong. Our flag, which maintains a ubiquitous presence in the city's freedom movement, represents everything they're fighting for. To the protesters in Hong Kong, we remain a city on a hill, an experiment in self-government dedicated to a set of abstract truths that transcend the borders of our nation. 
The best argument for allowing the city's emigrants into our country is that, in acting as a safe harbor for the thousands of Hong Kongers fleeing state persecution in the region, we would be renewing our long tradition as a land of hope and redemption.
Not everyone agrees. "There are oppressed people everywhere," says Mark Krikorian, the executive director of the Center for Immigration Studies, a D.C.-based think-tank that advocates for lower levels of immigration to the United States. "Why don't we have legislation letting every Uighur in the world into the United States, or every single human being in Zimbabwe into the United States? It's a whole lot worse in Zimbabwe than it is in Hong Kong, frankly."
Krikorian has a point. Why target Hong Kong specifically if one's argument for permissive immigration is predicated on appeals to universalist ideals? There's oppression and persecution everywhere; unless one maintains that we should open our borders to everyone—still a radical position, despite its having taken hold in some quarters of the Democratic Party—why should Hong Kongers get special treatment?
One possible answer is the presence of an increasingly tense great power conflict between the United States and China. The consequences of China's influence across the globe have become starkly apparent in recent months, and the willingness of both domestic and international institutions alike to kowtow to Beijing is alarming. Immigration policy is one important way to address this: During the Cold War, for example, the U.S. gave preferential treatment to the millions of Cuban refugees fleeing communism in their home country, thus making a point about the American system's superiority to a Communist one. And while the conflict between the U.S. and China is not the "ideological warfare" of our decades-long struggle against the USSR—"The PRC is not an ideological state, despite the Marxist window dressing; it's just a regular authoritarian gangster regime at this point," says Krikorian—our moral standing on the world stage is still an important consideration. 
By offering ourselves up as the country that refugees from China flee to, we could be afforded a unique opportunity to draw a sharp contrast between our liberal democratic system and the PRC's repressive authoritarianism.
"Part of what made the United States so successful for much of the last century is the fact that our society tends to be more open and inclusive than many others," says Derek Scissors, a resident China scholar at the American Enterprise Institute. "That's why people come here. You can look at the numbers: For example, the number of researchers who come from China to the United States and end up staying here is really high, because they enjoy the freedoms that they have in the US and because they want to live in a system that is open and inclusive and protects their rights. That's one of our main attractions for most people around the world when we're compared to China. So I think to the extent that the US locks itself down [to immigration], it's going to make it much more difficult for us to compete in terms of talent, and it's also going to make our system less attractive than the Chinese system."
Not everyone is impressed by this argument, but there's a second point in the case for Hong Kong refugees that holds more purchase with immigration hawks: Unlike many of the immigrants and refugees from developing countries who have flooded into the West in recent years, the citizens of Hong Kong have been raised in a liberal democratic tradition, inherited from the British system of rights and liberties, and are thus better suited to settle in large numbers in a society like ours than those who hail from more illiberal and undemocratic backgrounds.
This line of reasoning is often more amenable to skeptics ("that's actually not a stupid argument," Krikorian says), and Hong Kongers' appreciation for the values and philosophy that undergird Western-style political systems serves as a comfort to those who are concerned about assimilating large numbers of migrants from societies organized around value systems that are incompatible with ours. 
"Hong Kong and the United States share very similar fundamental core values in that we are not afraid to fight for our freedoms and basic rights," says John Song, a spokesman for Stand With Hong Kong, a major pro-democracy organization based in the city. "In a lot of ways, America showed the world what it meant to fight for your own freedom, and we resonate with that history and sentiment."
"One of the great weaknesses, not just of China but of a lot of other systems—and especially authoritarian systems—is that people want to leave those societies," says Scissors. "They don't want to come to them. And we have the wonderful benefit of being a society where brilliant people want to come and make a life here and be a part of our community. We're hearing and seeing that from Hong Kongers. So turning down that opportunity is just going to put us at a disadvantage in a competition that otherwise we have a big leg up on."
This is the final major argument in favor of the initiative to let in the beleaguered city's refugees: As countries like the United Kingdom and Canada move aggressively to make their societies available to resettling Hong Kongers, a restrictionist policy here in the United States would only hurt our long-term ability to compete in the global economy.
In the face of this presidential administration's increasingly hardline approach to immigration, the likelihood of a permissive refugee policy for Hong Kongers is—at least until January 2021—unlikely. But as many have pointed out in response to Trump's recent executive order suspending a significant portion of immigration visas through the end of 2020, such restrictionism is—at the very least, economically—to our collective detriment. 
Even those who generally oppose immigration—either for economic or cultural reasons—should see the commitment to the philosophical foundations of a free society demonstrated by the citizens of Hong Kong as a serious case for their inclusion in the great American story. "It's going to be good for our economy to bring those kinds of people here, but it's also the right thing to do," Scissors says. "These are the kinds of people that Americans should want to welcome into our country."
Nate Hochman (@njhochman) is an ISI summer fellow at The Dispatch.
Photograph by Simon Jankowski/NurPhoto/Getty Images.