Chris Christie in Winter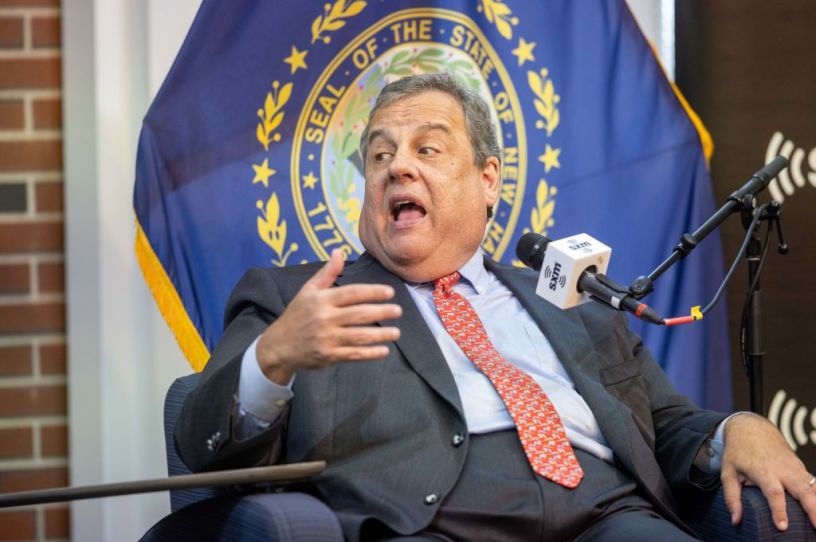 Republican presidential candidate Chris Christie during a town hall hosted by SiriusXM's Steve Scully at New England College on September 12, 2023, in Henniker, New Hampshire. (Photo by Scott Eisen/Getty Images for SiriusXM)
LACONIA, New Hampshire—Chris Christie is as stubborn as he is combative.
For eight years, the Republican Party has been dominated by Donald Trump, a conservative populist with questionable morals. The former president packs arenas by the thousands and is the overwhelming frontrunner for the GOP nomination. But Christie insists on running a traditional campaign, as a traditional conservative. The former New Jersey governor is appearing at Rotary Club luncheons and hosting intimate town hall meetings, aiming to pull off an improbable upset in the Republican primary by making an issue of Trump's character.
"The biggest issue in this race, before we get to any specifics, is character; is character," Christie tells a town hall gathering of just under 50 people in early October. This isn't a concert-like Trump rally (or even a more modest Nikki Haley rally). No music is blaring at the Elks Lodge in Laconia, a rural community of roughly 17,000 along Lake Winnipesaukee in central New Hampshire. No Christie signage decorates the background—just two large American flags, which flank either corner of the room.
Christie, 61, speaks without a microphone for more than two hours, pacing back and forth and mostly ignoring the stool placed for him in the middle of an audience arranged in a round. Periodically, he stops to make eye contact as likely GOP primary voters pepper him with questions. Toward the conclusion of the event, after a campaign aide tells Christie it's long past time to wrap things up, he raises the issue of character, again—the perfect campaign pitch for a Republican presidential candidate running in any contest prior to 2016.
You're out of free articles
Create an account to unlock 1 more articles