Dispatch Live: The Motion to Oust Kevin McCarthy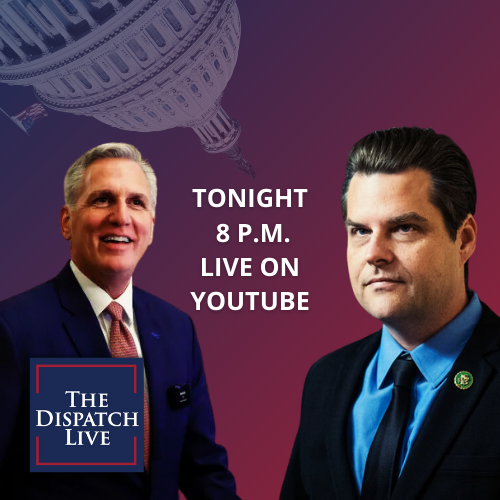 Rep. Matt Gaetz makes his move against the speaker of the House and the Dispatch Live is here to cover the drama. Host Kevin Williamson is joined by Andrew Egger and David M. Drucker to discuss the potential Great Ungaveling of Kevin McCarthy. They will also assess the political prospects of Ron DeSantis and Gavin Newsom and check in on Donald Trump's fraud trial. Mary Trimble will also join to explain why Turkey is playing hardball with Sweden.
Grab a drink, get your questions ready, and join us on Tuesday, 8 p.m. ET on YouTube for this week's Dispatch Live.
Dispatch Live recordings are made available as a members-only podcast on select platforms. If you can't make it for the live broadcast, see below for information on how to access the podcast.
Q&A: We want to hear from you during the show. To ask questions of our panelists and interact with other members you can use the YouTube Live chat feature or simply comment on this post during the broadcast.