The New Stanford Prison Experiment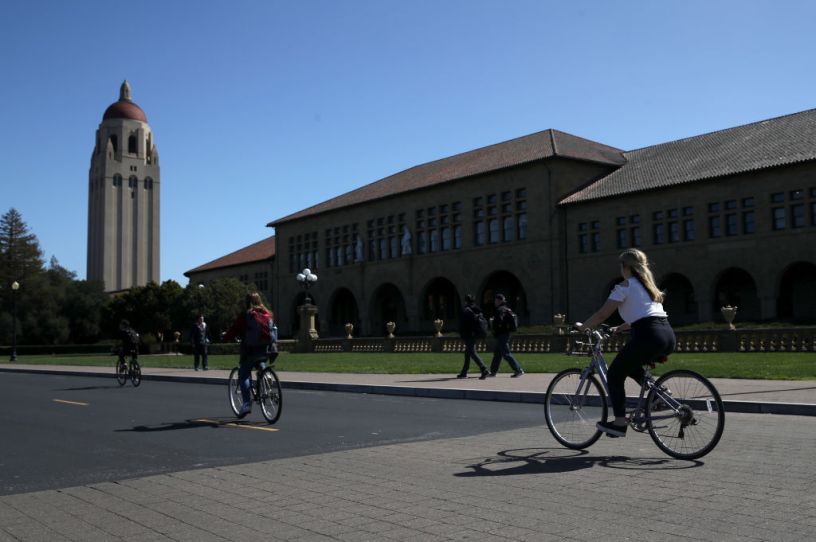 Cyclists ride by Hoover Tower on the Stanford University campus. (Photo by Justin Sullivan/Getty Images)
When federal judge Kyle Duncan entered a classroom at Stanford Law School last month to speak at the invitation of the Federalist Society, he was greeted by a student shouting, "We hope your daughters get raped." It did not get better from there. Students heckled him for 11 straight minutes, and the longest he spoke without disturbance was 12 seconds. Students were vulgar, asking about Duncan's sex life in graphic terms. And they were sadistic: Listen to the audio and decide for yourself whether they were enjoying the humiliation they inflicted.
Duncan, a conservative judge who sits on the 5th Circuit Court of Appeals, broke from his prepared remarks seven minutes in to lament that "in this school, the inmates have gotten control of the asylum." But he got his metaphor wrong.
He eventually asked for an administrator to intervene, only to discover one had been sitting there the whole time. Tirien Steinbach, identifying herself as an associate dean, took the podium with her own prepared remarks and denounced Duncan. She said that it was uncomfortable to tell him, but his work had caused harm. She asked, memorably, "Is the juice worth the squeeze?" (The "juice" being his talk; the "squeeze" being the pain caused by his mere presence.)
Steinbach's treatment of Duncan unveiled an ugly truth about why shoutdowns like this have become so prevalent: It's not that campuses are overrun by out-of-control students prone to anti-social behavior. It's that administrators are still very much in control and creating an environment ripe for these results.
You're out of free articles
Create an account to unlock 1 more articles