Are Teachers Unions Overplaying Their Hands?
Unions should be part of the process to reopen schools. But some appear to be resisting flexible solutions.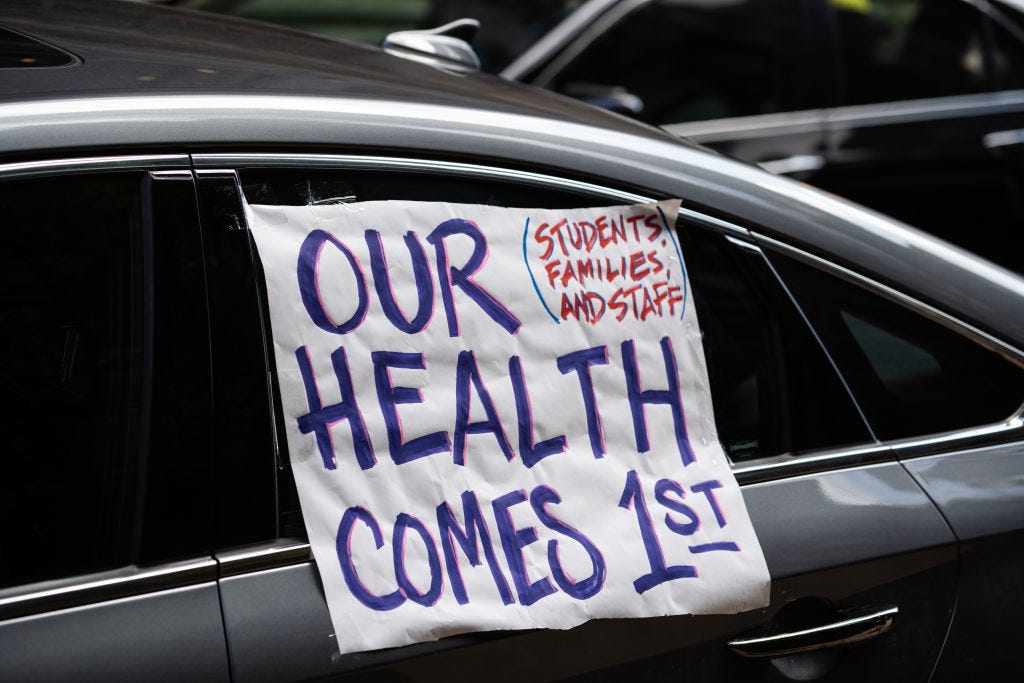 Earlier this week, American Federation of Teachers President Randi Weingarten declared that the union is prepared to halt school reopenings by any means necessary "until we get the virus under control." Weingarten thundered that "nothing is off the table—not advocacy or protests, negotiations, grievances, or lawsuits" or teacher walkouts (dubbed "safety strikes"). In short, Weingarten doubled down on what teacher union leaders have been saying since spring.
The school reopening picture is an undeniable mess. The urgent need to get kids back into schools and the equally compelling dictates of public health have yielded a politicized quagmire where the right decisions depend on local health conditions, unsettled science, school operations, and more. In all of this, the teacher unions are in a powerful but precarious place. Union leaders offer themselves up as protectors, guarding students and staff against rash, open-schools-now politicians. But just beneath the surface one can discern an alternative portrait, one of unions with priorities other than getting students back to school.   
Keep in mind that teachers enjoy a remarkable degree of goodwill, with 61 percent of respondents telling pollsters that they trust and have confidence in public school teachers. Through the pandemic, amid all the frustrations, public approval has actually increased—with the public giving their local schools glowing marks. And the unions are blessed with a straw man of a foil in President Trump, who has personified reckless disregard of safety in his rhetoric championing a full-bore reopening.
So, the unions are well-positioned to play the adults in the room, the trusted professionals standing up for what's right. Weingarten is clearly right about the need to prioritize the safety of students and staff; and parents are themselves split on whether schools should reopen.
Yet the unions are very much at risk of overplaying their hand. Not content to fight for deliberate processes and careful planning, union leaders have demanded $100 billion or more in federal education aid—without offering any assurance that this will be enough for schools to actually open. Meanwhile, union leaders have approached reopening as a chance to repackage longstanding demands for more teachers and staff, smaller classes, and community health care. Indeed, local teacher unions including those in Boston, Chicago, Los Angeles, Milwaukee, St. Paul, and Oakland have joined the Democratic Socialists of America in a coalition calling for a moratorium on charter schools and standardized testing, new taxes on the wealthy, police-free schools, a halt to home foreclosures, and much more.    
There are plenty of essential workers across the land—cops, firefighters, sanitation workers, grocery clerks, nurses, and the rest—who have been going to their jobs every day. Many of these workers are parents who don't have the luxury of staying home to supervise their children. And, as much as firefighters might prefer to shelter at home through the end of 2020, no one is suggesting that providing online tutorials to those confronting a house fire is a viable option.
As the fall winds on, the teacher unions risk being seen as tone-deaf given the expectations for other essential employees—especially if Trump loses his re-election bid, robbing the union leaders of their familiar straw man. As the fall stretches on, the acid test will be whether unions are serious about working to reopen schools responsibly or are content to see members collect full paychecks while indefinitely providing a cut-rate service.
Union leaders are right to note, for instance, that about one-fourth of educators are at heightened risk from COVID due to age or underlying health circumstances. It may be too risky to have those teachers in school but wholly feasible for unions to work with districts to move those staff into virtual roles while exploring ways for their colleagues to deliver some in-person instruction. Unions can work with districts to temporarily waive contractual work day rules, academic calendars, and staffing requirements.  
We've seen much less of that than we might hope, however. What's been more in evidence is unions seemingly resolved to resist flexible solutions. This spring, Los Angeles and the United Teachers Los Angeles (UTLA) crafted an agreement which created heavy restrictions around virtual learning—including provisions stating that teachers could not be required to provide live remote instruction or even to work during the school day. In Brevard County, Florida, the union and district agreed to a memorandum of agreement (MOU) that capped teachers' instructional time at three hours per day. In Boston, the union-district MOU imposed a two-hour limit on synchronous (live) instruction.
In other locales, union affiliates have rejected the idea of reopening schools early, urged schools to slow down academic work, refused to consider proposals for the early retirement of COVID-susceptible, and (in an ironic twist) demanded childcare for teachers who can't work remotely. In short, they aren't showing a lot of evidence that their first priority is finding a way to get kids safely back to school.  
Protecting vulnerable students and staff is admirable. Protecting contract provisions while pursuing a big-dollar agenda? Not so much. In the months ahead, we'll see which course the unions take. It wasn't that long ago that unions were down and out, the whipping boys of both Republican and Democratic school reformers. In recent years, the unions have mounted quite a comeback, winning strikes in red states and a prominent place in the Biden orbit. Now, these high-riding union leaders face a high-stakes test, with profound implications for students, families, and teachers themselves.
Frederick M. Hess is director of education policy studies at the American Enterprise Institute. Hayley Boling is a research assistant at AEI.
Photograph by Max Herman/NurPhoto via Getty Images.