New Hampshire and the Art of the Possible
Democrats are torn between voting with their heads and voting with their hearts.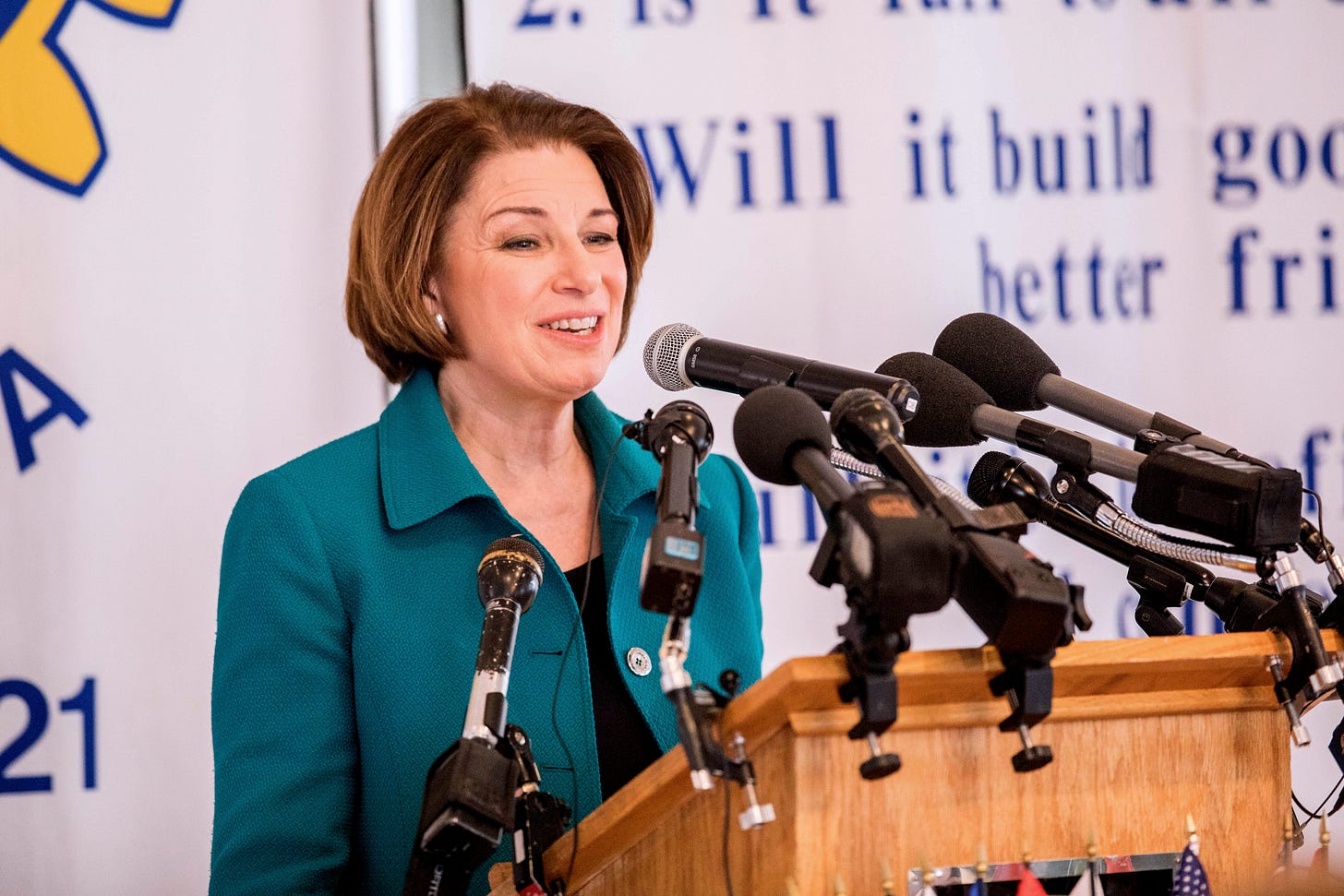 "It's not that we don't have these aspirational goals," Neila Brownstein told The Dispatch in Londonderry, alluding to Medicare-for-All and tuition-free college. "These things, they're great. But [Amy Klobuchar] realizes and recognizes there are steps to achieve those, and that this Bernie and Elizabeth approach of day one—boom, it's there—it's not going to fly. It's not going to get through Congress."
Tens of thousands of voters like Neila will cast a ballot today in New Hampshire's first-in-the-nation primary, the results of which (assuming they are reported in a timely manner) will shape the course of the Democratic race. And although Sanders holds nearly an eight-point lead in polling averages, Brownstein is far from alone in her cautious and practical approach.
"A criteria for me is somebody who could speak to independents," Helen Honorow said at a Rotary Club meeting in Nashua. "Yes, you need to speak to Democrats. But you need to speak to independents, you need to speak to moderate Republicans who want to preserve what we have in our country."
"In 2016 I was all for Bernie, and still think the world of him," Liz Richter disclosed at a Pete Buttigieg rally on Sunday night. "But I don't think somebody as progressive as Bernie or Elizabeth will appeal to enough percentage of the country."
She very well could have gotten this idea from Buttigieg himself. Just half an hour earlier, the former South Bend mayor warned a crowd of 914 packed into a middle school cafeteria about the perils of nominating his chief rival in the Granite State.
"At a moment like this, the one thing we cannot afford to do is to further divide a divided, polarized nation. We have got to get this right," Buttigieg said. "I respect Sen. Sanders and I think a lot of the ideas that he's calling for tie to values that we all share. But at a moment like this, telling Americans that you've either got to be for a revolution or you've got to be for the status quo, is telling most of us we don't belong. And we need a political movement where everybody can find a home."
"When you see $50 trillion worth of spending proposed, but only $25 trillion worth of ideas on how to pay for it," he added, "the American people are going to want to know where the other $25 trillion is supposed to come from."
At a country club in Nashua on Monday, Klobuchar made a similar pitch.
"My campaign has always been about reaching out, and not shutting people out, but bringing them with me," she said, referring, presumably, to voters on her right, not her left. "When we were asked in the last debate if we thought a socialist should lead the ticket, I was the only one who raised my hand and said, 'no, I don't think so.'"
"Many of my colleagues have the free-college-for-all slogan, and that sounds great on a bumper sticker," Klobuchar continued. "I don't think that's what's best for the economy."
Buttigieg and Klobuchar are practicing in New Hampshire what Otto von Bismarck—the man who unified an array of states in the 1860s and 1870s into what is now Germany—might refer to as "the art of the possible."
Bismarck is credited with describing politics as "the art of the possible, the attainable—the art of the next best." Sometimes, in order to govern, you have to compromise, or water down your positions, or even grant your opponent a victory or two.
And in New Hampshire, there's a market for that kind of message—it might even be a winning one. "He's not going to do everything that everybody wants," Anne Fenn said of Buttigieg, whom she supports. "But he also doesn't promise the universe to everybody and not be able to fulfill that. And that's what I'm kind of worried about with Bernie folks."
She recounted a February 2016 interview Sanders did with MSNBC's Chris Matthews, in which the Hardball host asked the Vermont senator how he'd pass his agenda through Sen. Mitch McConnell and a Republican Congress. Bernie's response left much to be desired. "I'd say, 'Hey, Mitch, take a look out the window. There's a million young people out there who don't want to be in debt for half their life for the crime of going to college. If you want to antagonize those million people and lose your job, Mitch, if you don't want to lose your job, you better start listening to what we have to say.'"
"That's not going to work, baby," Fenn said.
"For 99 percent of us, I think defeating Trump is first and foremost," Brownstein said. "Because let's face it. If he is in office, all of these wonderful, passionate dreams will never get accomplished. So you have to get in the office before you can get the job done."
She's also worried about Bernie. "Whether or not you think it's socialism or not, there's a segment of the population that is going to read it as socialism," she lamented. "And that is 'anti-American,' and they're not going to vote for the Democratic candidate. And we can't afford that. This country can't afford four more years of someone who takes the Constitution and shreds it every single day."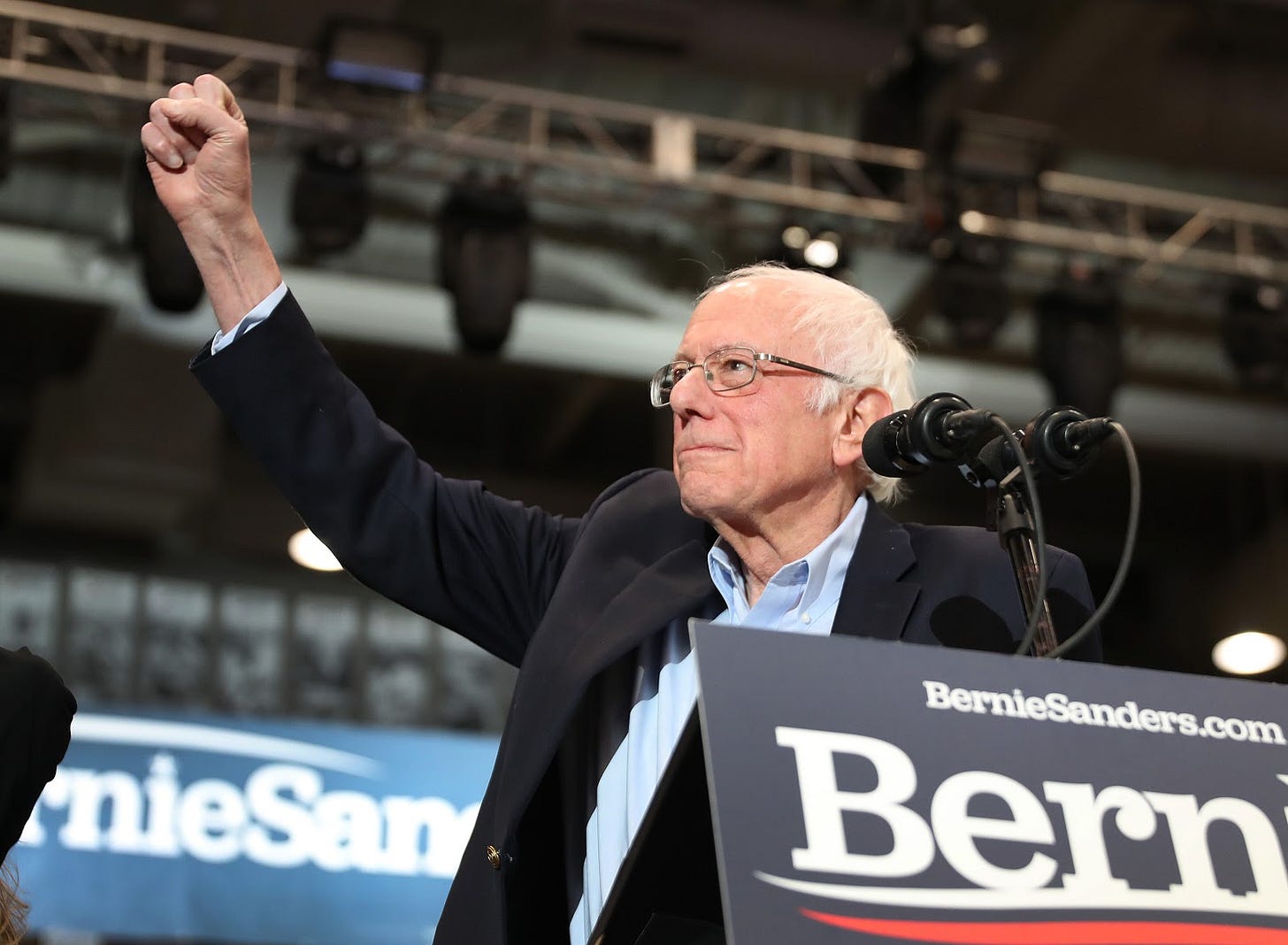 The Bernie camp, of course, sees things a little differently. 
At a get-out-the-vote rally in Durham on Monday night, 7,500 attendees heard speaker after speaker mock this type of thinking. "The type of person that we need to run against Mr. Trump is not half-measured, middle-of-the-way people," Sanders surrogate and former Ohio state senator Nina Turner said.* "We need somebody that's going to go HAM [hard as a motherf--ker] on the system."
"Is it 'practical' to continue to give the worst president in modern history more money in a military budget?" she asked. "Is it 'practical' to sit back and understand that every night 500,000 of our sisters and brothers sleep on the streets? Is it 'practical' to continue to make excuses? New Hampshire, we are the wealthiest country on the face of the earth, and we can afford to have Medicare-for-All, college-for-all, cancel student debt."
Cynthia Nixon—the actress famous for playing Miranda on Sex and the City who ran, unsuccessfully, for governor of New York in 2018—pleaded with voters not to play pundit with their ballots. "This nonsense that the media keeps telling us about, 'we have to pick somebody in the middle, somebody who everybody will go for.' You pick somebody everybody will go for, and I'll tell you who shows up on election day: pretty much nobody."
"People don't turn out in droves for somebody who checks a lot of boxes," she continued. "People show up in droves for someone they are passionate about."
The Sanders campaign passes out "Bernie Beats Trump" stickers and buttons at every campaign stop—no doubt to assuage fears of those for whom electability is priority No. 1. And it's true: According to current polling, Bernie does, in fact, lead Trump in general election forecasts—by about 4.5 points. But so do nearly all the Democratic candidates, and so did Hillary Clinton in 2016. A Democratic popular vote victory in November will ring hollow if it isn't accompanied by Electoral College votes from Pennsylvania, Michigan, and Wisconsin.
Buttigieg and Klobuchar believe they—with their Midwestern sensibility, empathetic tone, and open tents—have what it takes to win back the Rust Belt for Democrats later this year. Bernie—with his populist, working-class message—thinks the same.
This practicality-aspiration divide runs much deeper than mere political strategy.
Speaking to 100 Rotary Club members in Nashua on Monday, Klobuchar introduced herself as the granddaughter of an iron ore miner. "He wanted to be in the Navy," she said, "but he was the oldest son of nine kids and to help raise his brothers and sisters because his parents were really sick, and they actually both died when he was really young."
"He went down in that iron ore mine every single day," Klobuchar continued, telling the audience her grandfather was able to save up enough money in a tin coffee can to send her dad to community college, thus changing the direction of their family forever.
The Minnesota senator did not posthumously attack the owners of the mine for overworking her grandfather, or use her great-grandparents' passing to explain why we need Medicare-for-All. She didn't propose a "two cent tax" on multimillionaires to fund universal child care or tuition-free college. No, her story simply acknowledged a heartbreaking and unfortunate situation that her grandfather was able to grit his teeth and, through hard work, overcome.
"I often wonder if he thought about [the] life at sea that he wanted," she said. "But he had a duty. And that's what he did."
Politicians invoke the humble backstories of their ancestors for many reasons, often to humanize themselves or come across as relatable. In this case, though, it's hard not to feel like Klobuchar was appealing to voters' sense of responsibility. 
Photograph of Amy Klobuchar by Scott Eisen/Getty Images. Photograph of Bernie Sanders by Joe Raedle/Getty Images.
Correction, February 11, 2020: The article originally described Nina Turner as a current Ohio state senator.