The Morning Dispatch: A Sudden Warren/Sanders Split
Plus, Iran cracks down on domestic protesters yet again.
Happy Tuesday! Unless, of course, you are Dwayne "The Rock" Johnson, Cameron Diaz, Eminem, Octavia Spencer, or Shaquille O'Neal. A new study from Dartmouth economist David Blanchflower found that happiness follows a U-shaped curve over one's lifetime, with human misery peaking at age 47. Hang in there, Shaq, it's all uphill from here!
Quick Hits: What You Need to Know
The Progressive Cold War Turns Hot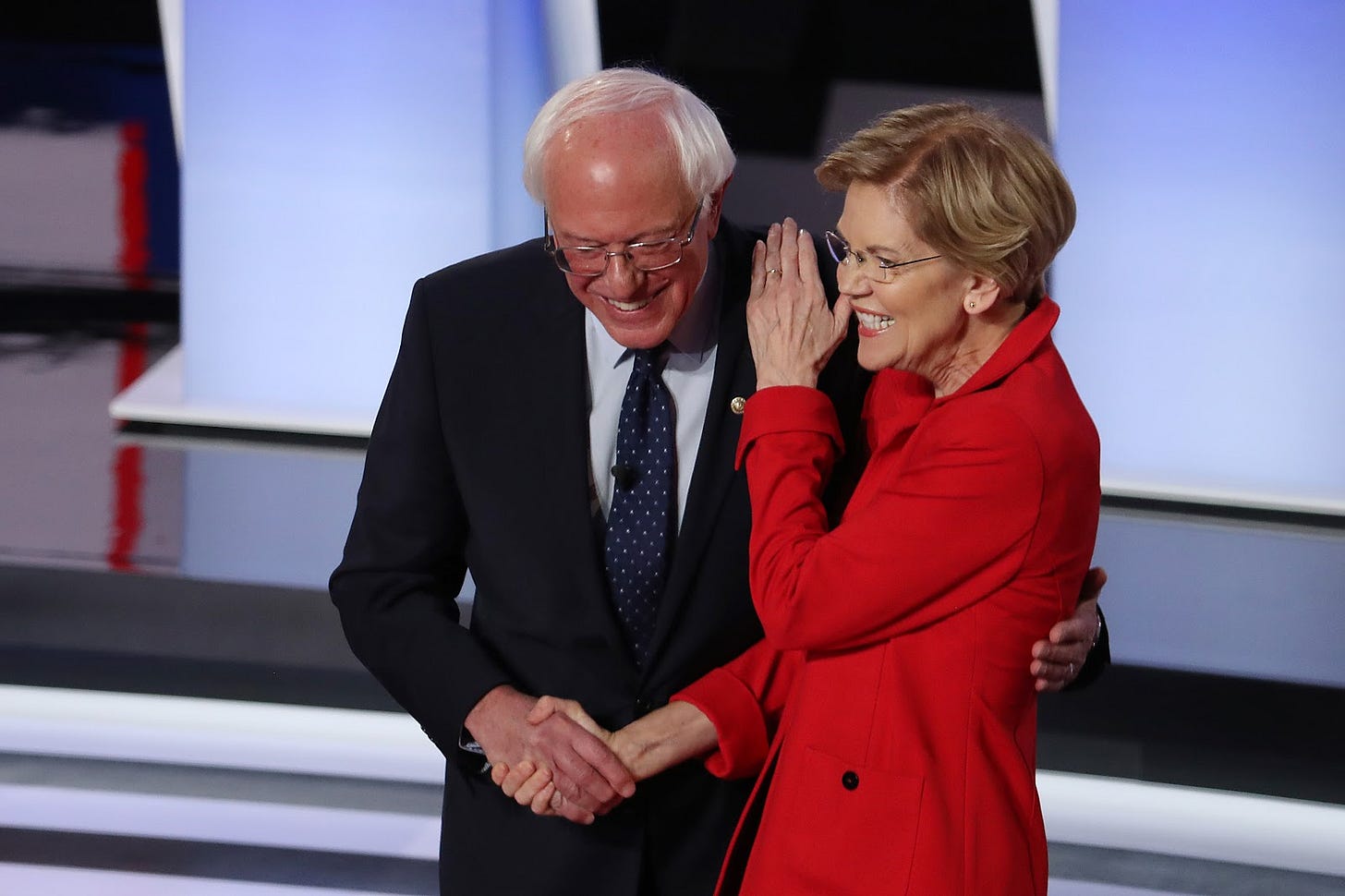 The last Democratic debate before the Iowa caucuses is tonight. Six candidates will be on the stage: Joe Biden, Bernie Sanders, Elizabeth Warren, Pete Buttigieg, Amy Klobuchar, and Tom Steyer. And while most of the debates have been relatively staid affairs, there has been real sniping in the last 72 hours between the two candidates vying for the progressive mantle: Bernie Sanders and Elizabeth Warren. 
The feud broke out into the open when Politico reported on talking points being distributed within volunteer ranks of the Sanders' campaign. One such script started much like any junior high mean-girl conversation, "I like Elizabeth Warren. In fact, she's my second choice. But here's my concern about her."
The script goes on to say that "people who support her are highly educated, more affluent people who are going to show up and vote Democratic no matter what." 
Warren, currently in fourth place in Iowa, seized on the opportunity for some much needed media attention. On the record, she simply said that she was "disappointed to hear that Bernie is sending his volunteers out to trash me." 
But on Monday, an anonymously sourced piece appeared in CNN with echoes of Hillary's complaints from 2016. Warren and Sanders met privately in December 2018 to discuss their potential presidential bids. According to the story, Warren made her best case for taking on Donald Trump's economy and "Sanders responded that he did not believe a woman could win." 
The Sanders campaign pushed back hard against the "ludicrous" story. "It's sad that, three weeks before the Iowa caucuses and a year after that private conversation, staff who weren't in the room are lying about what happened. What I did say that night was that Donald Trump is a sexist, a racist, and a liar who would weaponize whatever he could." 
Warren responded by saying "Among the topics that came up was what would happen if Democrats nominated a female candidate. I thought a woman could win; he disagreed." 
It's got all the makings of a colossal showdown at tonight's debate, which will be moderated by CNN's Wolf Blitzer, the Washington Post's Abby Phillips, and Brianne Pfannenstiel from the Des Moines Register. And while viewership has been steadily declining since 18 million people tuned in last June, this rumble in the progressive jungle might just be enough to pique voters' curiosity again. 
Regardless, we'll be tuning in just before 9 p.m. ET to see that opening handshake between Warren and Sanders in all its awkward glory.
Another Crackdown in Iran 
Iranians have taken to the streets in mass outrage over the regime's blunderous strike on a passenger plane that resulted in the deaths of all 176 passengers, which Tehran spent days lying about before finally admitting fault late last week. It's been two short months since the last round of protests were brutally suppressed by regime security forces who reportedly killed demonstrators by the hundreds.
Those protests, as we wrote at the time, were sparked when the cash-strapped regime slashed its domestic fuel subsidies, causing gasoline prices to spike 50 percent overnight, and spread to more than 20 cities before they were beaten back. 
What both rounds of protests have in common, however, is a common anxiety: a growing sense among at least some Iranians that the regime is unconcerned with protecting and preserving their lives.
"The regime tried to make a show of a strong response without provoking a strong U.S. reaction—it kind of threaded the needle there. And that led to problems when it shot down this plane, the Ukrainian plane, because it showed that while the regime was very careful not to kill Americans, it wasn't so careful about killing Iranians," says James Phillips, a Heritage Foundation expert on Middle East affairs. "More broadly, I think that many Iranians are protesting because they feel the regime puts a much higher priority on exporting the revolution… the regime focuses on protecting and advancing the narrow ideological interests of the revolution rather than Iran's national interests."  
The horrible mistake of downing a passenger plane set the stage for renewed protest in several other ways as well. That Iran's military would panic and accidentally kill a bunch of Iranians supplied the anger. But it also was a strong reminder that the regime's actual military prowess does not live up to its near-constant military braggadocio. Barriers to government protest fall when that government suddenly shows its weakness in unmistakable ways.
Several other remarkable happenings set apart this latest round of protests, too. The New York Times reported that a number of prominent state television and radio hosts quit their jobs Monday, publicly apologizing to the Iranian people for lying on behalf of the government.

"It was very hard for me to believe the murdering of my countrymen," popular TV host Gelare Jabbari wrote on Instagram. "Forgive me for believing it too late. I apologize for lying to you on TV for 13 years."
This isn't to say, of course, that the Iranian regime is teetering. As far as protesters are concerned, Tehran remains as powerful and terrifying as ever. There's been no indication that their grasp has weakened on the security forces tasked with violently stamping out citizen disquiet. If this wasn't clear from November's suppression effort, local reports this week of riot police firing live rounds and tear gas to disperse demonstrators should remove all doubt. The likeliest short-term outcome of these protests, unfortunately, is the same as with the previous round: shock and awe until anti-regime elements are beaten back underground.
But the protests do show a long-term hope for the Iranian people in one crucial way. Whereas anti-regime demonstrations used to be largely contained to Iran's relatively well-to-do citizens in a few cities, Phillips said, protests over the last few years have been much more all-encompassing—spreading across Iran to areas that had been bastions of support for the regime, "areas that up until then had been considered recruiting grounds for the revolutionary guards."
Absent external intervention, the regime isn't likely to lose its power until it loses its true-believer police. But if anti-regime fervor continues to spread, the long-term prospects of maintaining and restocking those forces looks dim.
Worth Your Time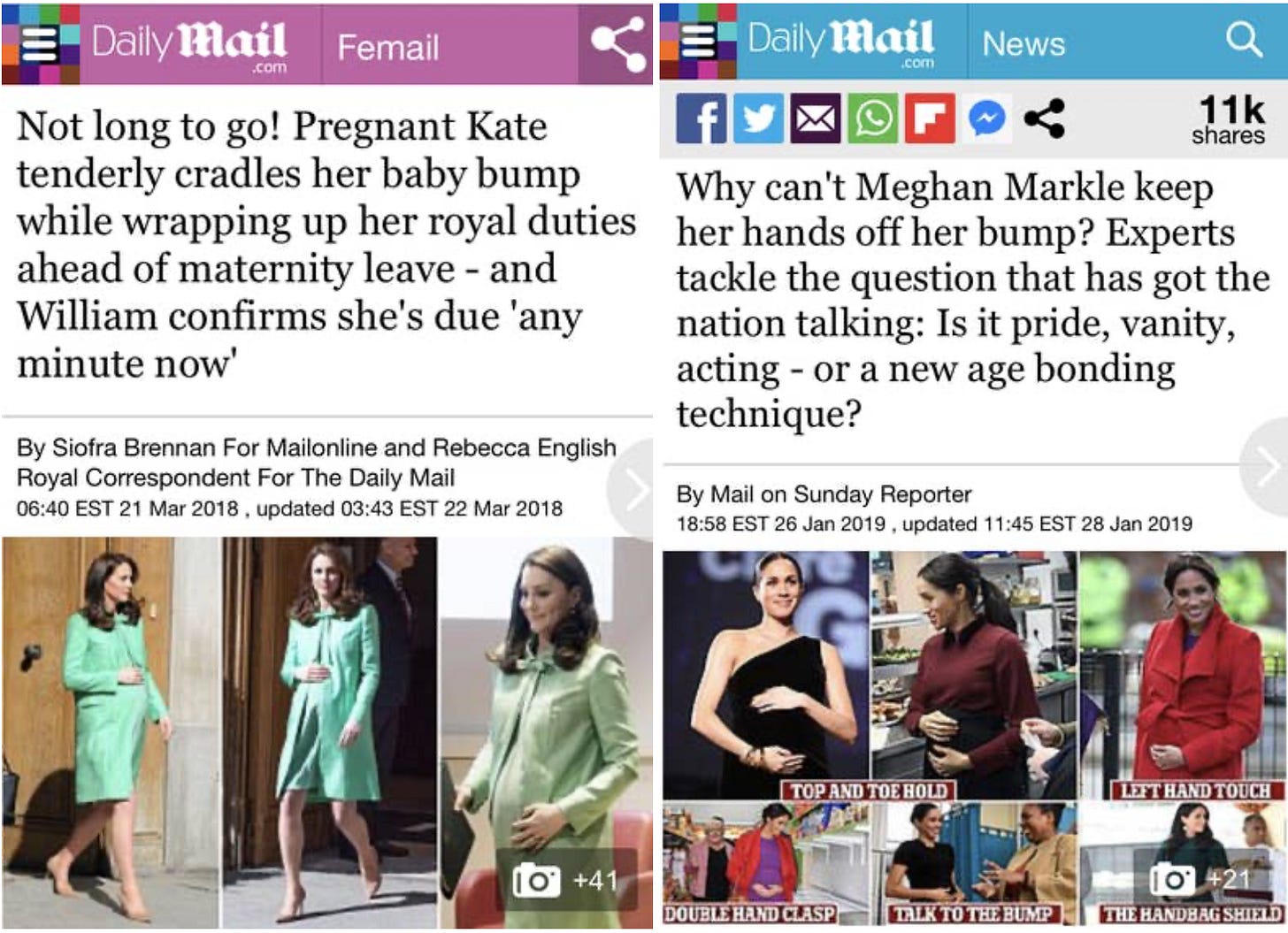 Presented Without Comment
Something Fun
If you've seen 1917, Sam Mendes' World War I drama, you know just how stunning the film's cinematography was. But even if you haven't, check out this split-screen clip depicting all that goes into the finished project you see on the big screen.
Toeing the Company Line
Let Us Know
Yesterday we asked you to send in some of your favorite game show bloopers, and you did not disappoint! Some of our favorites are below. (We'll warn you that a few are also slightly NSFW—don't blame us, blame your fellow readers!)
Reporting by Declan Garvey (@declanpgarvey), Andrew Egger (@EggerDC), Sarah Isgur (@whignewtons,) and Steve Hayes (@stephenfhayes).
Photograph of Bernie Sanders and Elizabeth Warren from the July debate in Detroit by Justin Sullivan/Getty Images.