How 'The Sting' Still Pulls Off Its Big Con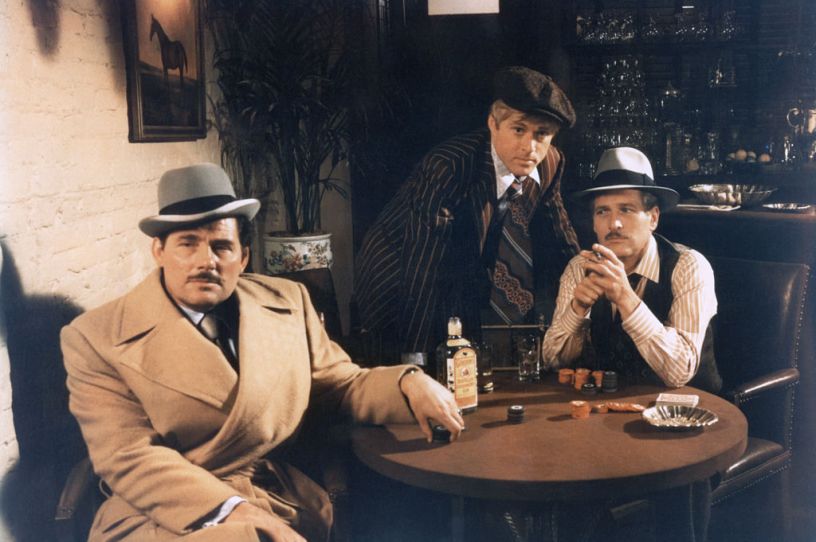 Robert Shaw, Robert Redford, and Paul Newman on the set of 'The Sting,' directed by George Roy Hill. (Photo by Sunset Boulevard/Corbis via Getty Images)
When The Sting hit theaters in late 1973, it had all the makings of a major New Hollywood production. Paul Newman and Robert Redford, both stalwarts of the movement, had reunited four years after Butch Cassidy and the Sundance Kid. They had joined forces again with director George Roy Hill, who like Newman and Redford had first gained fame as the Old Hollywood studio system was giving way to a more open playing field. Screenwriter David S. Ward, a self-starting 28-year-old, actually pitched his screenplay to two independent producers outside of the usual hierarchies. By all outward appearances, The Sting fit squarely with the ethos of a nascent era, one not bound by the strictures of the past.
Yet Hill's film now feels like a fond throwback to an earlier studio era, especially compared to other classics released that year. Unlike Martin Scorsese's Mean Streets or Robert Altman's The Long Goodbye, The Sting doesn't carry the weight of a singular authorial vision. And unlike one of its Oscar rivals for Best Picture, The Exorcist, it doesn't take advantage of Hollywood's new liberties to push the envelope on taste or content. The Sting is more breezy than brooding, with its deliberately artificial soundstage sets, title cards, iris shots, and matte paintings hearkening back to Hollywood's Golden Age.
For a film stacked with New Hollywood talent, The Sting carries a distinctly Old Hollywood sensibility. This sleight of hand, 50 years later, is key to its enduring appeal.
---
Like any good yarn, The Sting is as simple or complex as you want to tell it. Short version: Redford plays Johnny Hooker, a cocky young hustler in 1936 Chicago who teams up with a washed-up con artist, played by Newman, to take revenge on an Irish mob boss. Long version: Well, it gets complicated. One of the pleasures of the movie is how its simple premise gets entangled in increasingly elaborate schemes and double crosses.
You're out of free articles
Create an account to unlock 1 more articles