Joe Biden as Priest-King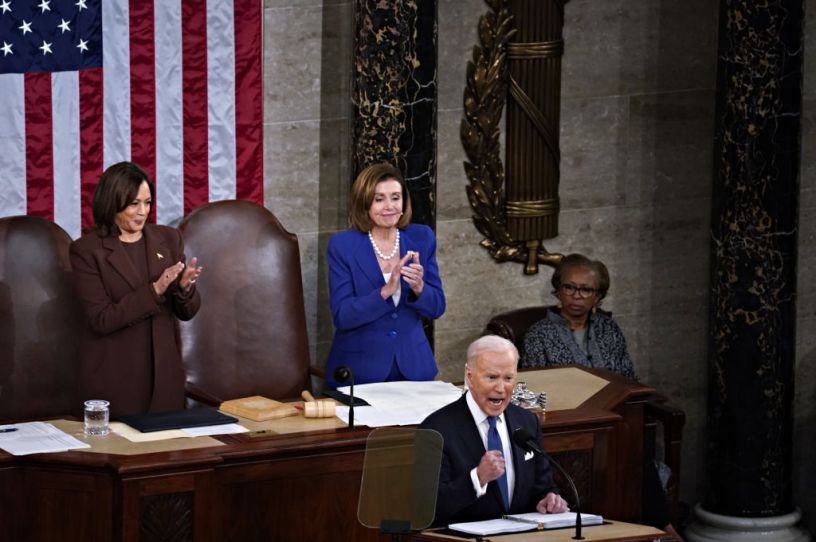 President Biden at his first State of the Union address in 2022. (Photo by Al Drago-Pool/Getty Images)
Were our Founding Fathers liberators or traitors? The Declaration of Independence set out the case for the revolution prospectively, for the benefit of that "decent respect to the opinions of mankind." Yet the American Revolution was always going to be judged retrospectively: In order to justify the rebellion against kingdom and king, the new republic would have to be more virtuous than the kingdom and more magnificent than the king.
In theory—a theory that to a surprising extent held true for a generation or two—the receptacle for American virtue was the whole body of the people, the citizens who managed to keep the republic together without civil war (for almost a century), who flourished mightily, and who practiced the cardinal republican virtues (even as the moral blight of slavery grew impossible to tolerate). The American people really did set an example to the world. There being no king, and so the receptacle for American magnificence became, tragically if inevitably, the president: first in the person of George Washington, and then in the institution of the presidency at large.
We were lucky and unlucky to have George Washington. Washington was the real thing, a genuine hero for the ages whose personal virtue, dignity, and propriety set the tone for the public life of the young nation. Washington would not be a king; Washington would not be an elected tyrant; Washington would not stay in office longer than was seemly. Washington's magnificence was, in the main, a moral magnificence—there was very little Caesar in him. His contemporaries and immediate political progeny recognized in him a classical type, and he was celebrated as an American Cincinnatus, the virtuous republican who, having been invested with awful power, went home to his plow when his service was done.
Cincinnatus would not have tolerated being made an idol of, but it was practically foreordained that George Washington would be made such an object of veneration. Washington was celebrated in a kind of crypto-classical mode that became increasingly plainly idolatrous as the years went on: the pagan artwork that decorates the interior of the Capitol dome is titled, appropriately, The Apotheosis of Washington. (The artist was formerly employed by the Vatican.)  Likewise, Washington's successors became recipients of veneration through a process that is a kind of laying on of hands, a sort of apostolic succession. The cult even has relics, such as the "Resolute" desk. The city named for the first of the presidents is bedecked with pagan monuments of every kind, from Greco-Roman temples to the Egyptian obelisk that communicates Washington's national fatherhood in its most obvious symbolic form. Presidents are lauded with "Hail to the Chief," a song adapted from Walter Scott's thoroughly pagan "The Lady of the Lake":
You're out of free articles
Create an account to unlock 1 more articles