Three Key Questions in the Google Antitrust Case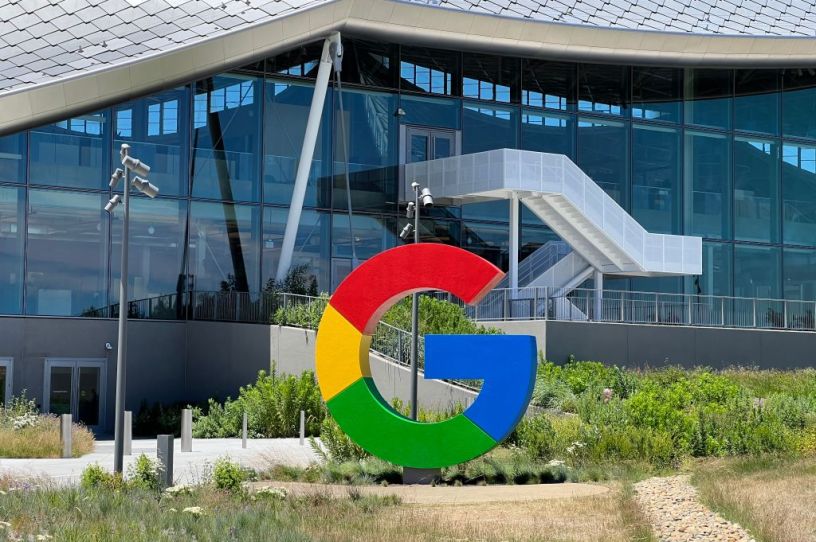 Google's Bay View campus in Mountain View, California. (Photo by Zhang Yi/VCG via Getty Images)
Last Tuesday, the Department of Justice (DOJ) kicked off its first major monopolization trial since the Microsoft case of the late 1990s. The target this time is a Microsoft rival: Google. Google's ubiquitous search engine competes with Microsoft's Bing, which powers search engines Yahoo and DuckDuckGo.
Filed in the waning days of the Trump administration, the government's lawsuit alleges that Google has cemented its monopoly power in general internet search and related search advertising by paying to be the default search engine on various "search access points." Specifically, Google secures default status by agreeing to share search advertising revenue with web browsers like Mozilla's Firefox, producers of Android phones and the carriers who service them, and iPhone maker Apple. In the government's telling, these deals prevent Google's search rivals from achieving the scale they need to become formidable competitors.
To establish illegal monopolization, the government must prove 1) that Google possesses monopoly power in a market and 2) that it has engaged in anti-competitive conduct to secure, maintain, or enhance that power. Given Google's greater-than-90-percent market share in general internet search, the first element is likely satisfied. The trial before Judge Amit Mehta in the U.S. District Court for the District of Columbia will therefore focus on the second element: Are Google's arrangements anti-competitive, or is Google just competing vigorously?
The government likens Google's conduct to that of Microsoft in the 1990s. In that case, the government proved that Microsoft had maintained its monopoly in computer operating systems by killing off web browsers that could eventually create competition for Microsoft's Windows. Microsoft cut off its rivals from the best outlets for distributing web browsers: original equipment manufacturers like Dell (OEMs) and internet access providers like AOL (IAPs). By paying to be the default search engine on key search access points, DOJ contends, Google today similarly forecloses rival search engines from the best means of distributing their products to users.