Why Don't Republicans Win in Big Cities?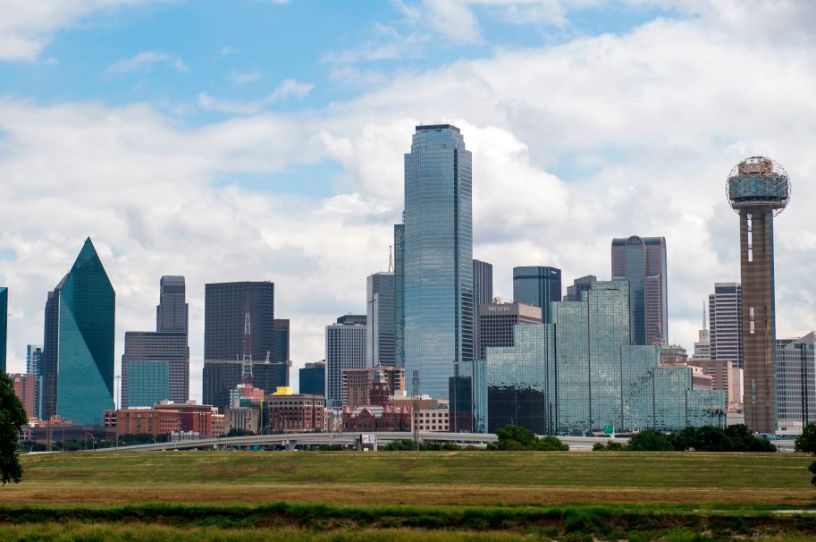 The Dallas skyline. (Photo by Valerie Macon/ AFP/Getty Images.)
Mattie Parker doesn't come off like a stereotypical big city mayor: The 38-year-old lawyer and former nonprofit executive was raised on a cattle ranch outside Hico, Texas, population 1,343. Yet the most exotic thing about her may be the "R" next to her name. As the Republican mayor of Fort Worth, Texas—a city on the threshold of 1 million residents—Parker is one of only two GOP mayors among the 20 largest U.S. cities. (The other is Lenny Curry of Jacksonville, Florida, also just under 1 million.) After Parker, the biggest cities to be led by Republican chief executives are Oklahoma City (681,054), Fresno, California (542,107), and Mesa, Arizona (504,258). Many of those mayoralties are, like Parker's, notionally nonpartisan, but it's a safe bet you won't see outgoing Mayor Steve Adler of Austin speaking at any Young Republicans conventions. Everybody knows.
And that's a problem for Republicans.
If there's one thing everybody knows about Texas politics, it is that Republicans win big except in Austin. Except, as usual, the one thing everybody knows isn't true: Republicans can't win in Austin to save their lives, true enough, but they also lose almost all of the time in Houston, Dallas, Fort Worth, San Antonio, El Paso—all the major cities.
After Fort Worth, the biggest Texas city with a Republican mayor is a suburb of Dallas, Plano. Increasingly, Republicans have a hard time in the bigger Texas suburbs and more urbanized suburban counties. Plano has a Republican mayor, but it went for Beto O'Rourke over Ted Cruz in the 2018 Senate race and for Joe Biden over Donald Trump in 2020.