Face Value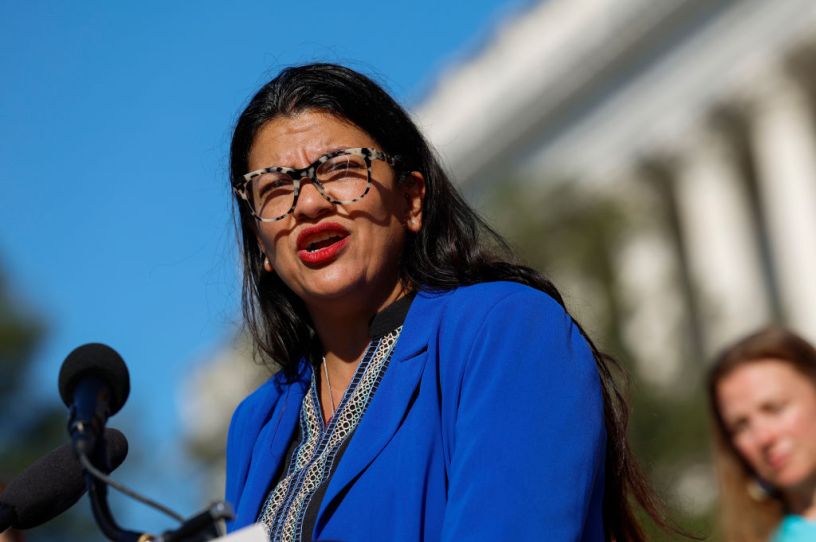 Rep. Rashida Tlaib speaks at a news conference outside the U.S. Capitol on September 19, 2023, in Washington. (Photo by Anna Moneymaker/Getty Images)
On Wednesday morning the United States found itself managing two different crises involving Jordan.
The domestic Jordan fiasco is more comic than tragic and has nothing to do with the Middle East. Or almost nothing.
The foreign Jordan fiasco is grave. It began when news outlets reported that an Israeli airstrike had destroyed al-Ahli Baptist Hospital in Gaza, killing more than 500 Palestinians. Global media was outraged by the bloodletting; by evening, a crowd attempted to storm Israel's embassy in the Kingdom of Jordan to take retribution. The king promptly canceled a summit he'd planned to host between Joe Biden and the leaders of Egypt and the Palestinian Authority, and he denounced the airstrike as a "shame on humanity."
In an instant, a horrendous error had shifted the balance of diplomacy not just abroad but here at home:
Biden is visiting the Middle East this week to try to drum up support, by which I mean "grudging acquiescence," among Sunni powers for Israel's coming ground campaign against Hamas. The horror at the hospital left him suddenly stranded in that effort without the (even more grudging) backing of his progressive wing in Congress. "These unspeakable crimes must stop now," Bernie Sanders declared in a statement after the airstrike. "The bombs and missiles from both sides must end, massive humanitarian aid must be rushed to Gaza, and the hostages must be returned to their families." It was a debacle for Israel.
As I write this on Wednesday, it seems almost beside the point that every particular of the original report appears to have been wrong. The hospital wasn't struck, its parking lot was. There are casualties, but photos circulating in the aftermath suggest it's nowhere near 500.
And it wasn't an Israeli missile that did the damage. It was, according to U.S. intelligence, a rocket fired by Palestinian jihadists.