A Banner Off-Year Election Night For Democrats
Happy Wednesday! We hope you had a pleasant off-year Election Day—or, for those who celebrate, a pleasant commemoration of the anniversary of Rudy Giuliani's legendary press conference at Philadelphia's Four Seasons Total Landscaping.
Up to Speed
Democrats enjoyed a strong night across various off-year elections Tuesday night, with Democratic Gov. Andy Beshear of Kentucky winning reelection by 5 points, Democrats retaking the state House and retaining the state Senate in Virginia's legislative elections, and Ohio voters passing by a commanding margin a constitutional amendment creating a right to abortion in the state. Mississippi Gov. Tate Reeves, a Republican, also won reelection.
Rep. Rashida Tlaib, a Michigan Democrat, was censured by the House of Representatives Tuesday in a bipartisan vote after she posted a clip that features protesters chanting "from the river to the sea" in a video critical of President Joe Biden's support for Israel in the wake of a terrorist attack on the Jewish state that targeted civilians for murder, torture, and kidnapping, leaving more than 1,400 dead. "From the river to the sea" is an antisemitic term used by Hamas and others who oppose Israel's existence. Tlaib claimed she was not using the phrase in that context. The censure resolution, offered by Rep. Rich McCormick, a Georgia Republican, passed 234 to 188, with 22 Democrats supporting and four Republicans opposing.
Democrat Gabe Amo won a special election to fill Rhode Island's vacant 1st Congressional District, overwhelmingly defeating Republican Gerry Leonard, the Providence Journal reported. The Democratic-leaning seat went empty in June after Democrat David Cicilline resigned midterm.
Democrat Dan McCaffery won an open seat on the Pennsylvania Supreme Court, the Philadelphia Inquirer reported. McCaffery's win over Republican Carolyn Carluccio solidifies the Democratic Party's hold on the Commonwealth's highest court ahead of the 2024 presidential election. In 2020, the court figured prominently as Donald Trump and Republicans supporting the 45th president filed legal challenges complaining Joe Biden's victory in Pennsylvania was illegitimate.
Democrat Yusef Salaam won an uncontested race for a seat on the New York City Council, the New York Times reported. Salaam's victory, coming after he finished first in a competitive Democratic primary, was expected. But Salaam's candidacy has received outsized attention because he is one of the "Central Park Five," a group of minority youths convicted and later exonerated in the 1989 sexual assault of a female jogger in Central Park. Donald Trump, at the time a prominent Manhattan real estate developer, called for them to receive the death penalty.
Six Republican contenders qualified for the GOP's third presidential debate, airing at 8 p.m. ET Wednesday on NBC from the Adrienne Arsht Center for the Performing Arts overlooking Biscayne Bay in Miami. But with frontrunner Donald Trump taking a third pass, you'll only find five of the candidates on stage: former New Jersey Gov. Chris Christie; Florida Gov. Ron DeSantis; Nikki Haley, the ex-South Carolina governor and former U.S. ambassador to the United Nations; wealthy biotech entrepreneur Vivek Ramaswamy; and Sen. Tim Scott of South Carolina.
Doug Burgum was excluded from the televised faceoff because he did not meet the threshold established by the Republican National Committee for support in national polls. But don't expect the North Dakota governor to drop out anytime soon. Burgum, who is calling the RNC's decision unfair, announced Tuesday his campaign planned to air fresh television advertising in Iowa and New Hampshire during the debate broadcast.
Virginia Democrats Spoil Youngkin's Party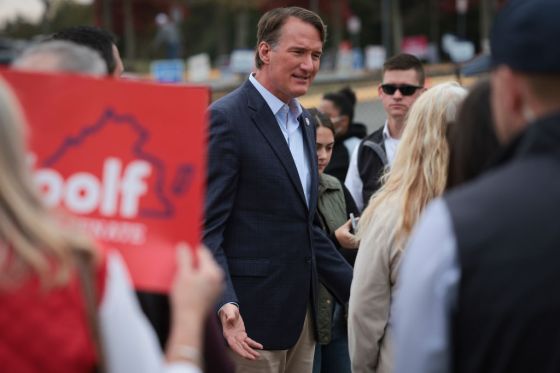 Tuesday was a disaster for Gov. Glenn Youngkin.
The Virginia Republican put more than $14 million and a giant chunk of his political capital on the line to maintain GOP control of the state House of Delegates and to win the majority in the state Senate. Ultimately he was unable to do either, consigning Virginia to two more years of divided government and likely quieting all but the most desperate calls for Youngkin to make an eleventh-hour entry into the Republican presidential primary.
A combination of environmental factors, from redistricting to a slew of incumbent retirements to the solidly Democratic bent of the Old Dominion, helped Democrats keep and grow their power in the General Assembly.
You're out of free articles
Create an account to unlock 1 more articles