Abortion On the Ballot in Tomorrow's Off-Year Elections
Happy Monday! Andrew lost in all three of his fantasy football leagues this week. Please keep him in your thoughts during this trying time.
Up to Speed
Voters head to the polls in several states this week for off-year elections, including gubernatorial contests in Kentucky and Mississippi and state legislative elections in Virginia. Kentucky's Democratic Gov. Andy Beshear is being challenged by Republican state attorney general Daniel Cameron, while GOP Mississippi Gov. Tate Reeves takes on Democrat Brandon Presley.
Iowa Gov. Kim Reynolds will endorse Florida Gov. Ron DeSantis for president at a Monday rally in Des Moines, the Des Moines Register first reported Sunday. The move isn't unexpected: Reynolds and DeSantis have long shared a similar governing outlook, and Reynolds has frequently appeared at her Florida counterpart's Iowa events. Her endorsement comes as DeSantis desperately needs a shot in the arm, failing to close former President Donald Trump's huge polling lead in Iowa and slipping out of second place in several other key early states.
Donald Trump lashed out at Reynolds after the news of her coming endorsement broke, calling her and DeSantis "two extremely disloyal people" and threatening that the endorsement would be "the end of her political career in that MAGA would never support her again."
The third Republican presidential debate of the year will take place this Wednesday evening in Miami. Ron DeSantis, Nikki Haley, Vivek Ramaswamy, Tim Scott, and Chris Christie have all qualified to participate; Donald Trump will once again skip the event and counterprogram it with a nearby rally.
Trump is set to testify again under oath today in his ongoing New York civil fraud trial, where he is accused of inflating his net worth in documents to obtain better terms on loans from banks and insurers.
Former Rep. Peter Meijer of Michigan announced Monday he is running for Senate, targeting the seat being vacated by outgoing Democratic Sen. Debbie Stabenow. The one-term lawmaker lost his House primary last year to a Trump-backed challenger, John Gibbs, over his vote to impeach the former president after January 6. Gibbs went on to lose to Hillary Scholten, a Democrat, in November. Meijer joins a Republican field that includes former Rep. Mike Rogers and former Detroit police chief James Craig. 
Ohio to Decide on Abortion Rights Constitutional Amendment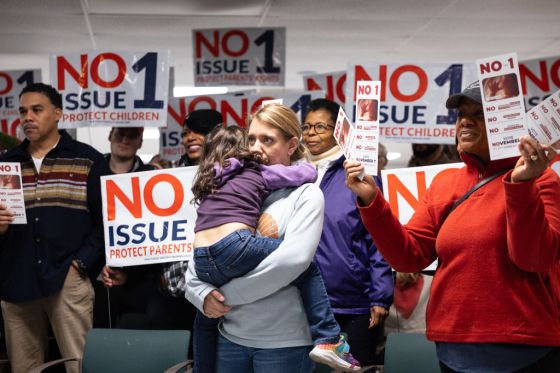 Ohio voters will go to the polls tomorrow to decide a colossal question: whether to enshrine the right to an abortion in their state constitution.
It's the latest test of how far abortion-access advocates can push their electoral advantage—and whether the pro-life side can stop the electoral bleeding—one year after the end of Roe v. Wade.
The measure, State Issue 1, would establish a "right to make and carry out one's own reproductive decisions" while recreating Roe's own restriction standard: permitting prohibitions on abortion after fetal viability except when "in the professional judgment of the pregnant patient's treating physician it is necessary to protect the pregnant patient's life or health." Ohio currently bans abortion after 22 weeks. A six-week ban signed in 2019 by Republican Gov. Mike DeWine is currently stalled in state courts.
You're out of free articles
Create an account to unlock 1 more articles