Ben's Chili Bowl Founder on Civil Unrest—In 1968 and Today
'The neighborhood was literally destroyed.'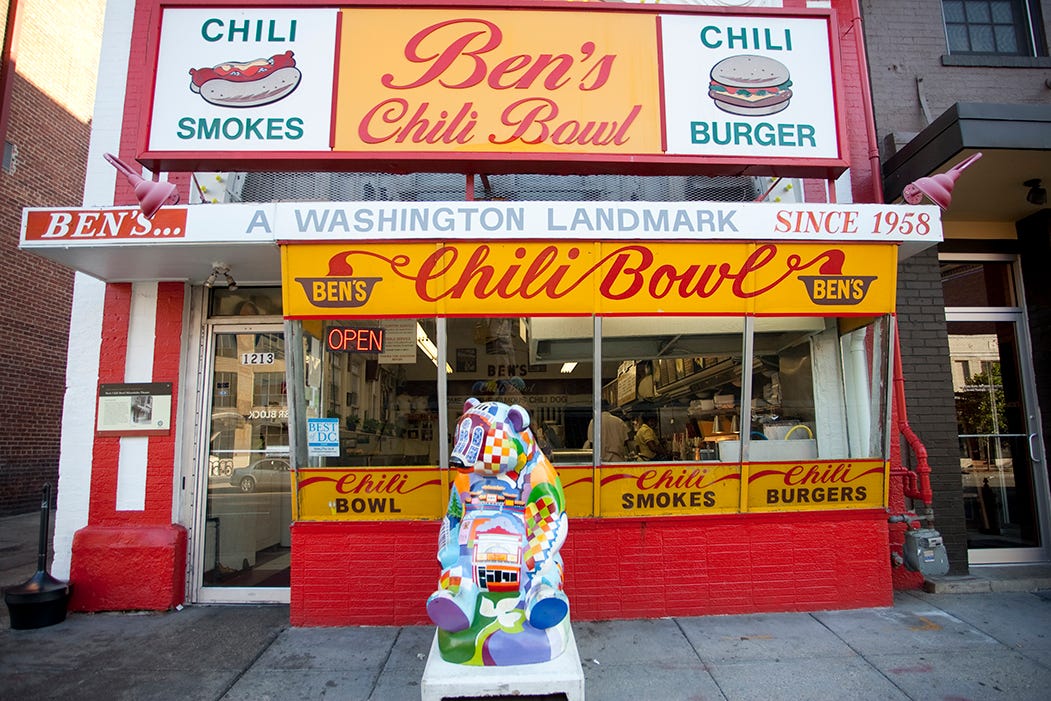 Virginia Ali has been here before. "When the riots happened, the violence was pretty rough, it was really pretty rough," she told The Dispatch in an interview on Wednesday. "We did have the National Guard out, we had a curfew in place."
She could have been describing the previous night—but she wasn't. Ali and her late husband founded Ben's Chili Bowl on August 22, 1958, taking over the old silent Minnehaha Movie Theater at 1213 U Street NW in Washington, D.C., at a time when that neighborhood was still known primarily by a different name. "Black Broadway was the most important area for African Americans because it was our community center," Ali said. "When we were talking about looking for a place to open a restaurant, if we could find something close to that, we think we would be in pretty good shape."
The couple—set to wed in a few months—went about the business of converting their new building into what would quickly become a D.C. institution. "The neighborhood that we were in provided everything we needed," Ali remembered. "We found the architect, the contractor, the plumber, the electrician, and the cabinet maker within a few blocks. They were African-American owned businesses."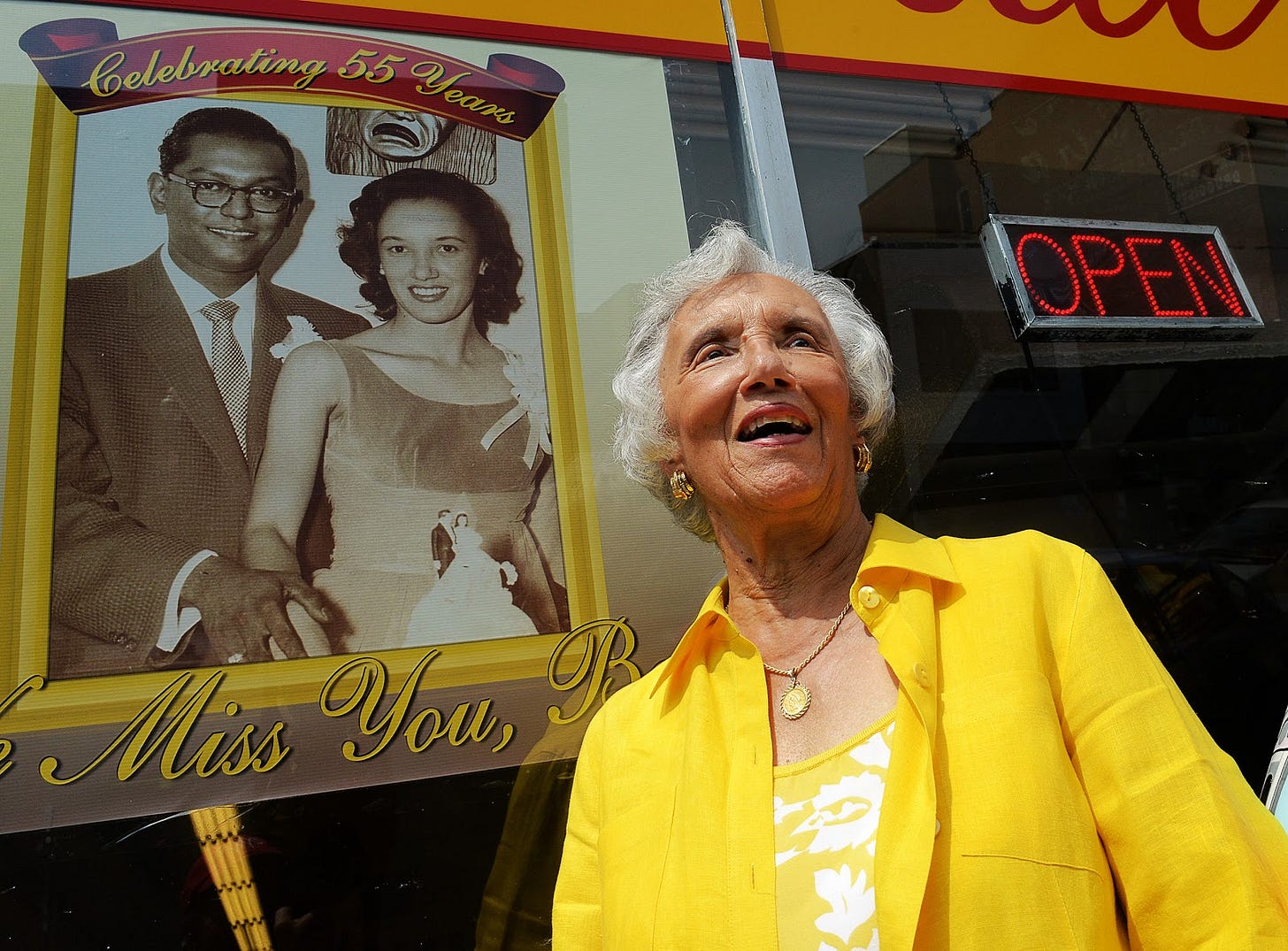 Ten years later, the Chili Bowl was the only restaurant on U Street the police allowed to stay open past the curfew instituted during the mass unrest that followed the assassination of Martin Luther King Jr. Most black-owned businesses closed in honor of King—including Ben and Ali's—and curfews were soon instituted regardless. But then a police captain called the Chili Bowl, Ali said, and told them their night staff could get passes to continue working. For four days in early April 1968, Historical Society of Washington, D.C. historian Jane Levey told The Dispatch, the Chili Bowl "became a safe and neutral space for people to meet when things were really hot elsewhere in the city." And not just for the protesters. "For whomever!" Ali exclaimed. "City officials, police officers, anybody that wanted to come in."
Perhaps because of this special status, the Chili Bowl remained standing through the riots while the rest of the block was reduced to rubble. "The neighborhood was literally destroyed," Ali lamented. "And [it] took a downturn for the next 20 years." She doesn't want to see that happen again.
"A powder keg."
"The U Street neighborhood was the center of enterprise for black Washington up until the early 1950s," Levey said. In the 1953 case District of Columbia v. John R. Thompson Co., the Supreme Court unanimously ruled segregation in public places to be illegal in D.C. after a group of civil rights lawyers found that a long-unenforced Reconstruction Era statute from 1872 barring the practice had never actually been repealed. The result, Levey said, was a gradual dispersal of the city's African American population from the U Street corridor. "People of means left. So you had a middle-class flight from that neighborhood that began in the '50s," Levey noted. "Not everybody, but much of the population of U Street ended up being people of fewer means."
Tensions between black and white Washingtonians continued to heighten in the decade and a half between Thompson and the 1968 riots. Segregation was now prohibited, but effects of the legal change took time to meaningfully manifest in people's lives. Once they did, African Americans could begin to move about more freely in the nation's capital, but decades of discrimination and redlining ensured the vast majority of businesses remained under white ownership. The National Mall played host to 1963's March on Washington, and Julius Hobson and Marion Barry began to build strong political movements in the city. "The city had been a powder keg for most of the '60s," Levey said. When King was killed in Memphis by James Earl Ray in 1968, it was ready to explode.
"When I flew into [Washington] National [Airport], the place just looked like someone had dropped a bomb," activist Rufus Mayfield told WTOP News for its 2018 oral history of the riots. The smoke, that dark smoke, was just billowing up."
"We'd be fighting a fire in one building," Bill Embrey, a D.C. firefighter, recalled, "and one store or two stores up from us, you would just hear, like, glass break and an explosion, and fire'd be shooting out of the building."
"We're surrounded by a mob of about 50 people," the Washington Post reported a police officer shouting into his radio. "What do we do? They're looting. Do we arrest them or do we leave? Or what the hell do we do?"
"The young people had a chance to go in and grab stuff, clothing," Manuel Rivera said. He was 16 at the time of the riots. "There were people coming out with shopping carts with food in it and all sorts of things. For the young people, who really didn't understand what was going on, it was a time of just having fun."
People were in the streets for a range of purposes, Levey explained. Some were simply heartbroken and had to share their anguish. Others were angry, and expressed this anger by breaking things. "Add to that, angry people who came out and who had been—for one reason or another—denied middle-class comforts, denied goods and services that many people took for granted. And they saw the opportunity to take what they didn't have."
"A lot of white people didn't understand, 'Why are they tearing down their own neighborhoods?" Levey pointed out. "What they were protesting against in tearing down was what they perceived as being taken advantage of by white businessmen who held the upper hand simply because they were white." 
Many black-owned businesses put signs in their windows during the riots identifying them as such to stave off the wrath of the mob. The move wasn't always successful.
U Street was "literally destroyed," Ali repeated for emphasis. "It's a lot of money to go build your business over again!"
"Businesses did not reopen," she continued. "The middle class began to move away. And then after that, heroin moved in, and then crack cocaine moved in, and we became a ghetto. And that lasted, as I said, 20 years."
"I don't think two wrongs make a right."
Ali has lived what most of us know only from pages in our history textbooks. 
Stokely Carmichael—civil rights activist and a "very handsome" and "very suave" young man—ate at the Chili Bowl "every day during the summer of 1967 and the spring of '68" because the Student Nonviolent Coordinating Committee (SNCC) building was across the street.
"Dr. King had a satellite office at 14th and U, and of course, whenever he was in town, and he'd make it to the Chili Bowl, there were occasions when he'd sit with me for a few minutes and talk about his dream, which was an amazing thing."
"I remember the March on Washington in 1963, when Dr. King had thousands and thousands of people from all over this country here for that March on Washington, where he made that amazing, 'I Have a Dream' speech. No violence, not a single incident."
These brushes with history—and the years-long fallout from the unrest in 1968—have clearly shaped how Ali thinks about the ongoing protests over the premature deaths of George Floyd, Ahmaud Arbery, Breonna Taylor, and too many others.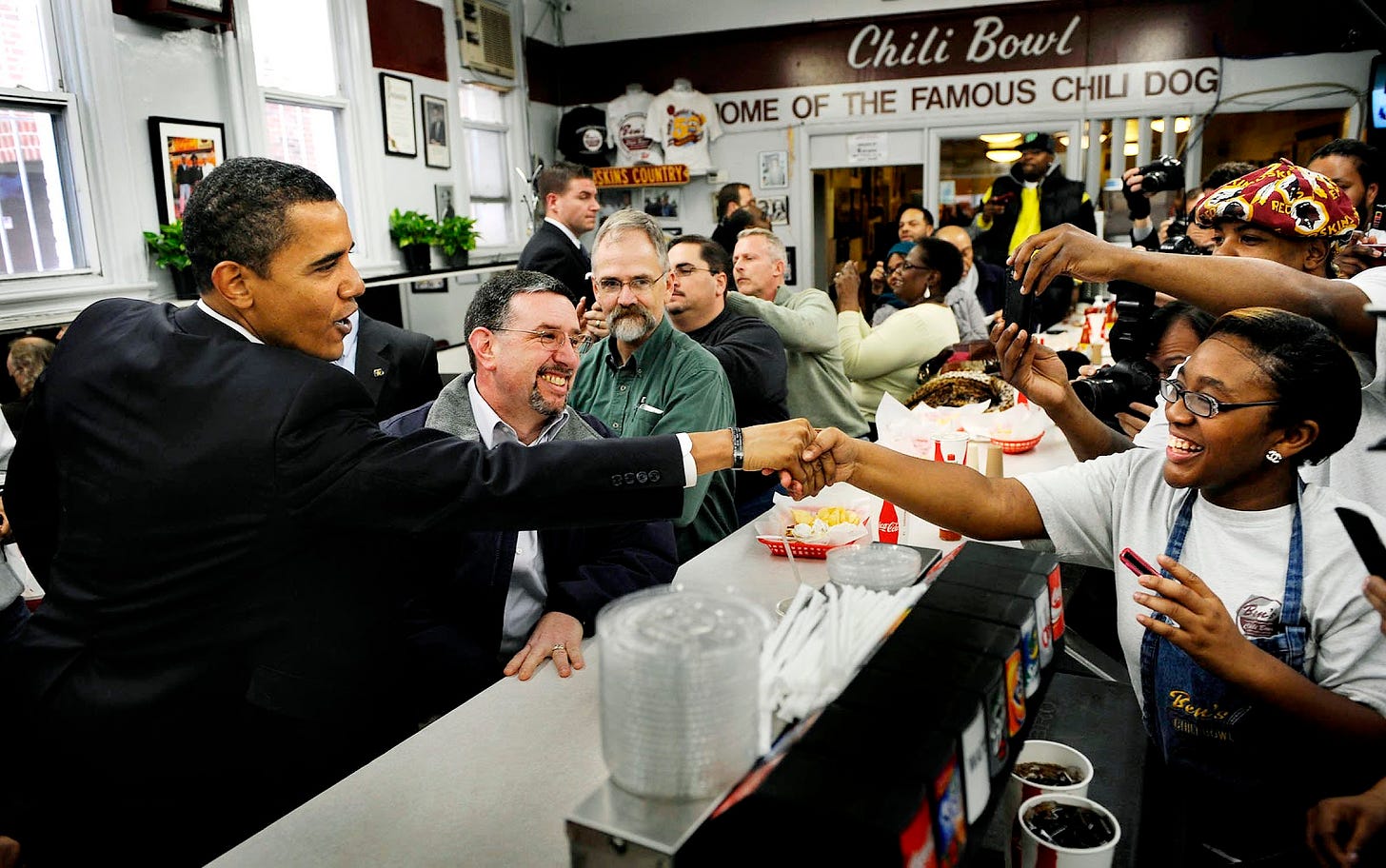 "When I see what's going on today—and I so appreciate those demonstrators and those protesters that do that peacefully—but I get very upset with the agitators that create the problems and cause the violence and the looting and all of that," she said with force. "We definitely should not destroy our communities and our neighborhoods. For me, that's just not the way to go."
But don't mistake her anger with these "agitators" for complacency with the status quo. "We've fought for the same basic human rights that we're fighting for again, 52 years later." She sighed. "That's ridiculous isn't it?"
It's a tension that business owners—particularly black business owners—are grappling with, throughout D.C. and around the country. 
Roaming Rooster is several miles north and east of the epicenter of the protests in Washington, so co-owner Michael Habtemariam and marketing manager Jerusalem Tilahun are not as worried about any damage to their fried chicken restaurant. And they've actually seen an uptick in sales as calls to support black, family-owned businesses grow louder. But if their building was broken into and looted, would they be able to recover quickly?
"Oh God, no. It would be devastating," Tilahum acknowledged. "It could take years, decades to come up, and some people may not even survive at all. … It's much harder for small businesses to recover from something like this. And mind you, we just barely got through the COVID crisis."
"It's pretty scary to think, as a small business," she continued, that "rioters—which are a very small portion of the protestors as a whole—can potentially come and damage small businesses that people have actually put their blood, sweat, and tears into building."
As scary as losing her business would be, Tilahum says she is trying to keep things in perspective. "People are losing their lives," she said. "It's much, much greater than us. Money can be replaced ultimately, and it is devastating. And I'm sure we would feel the same way if we were hit. But the cause is much greater than us, I think, compared to the monetary loss. It is important these peaceful protests do happen, and hopefully people will adhere to that and stay away from riots and destroying properties."
Virginia Spatz—who is white but works at the black-owned Charnice Milton Community Bookstore in Anacostia—feels similarly. "Only through the kind of action that we're seeing in recent days will we ever get to a point where more people in this town and around the country can have any semblance of safety," she told The Dispatch in an email. "I don't want anyone—protester, resident, business person—hurt (and I'd hate to lose any books or suffer further material setback for CMCB). But I am sick and weary to the bone of losing life after life in our local Black and immigrant communities."
Ali expressed some similar sentiments—black Americans have been fighting the same recurring battles for decades. Has King's nonviolence tact failed?
"I don't think two wrongs make a right." The 86-year-old was adamant. "I really don't think so. I don't think so at all."
"I think you have to take the high road," she said. "It's unfortunate that we've had to go at this over and over and over again. That's very unfortunate. But I think now we have more people supporting this cause not only in Washington, but all over this country and all over the world. We have people standing in support of what we've had to deal with. And I think this is going to make a difference."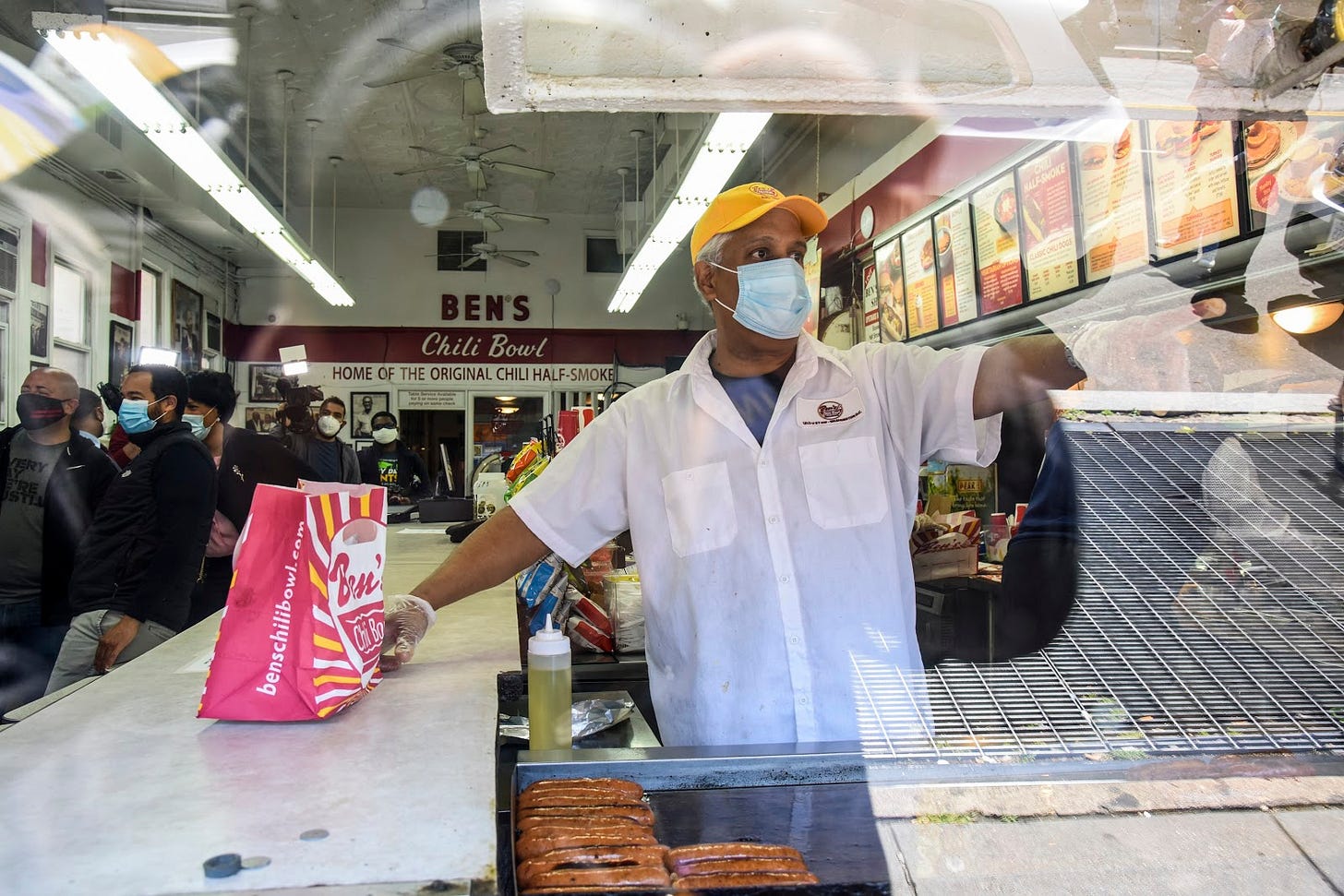 Ali's boundless hope has been forged over decades of close calls and near misses with the Bowl. Just over a month ago, the Ali family worried they might lose their business after being shut out of the initial round of Paycheck Protection Program funding—their loan application was approved in late April. A banner on the restaurant's website proudly boasts: "From the burning and looting of the 1968 race riots to the tough times in the 70's and 80's and finally to the revitalization of the U Street Corridor beginning in the 90's, Ben's has seen and survived it all." 
Ali believes our country will too—that the nation will come together to address systemic injustices. "I think it's got to happen," she said. "And I'm so optimistic because we definitely need positive change and I want to see it before I leave this world."
Photograph of Ben's Chili Bowl exterior by Getty Images. Photograph of Virginia Ali by Bill O'Leary/Washington Post/Getty Images. Photograph of President-elect Barack Obama by Linda Davidson/Washington Post/Getty Images. Photograph of Kamal Ali preparing food for frontline workers during the pandemic by Jahi Chikwendiu/Washington Post/Getty Images.