How Many Democratic Candidates Will Survive Iowa?
An old adage says there are three tickets out of the caucus. Could there be more in this crowded field?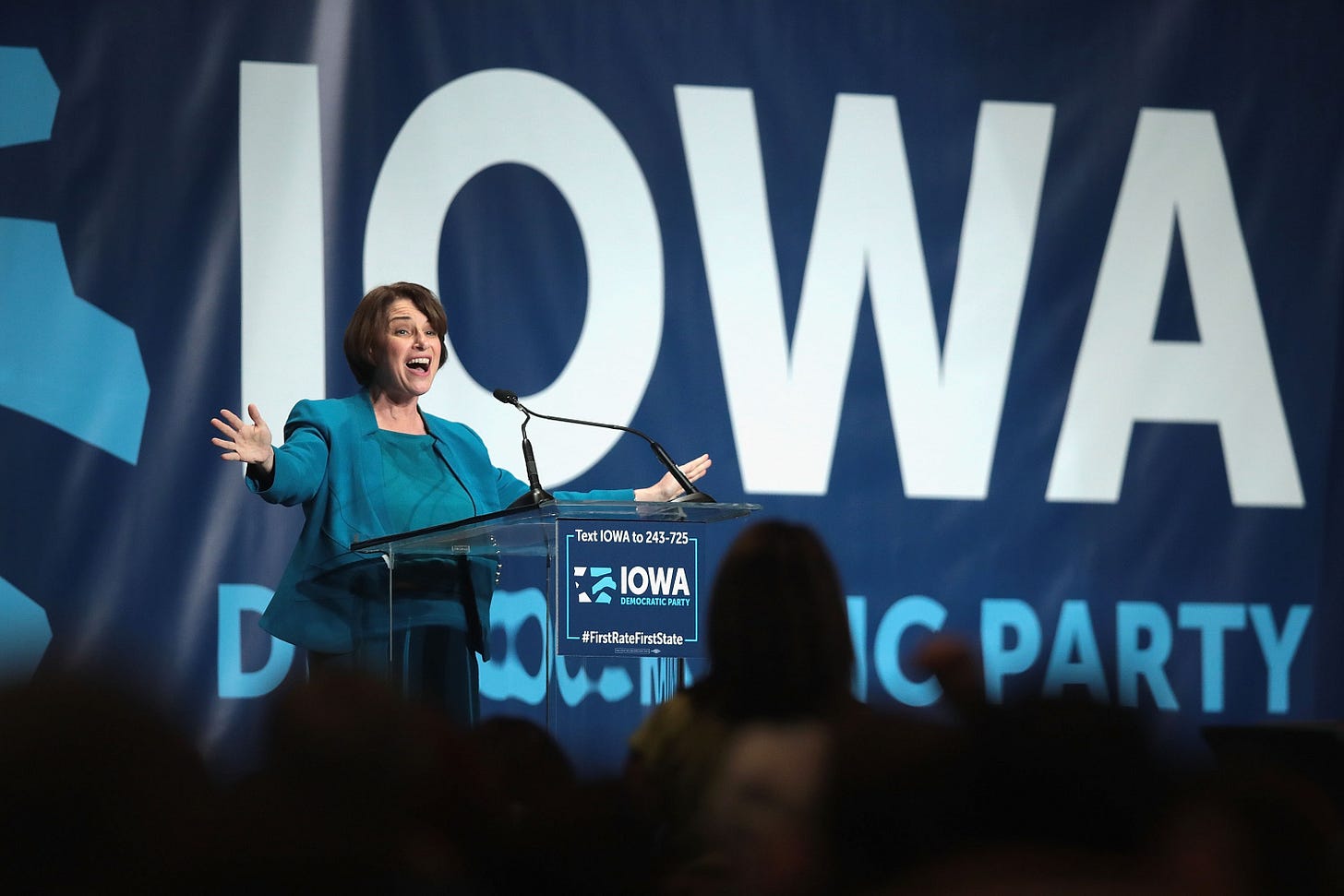 When Amy Klobuchar asserted back in September that voters would be looking at "who is in the top eight" in the Iowa caucuses, she was trying to counter an old political axiom saying that there are only "three tickets out of Iowa."
Since then, the Democrat field has been reduced slightly, but there are still 14 Democrats in the race. (You had forgotten about Deval Patrick, admit it.) With the caucus now just four weeks away, is she right? 
First, some history. In 1972, Iowa Democrats moved up their caucus to January, which made it the first nominating contest in the country that year.  Iowa Republicans, realizing what an opportunity this was for a state largely known for its butter cow, followed suit in 1976. And then the state legislature passed a law that the Iowa caucuses would always be held eight days before any other nominating contest (a real thumb in the eye of New Hampshire, which still calls itself "first in the nation" as a sort of technical nod to the primary vs caucus rivalry). 
That leaves us eight contested Republican caucuses and 10 Democratic ones to consider. 
Next month's losers will undoubtedly remind us that Jimmy Carter, Ronald Reagan, George H.W. Bush, Bill Clinton, Michael Dukakis, Mitt Romney, and John McCain all lost in Iowa. In fact, only 60 percent of Democratic nominees have won Iowa (and even fewer—50 percent—of Republicans). 
The bad news for the underdogs is that Carter, Reagan, and Romney came in second and H.W. Bush and Dukakis came in third, reinforcing the "three tickets" claim.  Clinton, however, came in fourth in 1992 with less than 3 percent of the vote, finishing well behind "Uncommitted," which came in second, beating him by over 9 points. McCain also came in fourth in 2008 with 13.1 percent after Fred Thompson squeaked by him to place third with 13.3 percent. But no candidate has ever become his or her party's nominee finishing fifth or lower in Iowa. 
So what does any of this mean for 2020? Are there actually four tickets? Or will changes to the primary calendar render all that history moot?
As David Kochel, long-time Iowa caucus guru, said "times have changed … there are at least four in the most unsettled field we've ever seen, but a case can be made for tickets five, six and even seven, which would be unprecedented." At this point, Kochel believes that "Biden, Warren, Sanders, and Buttigieg all appear to be holding a ticket."
Indeed, in averaging the last four polls, those four candidates are clumped into the top tier in Iowa: Sanders (22 percent), Buttigieg (21.7 percent), Biden (20.3 percent), and Warren (15.3 percent). Klobuchar trails Warren by more than eight points, though her last debate performance garnered positive reviews and may have boost her standing.
But perhaps the most important difference in 2020 comes from the rest of the nominating calendar. After the Iowa caucus, New Hampshire, Nevada, and South Carolina are all in their usual places rounding out the rest of February. But California moved from June to March 3, joining 14 states on Super Tuesday. This means that 60 percent of the delegates will have been awarded by the Ides of March. And caucuses, which generally favor the more extreme candidates of each party who can energize the base voters most likely to participate in these low-turnout affairs, account for just 3 percent of delegates this time around (down from 14 percent in 2016). 
All of these changes favor nationally organized candidates with high name ID who can compete across demographics and regions on a single day. It also means that coming in first or second in Iowa may not matter as much this time around if you can stay competitive in the rest of the early states and have a campaign with the resources to sweep Super Duper Tuesday a month later. 
For lower-tiered candidates, the early contests have always been about beating expectations. Bill Clinton lost the first contests in 1992 but he bounced from 3 percent in Iowa to 25 percent in New Hampshire to winning Georgia with 57 percent by the end of February. 
Pete Buttigieg is the most obvious candidate to try this "beat expectations and build from there" strategy.  While he's leading in Iowa in the latest RealClearPolitics average, he's also facing a much stronger field than Clinton did in 1992 when Iowa Sen. Tom Harkin) won 77 percent of his home state's votes and rendered the caucus largely irrelevant. Buttigieg's other problem is that expectations, which will be high based on polling, would mean he has to win the Iowa caucus. That's a tall order for any first time presidential candidate building a multimillion dollar organization from scratch. 
Let's say, as history shows, that there really have been four tickets  out of Iowa when there's been a larger and more contested field of candidates. That's a good bet for this time around, too. Biden, Warren, and Sanders don't need to win Iowa, and most likely Buttigieg doesn't either as long as he has a good showing in that group. 
But what about that ever-elusive fifth ticket? 
For someone like Klobuchar, currently in fifth place, it's a hard case to make. Her polling in the remaining early states hovers at 2 percent or less, and it will be hard to argue that a fifth place finish in Iowa generates much momentum with so many nationally viable candidates ahead of her. But if she can beat Biden and Warren for a third-place finish, that gives her a better argument with New Hampshire voters. And should Biden or Warren drop to fifth, either or both could make a comeback later in the calendar given their large campaign infrastructures. 
Kochel agreed, adding "Klobuchar needs a strong second act in New Hampshire, and the eight days between Iowa and New Hampshire will be critical. Beating Biden in the first two states won't drive him from the race, but it would give Klobuchar the opportunity she needs to go to Super Tuesday."
And what about the dark horses?
For the final debate this month before the caucuses, only five candidates have made the stage to date (Biden, Warren, Sanders, Buttigieg, Klobuchar). But the debate cut may not be the final word. As Kochel points out, Cory Booker is "an effective campaigner with a good Iowa team but voters appear to have too many choices in the first tier" and Andrew Yang has "a devoted online army and drastically low delegate expectations." And don't forget Bloomberg and Steyer who aren't even playing in Iowa. So perhaps we still have many more lingering candidates long after Iowa this time around. 
Photograph of Amy Klobuchar at the Iowa Democratic Party's Hall of Fame Dinner on June 9, 2019, in Cedar Rapids by Scott Olson/Getty Images.