Is the Federal Government Sending Private Security Forces into Portland?
No.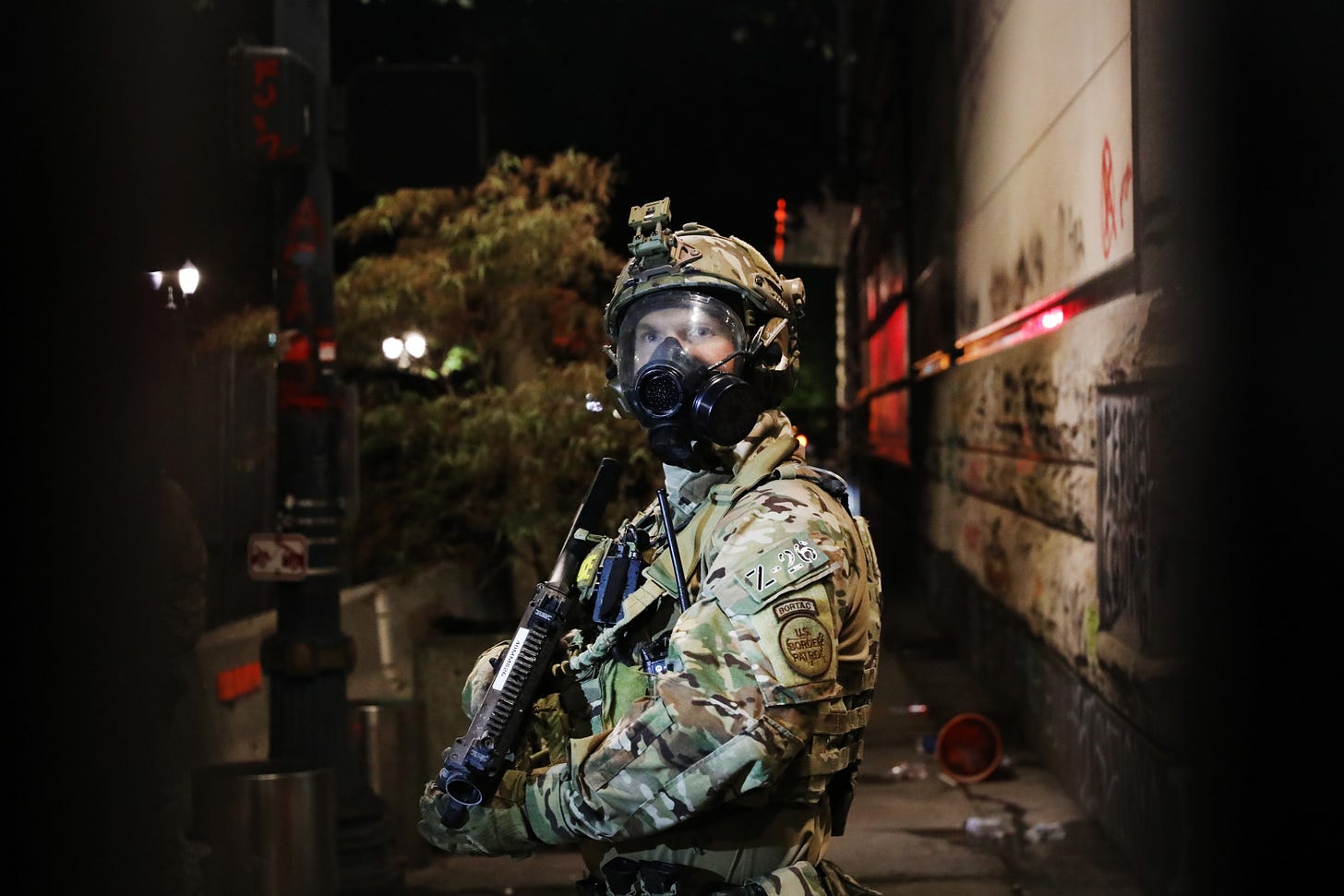 Viral social media posts claim that the government deployed security forces from a private firm to Portland, Oregon. One conspiracy claims that a firm called ZTi Solutions provided the agents while another suggests that the agents are employees of Blackwater (erroneously referred to as "Black River" in some posts), which was founded by Secretary of Education Betsy DeVos's brother, Erik Prince. Some of the posts about ZTi identify Prince as the owner of the firm as well. 
ZTi Solutions is a security company based in Virginia. The company's website is currently down, but based on the information available through archived versions of the site, ZTi appears to predominately engage in IT security work. ZTi's "About" page states that it was founded and is owned by Rudy Zadnik, not Erik Prince. The firm was drawn into conspiracies about the federal agents in Portland after a photograph taken of one such agent appeared to show him wearing a patch reading "ZTI."
However, rather than identifying the agent as an employee of ZTi Solutions, in a press conference a representative from the Department of Homeland Security explained that during this time the security forces in Portland and other areas were not wearing typical identifying badges: Due to concerns about doxxing, rather than have agents wear their names on their uniforms, they're now being given patches with unique identifiers so that agents can still be identified by their peers and superiors. The example given at the press conference was "DZ1." Other images out of Portland show agents wearing similar identifying patches. Close examination of the patch in question shows that it actually appears to read "ZT1" rather than "ZTI," something ZTi CEO Zadnik noted in a statement to The Dispatch Fact Check. "I've seen the images on the uniforms," said Zadnik. "None of them say 'ZTI.'  They say 'ZT1.'" Zadnik also explicitly denied his company's involvement in what's occurring in Portland: "ZTI is not providing any security that has been at protests in Portland."  
There is nothing to indicate that the federal agents in Portland are from Blackwater, either. There has been no reporting to support this claim. Erik Prince sold the Blackwater facility in 2010 and the company now operating there goes by the name Academi. Academi's website identifies itself as a separate company, stating "Erik Prince took both the Blackwater name and legacy with him when he sold the facility." Academi hasn't been tied to anything going on in Portland either and the company provided The Dispatch Fact Check with a statement saying it has "has zero operational connections to Portland, Oregon."
All reporting and available information from the government consistently identifying the security forces in Portland as federal agents. Viral posts that claim to the contrary are baseless.
If you have a claim you would like to see us fact check, please send us an email at factcheck@thedispatch.com. If you would like to suggest a correction to this piece or any other Dispatch article, please email corrections@thedispatch.com.