On the 75th Anniversary of V-E Day, WWII Veterans Are Stuck in Isolation
Events have moved online, and the veterans who would have attended are bored and lonely in retirement homes.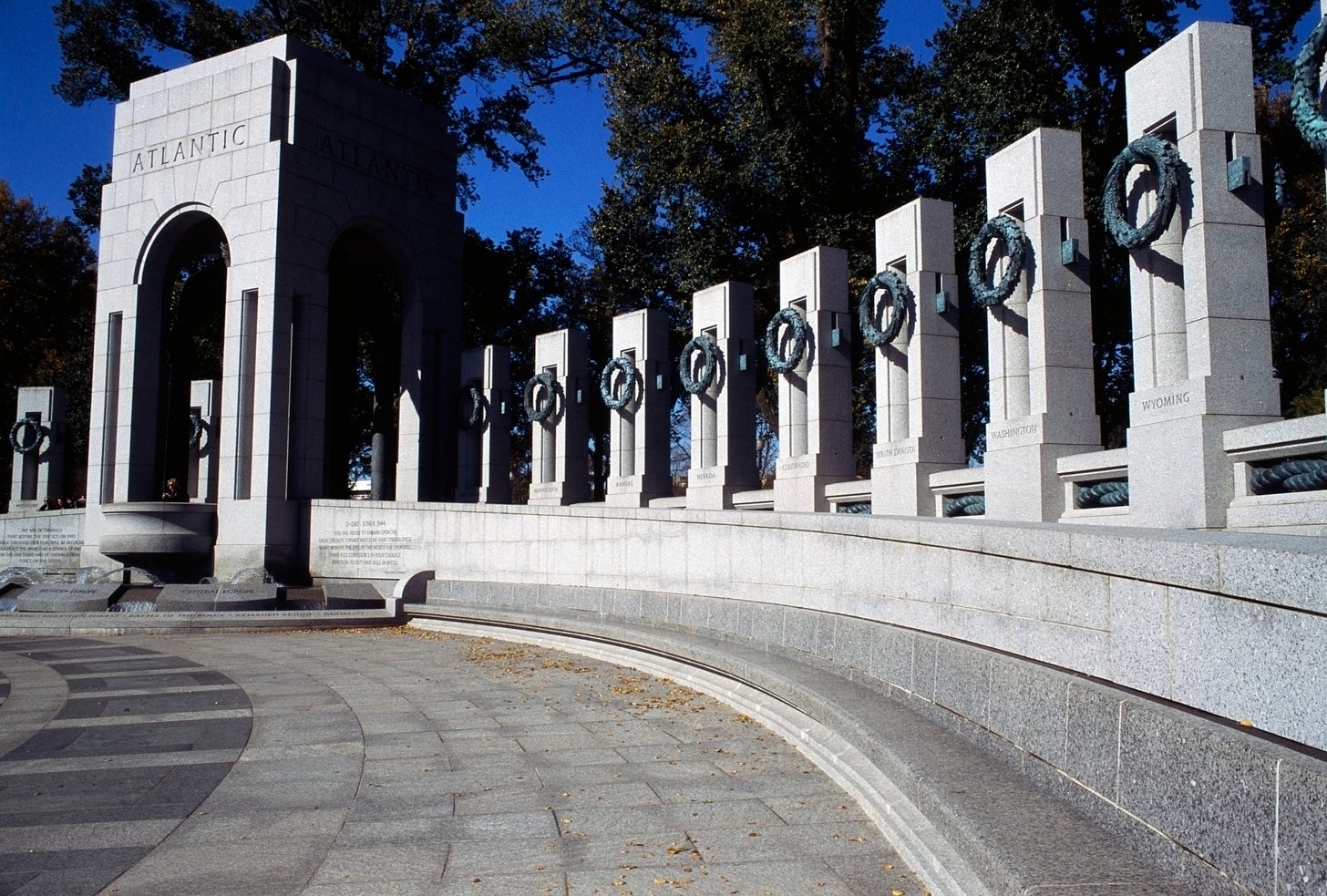 Last year, the National D-Day Memorial in Bedford, Virginia, attracted a crowd of more than 10,000 people for a ceremony commemorating the 75th anniversary of the Allied invasion of Normandy. There was a parade honoring the roughly 100 World War II veterans in attendance. People were encouraged to greet them, shake their hands, and thank them for their service. The memorial had similar plans this year to celebrate the 75th anniversary of V-E Day on Friday—until the coronavirus pandemic broke out.  
Like nearly every other museum and educational center, by the end of March, the D-Day memorial had moved all of its events online. And it's not taking any chances for May or June either: The memorial has canceled all public events for the foreseeable future. It does not expect to reopen until well into the summer. 
"We were pretty quick to recognize that having 95-year-old men out in public this year was not going to happen," said John Long, director of education at the memorial.
The situation is not ideal, Long admits, but live-streaming ceremonies on V-E Day and D-Day is a better (and safer) way to honor veterans than doing nothing at all. After all, the Greatest Generation is the most at-risk for contracting COVID-19. And it's already quickly aging into the grave. Of the 16 million people who served in World War II, just shy of 400,000 were still alive in 2019, according to the Department of Veteran Affairs.  
The bulk of those veterans, all older than 90, are passing this V-E Day in a state of isolation. Many are living in retirement homes, where fears of a rapid infection rate among the elderly have forced care providers to prohibit them from receiving any visitors. Some have lost their hearing—or their memories—making it hard to communicate with their loved ones over the phone or on video calls.
Forrest Bower, a 101-year-old veteran living in a Kentucky retirement home, said that the near three months of quarantine has been the hardest period of his life since the Great Depression or the worst days of combat in World War II. Unlike those two other national events—which many people in his generation remember as a commonly held experience—the only things he shares with others now is loneliness.
"It was different then," he says of the Depression. "We had plenty of work to do, and everyone helped each other. It didn't really bother us as much as this has."
Bower, who was drafted the day after Pearl Harbor and served in the European theater, says that he lived through the American invasion of Italy, and he is determined not to let the virus shutdown take him out. Every day, he puts on a protective mask, grabs his walker, and takes four or five laps around the hallway at his care facility.
If he doesn't do this, Bower says, his leg muscles will atrophy, and he will never walk again. The routine keeps him sane when he's not allowed to take visitors. 
"It'd be a lot easier to stay in my room and sit in my chair," he says. "But I don't want to get to a place where I have to resort to a wheelchair."
Herb Stern, a 101-year-old veteran who nearly froze his feet off as an artillery officer in the Battle of the Bulge, said that the coronavirus shutdown is "boring." Stern, who remembers vividly the violent confusion of the bloodiest American-fought battle in World War II, now wishes that he could see his son, who typically flies out once a month to see him.
But because of the stay-at-home orders still in effect and the strict lockdown at Stern's Virginia retirement home, it's unclear when he'll get to see his son again.
"Most of the older people in here have some underlying condition, which of course makes us more susceptible to the virus," he says. "They're being very careful and strict—and you really can't blame them."
Don Hughes, a 97-year-old retired lieutenant general who served as the commander in chief of the Pacific Air Forces until his retirement in 1981, said he is not a "happy camper" under the shutdown regime in the same retirement home as Stern. Still, he is doing his best to follow social distancing guidelines: His daughter brings him groceries, and he goes for walks when the weather is nice. The experience is isolating, and he can't wait for it all to be over.
"Of course, when it is all over, I'll just go back to the same old things I was doing before," he laughs.
Nic Rowan writes from Washington, D.C.
Photograph by DeAgostini/Getty Images.