The Morning Dispatch: Dispatches From Iowa
Plus: A shooting at Naval Air Station Pensacola and Joe Biden's bad dodge about son Hunter.
Happy Monday! Our alarm clocks hit us this morning like the moose on the right hit the moose on the left in this dude's driveway. Volume up for some fantastic, albeit explicit, color commentary.
Quick Hits: What You Need To Know
Greetings From the Hawkeye State!
One of your trusty Morning Dispatch correspondents, Andrew Egger, has been in Iowa for a few days, talking to voters, sitting through stump speeches, and generally just trying to get a Democratic temperature check with less than two months to go before the first-in-the-nation caucus. We'll have a deeper report later in the week, but in the meantime, a couple quick notes on the state of play.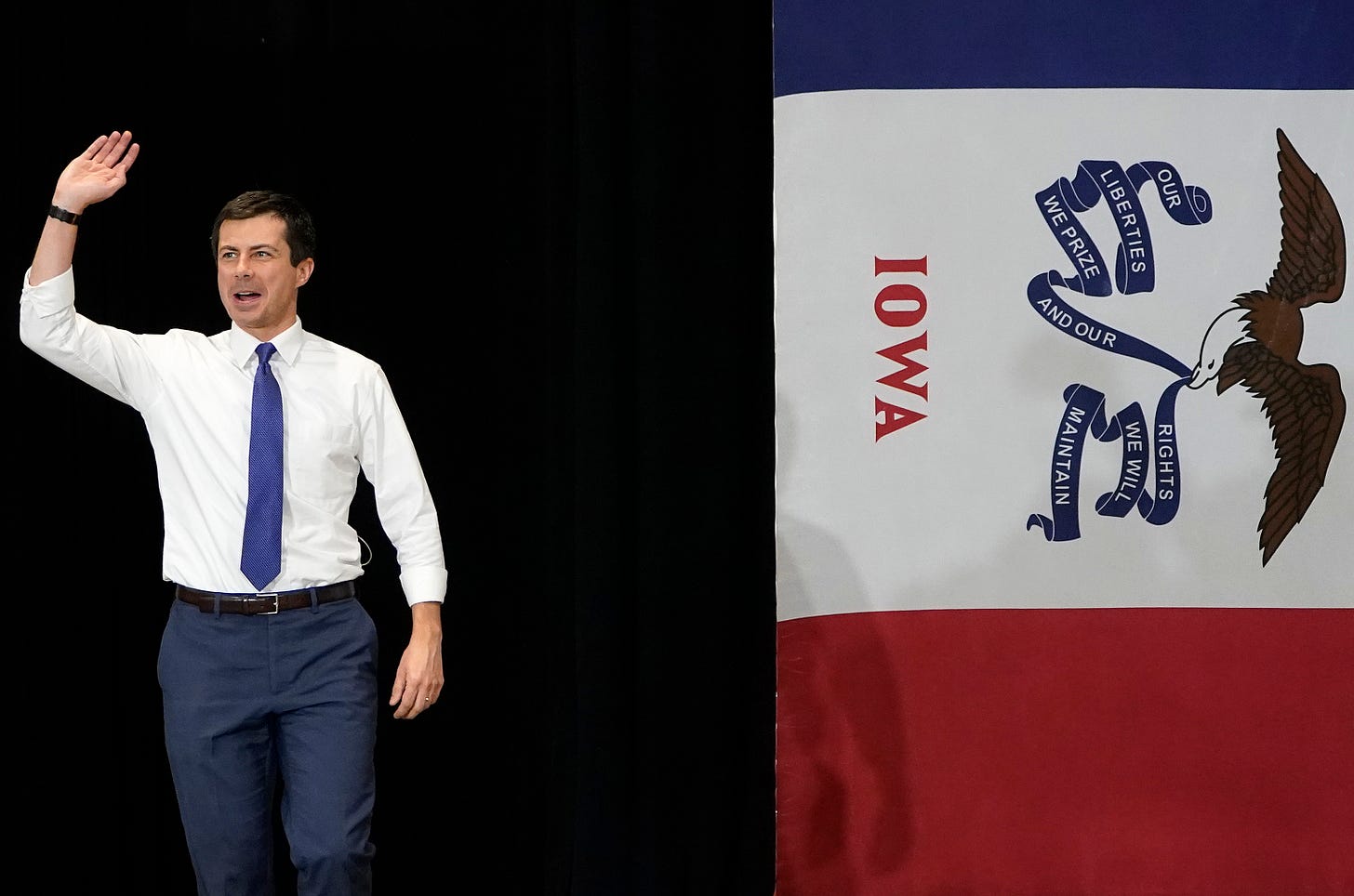 The Buttigieg bump is real. 
Elizabeth Warren's struggles have opened up a serious opportunity for South Bend Mayor Pete Buttigieg, who has rocketed to the top of recent Iowa polls. But as Buttigieg has faced criticism over his lack of executive experience and his past work as a consultant, it's been an open question whether he can sustain that enthusiasm—particularly given the fact that more than half of Iowa's likely Democratic caucusgoers report they have yet to firmly make up their minds.
But rather than boost his negatives in Iowa, Buttigieg's newfound notoriety has seemingly set his campaign on a virtuous cycle. The fact that he's polling well doesn't persuade undecided voters to join the cause on its own, but it's been rocket fuel for his rallies, with people coming in droves to see what the fuss is about: about 1,000 packed like sardines into the student union of little Cornell College in Mount Vernon on Saturday, 2,000 filling a monster conference room at the Marriott in Coralville on Sunday.
What they see is Buttigieg in his element: Describing his progressive policy goals as "not that radical when you think about it," deftly fielding questions from the crowd, painting a sunny vision of the future of his party and the country. I talked to plenty who came in as shoppers and left as Buttigiegites. 
A bunch of remaining candidates are capable of making a serious run, and Pete has his work cut out for him to replicate his success beyond Iowa. But here, at least, his momentum continues to build. Don't be surprised if the mayor actually strengthens his lead in the weeks ahead. 
Don't sleep on Bernie.
Go to an event for Pete Buttigieg, or Amy Klobuchar, or Cory Booker, and plenty of people will happily tell you what they like about two or three or five different candidates. Go to a Bernie Sanders rally, and most people will want to talk about one guy: Bernie Sanders. 
This cycle, Sanders has sometimes seemed an afterthought. Between May and October, Warren gained on him steadily, portrayed in the media as a fresh progressive leader. Other coverage tended to focus on whether Biden was likely to slip from his perch atop the heap or whether any of the lower-ranked contenders would break out of the pack. 
But Sanders keeps chugging along. In both national and Iowa polls, he's still hovering around the same 15-plus percent he's had since he announced his candidacy last spring. As other candidates have risen and fallen, he's maintained a core group that's locked onto his straightforward economic pitch: Whatever the strengths of the other candidates, nobody will be a more ferocious and unflagging advocate for the American worker. 
The caucus process, which includes time for voters to wheedle their friends and neighbors before they make their final decisions, is designed to reward such fervent support.
A Terrorist Attack in Pensacola
Early Friday morning, a member of the Royal Saudi Air Force participating in a Pentagon-sponsored training program opened fire at Naval Air Station Pensacola in Florida, murdering three of his classmates and wounding eight others in what the FBI is now investigating as a terrorist attack. Mohammed Haitham, 19, Cameron Walters, 21, and Joshua Kaleb Watson, 23, were killed.
Why was he here?
The perpetrator, who was shot and killed by a sheriff's deputy arriving on the scene, had been in the United States on and off since August 2017 as part of foreign military training programs the Pentagon has operated for decades. Some details on these programs from the Washington Post:
Military officers, usually handpicked by leaders in their home countries, receive training in U.S. military doctrine and tactics — including how to use U.S.-made weapons, which often their countries have purchased — as well as instruction in the American political and legal systems.

Since the end of World War II, the Pentagon, the defense industry and others have championed these programs as a crucial way to cultivate allies, boost military partnerships and maintain reliable channels for U.S. arms sales.

…

As of Friday, there were 852 Saudis in the United States for Pentagon-sponsored training related to security cooperation. That represents 16 percent of the 5,181 students from 153 countries in these programs, according to Defense Department spokesman Chris Garver. Pensacola is just one of more than 150 military schools and installations where these students study annually.
In the wake of Friday's shooting, some are calling for these programs—or at least the screening process associated with them—to be reevaluated. "We need to take steps to ensure that any and all foreign nationals are scrutinized and vetted extensively before being embedded with our American men and women in uniform," Sen. Rick Scott of Florida said in a statement. "There is no reason we should be providing state-of-the-art military training to people who wish us harm."
Defense Secretary Mark Esper ordered a review of the Pentagon's vetting processes, but confirmed the department would not be scrapping the programs in the aftermath of this attack. "These types of programs, exchanges, are very important to our national security," he told Fox News' Chris Wallace on Sunday. "We have something that our potential adversaries, such as Russia and China, don't have, which is an elaborate system of alliances and partnerships. And the ability to bring foreign students here to train with us, to understand American culture, is very important to us building those long-term relationships that keep us safer."
The gunman's motives.
Investigators have pieced together enough of the available evidence to label what transpired a terrorist attack. Here's what we do know, per the New York Times: 
Rita Katz, the director of the SITE Intelligence Group that monitors online activity from extremist organizations, claims to have found the gunman's Twitter account, where he was posting anti-American sentiment and quoting Osama bin Laden.
The FBI has not yet confirmed this account belongs to the perpetrator, but is investigating.
Bizarre Comments from GOP leaders
In the immediate aftermath of the attacks, both President Trump and Florida Governor Ron DeSantis made bizarre comments about financial compensation for the victims from the Saudi ruling family.
Trump said: 
I spoke with the King of Saudi Arabia. They are devastated in Saudi Arabia. We're finding out what took place, whether it's one person or a number of people. And the King will be involved in taking care of families and loved ones. He feels very strongly. He's very, very devastated by what happened and what took place. Likewise, the Crown Prince. They are devastated by what took place in Pensacola. And I think they're going to help out the families very greatly.
DeSantis offered a similar sentiment during in a press conference not long after the attack. "The government of Saudi Arabia needs to make things better for these victims, and I think they're going to owe a debt here given that this is one of their individuals."
Even if the Saudi government pledged full cooperation with the investigations the victims' loved ones likely couldn't care less at this moment whether or not members of the Saudi monarchy—they of journalist-murdering fame—are devastated by what happened, or whether they will "make things better" for them.
Some context here: Saudi Arabia holds disproportionate leverage over the United States, in part because of our reliance on them to act as a counterbalancing force to Iran, in part for more ... financial reasons. "When it comes to Saudi, the default position is to defend," former State Department Middle East analyst Aaron David Miller told The New York Times. "Driven by oil, money, weapons sales, a good deal of Saudi feting and flattery, Trump has created a virtually impenetrable zone of immunity for Saudi Arabia."
When Trump instituted his since-failed travel (Muslim) ban, for example, Saudi Arabia was conspicuously absent from the list of affected countries, despite the kingdom's longtime ties to terrorism. Trump has repeatedly looked the other way on the killing of journalist Jamal Khashoggi in the face of American intelligence agencies tying Saudi Crown Prince Mohammed bin Salman to the gruesome murder. 
Foreign policy is complicated, and all administrations are required to make unseemly tradeoffs from time to time. The Iran threat is real and we do need partners in the region. But the president does not need to be engaging in PR work for the Saudis. Not on a day a Saudi national killed three Americans.
Joe Knows
So, what was Hunter Biden doing on the board of a Ukrainian energy company while his father was vice president of the United States? 
It's a question that's been a topic of public discussion for months after Rudy Giuliani launched a private investigation into the matter earlier this year. It's been the subject of countless news stories, hours of congressional testimony, and a long stream of Republican attacks as Joe Biden's campaign for president builds toward the first contests in Iowa after the new year. 
And yet Joe Biden would have us believe that he simply doesn't know his son was up to. "I don't know what he was doing," Biden told Mike Allen in an "Axios on HBO" interview that aired last night. "I know he was on the board. I found out he was on the board after he was on the board and that was it."
When Allen asked if Biden wanted to get to the bottom of what'd happened, Biden responded: "No, because I trust my son."
"That doesn't pass the smell test," Allen responded.
He's right. It stinks.
It's inconceivable that Biden and his campaign haven't looked at Hunter Biden's time with Burisma. Beyond that, Biden seemed utterly unprepared for these basic questions, alternating between laughing them off and seeming to accuse Allen of doing Donald Trump's bidding. But his answers offered no indication that Biden believes there is anything wrong with an arrangement that paid his son some $50,000 per month to sit on the board of a company in a country where he hadn't worked and in an industry in which he had no experience.
On the one hand, you can understand why Biden wants to pretend it's fine. Acknowledging the conflict would be an admission—at least of the tacit kind—that his son was cashing in on the fact that his father was vice president. On the other, this is exactly the kind of soft but legal business-as-usual corruption that helped propel Donald Trump's "drain the swamp" run to the White House. And if Biden wins the Democratic nomination, it's a sure bet that Trump—even as he presides over a swamp made vastly swampier by this kind of D.C. graft—will portray him as a corrupt insider untroubled by the D.C. bog.
And yet ...
None of this means that there's any truth to support the wilder Burisma conspiracies pushed by Trump and his associates. The heart of that accusation: Biden intervened in internal Ukrainian politics to advance the interests of his son and Burisma. Trump supporters point to a video from an appearance at the Council on Foreign Relations in which Biden boasts with characteristic bravado about threatening to withhold U.S. aid unless Ukraine's general prosecutor is removed. The prosecutor, Viktor Shokin, had pledged to investigate corruption in Ukraine, broadly, and Burisma specifically. But Shokin didn't make good on his anti-corruption promises, including on Burisma, an investigation that he let wither. So, the international community, led by the International Monetary Fund and the Obama administration, sought to have him removed. Biden led those efforts—the actions he described in the much-ballyhooed video—and Republican Sens. Ron Johnson, Rob Portman, and Mark Kirk supported him at the time. But the evidence thus far shows something close to the opposite of what Trump and his supporters have alleged. Given Shokin's inaction on Burisma, removing him made further investigation of Burisma, and Hunter Biden, more likely, not less.
Worth Your Time
Presented Without Comment
Something Fun
In our opinion, the biggest problem with modern art galleries is the lack of convenient dining options. Most galleries, that is: 
Toeing the Company Line
Let Us Know
Here's something President Trump said Friday: "We have a situation where we're looking very strongly at sinks and showers and other elements of bathrooms where you turn the faucet on in areas where there's tremendous amounts of water and the water rushes out to sea because you could never handle it. And you don't get any water; you turn on the faucet and you don't get any water. People are flushing toilets 10 times, 15 times, as opposed to once."
We absolutely promise he said this. You can watch him on video here—although your Morning Dispatchers are not of one mind as to whether or not you should. 
Our question: Are you flushing your toilet 10 to 15 times, or is that just a White House thing? 
Reporting by Declan Garvey, Andrew Egger, and Steve Hayes.
Photo credit: Pete Buttigieg arrives at a campaign event December 08, 2019, in Coralville, Iowa. (Photo by Win McNamee/Getty Images)