What Can the GOP Get Done With Its New China Task Force?
One pressing concern will be decoupling the Chinese and American economies.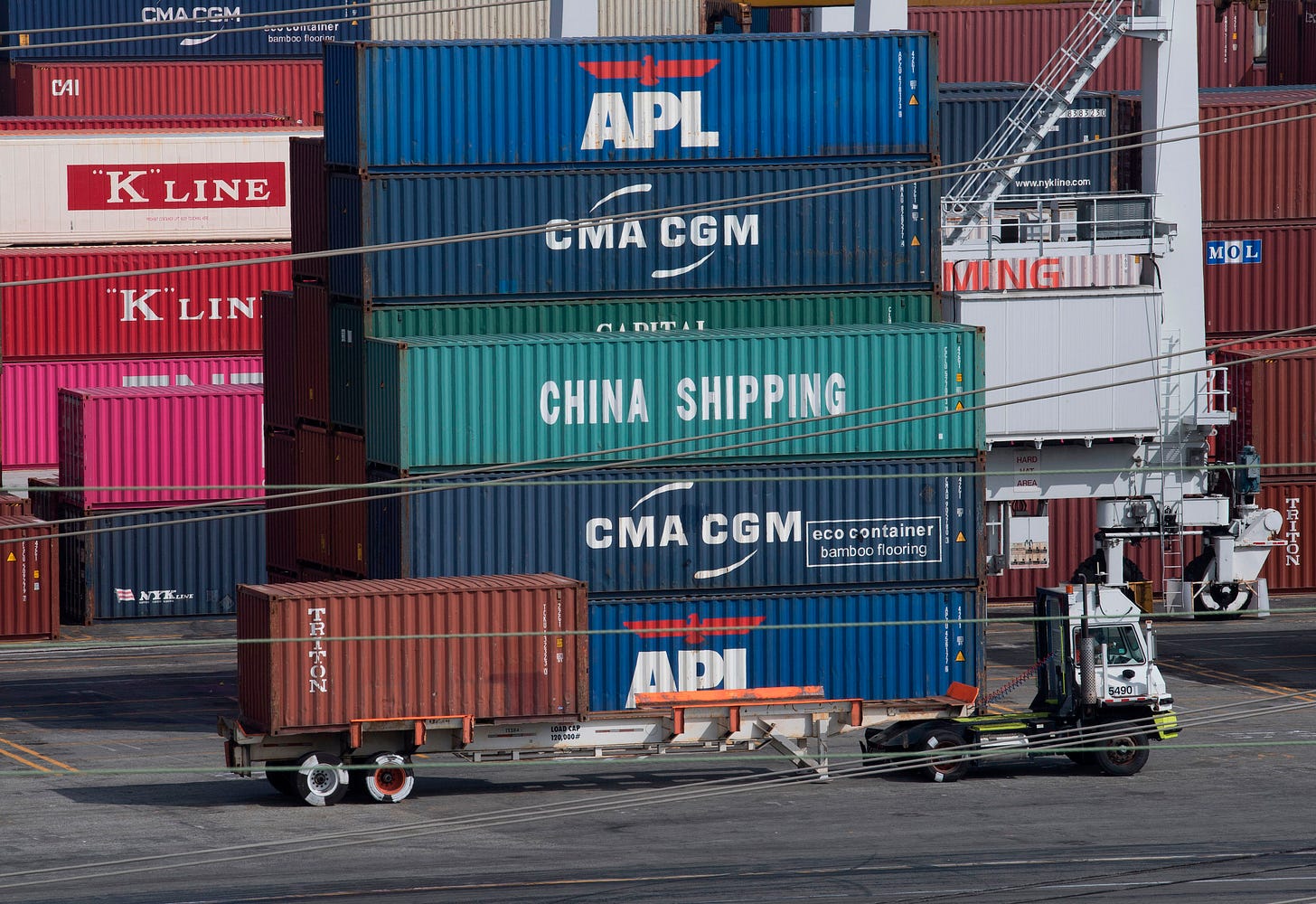 Perhaps at no point in history has the average American's day-to-day life been so affected by the Communist Party of China. Whether the coronavirus originated in a Wuhan research lab (by accident, not design) or a wet market, the CCP's early inaction and misleading information on the COVID-19 outbreak undoubtedly contributed to the virus' spread across the globe.
But the U.S.-China relationship was strained well before the pathogen reached our shores, which explains why the newly formed China task force had been in the works for over a year.
Announced earlier this month by House Minority Leader Kevin McCarthy, the group was slated to be bipartisan. Michele Perez Exner, a spokeswoman for McCarthy, told The Dispatch the original plan, first outlined in April 2019, would have involved an equal number of Republicans and Democrats—but Democrats backed out in late February. Three months later, Republicans have forged ahead, appointing 15 members of their conference to the task force, which will be chaired by Rep. Michael McCaul. "We will be looking at a broad range of China-related issues," McCarthy said on May 7. "Influence operations targeting the U.S., the economic threat to our government and allies, efforts to gain the technological advantage, and China's role in the origin and spread of COVID-19."
Exner said the door remains open for Democrats to play a role, and that McCarthy "wants to run [the task force] as though it was a bipartisan entity." At least for now, concern over Chinese influence cuts across party lines: A Pew Research Center poll conducted in March found 72 percent of Republicans and 62 percent of Democrats hold unfavorable opinions of China, both record highs since Pew began tracking the sentiment in 2005.
"When you're just talking about the policy and the substance of it, you might be hard pressed to find another issue on which there is as much bipartisan support," Rep. Liz Cheney said on needing to protect against Chinese hostility. In an interview with The Dispatch on Tuesday, Cheney—Republican Conference chairwoman and a member of the task force—suggested politics got in the way of Democratic participation. "I think Speaker Pelosi believes that if she is suggesting that we hold China accountable, that somehow then she's not blaming President Trump. I think she views it as a zero-sum game."
Rep. Adam Kinzinger—also appointed to the task force—hopes partisanship does not cloud the issues at hand. "There will be some partisan shots—and I think rightly in some cases—but we are going to be focused on getting real solutions," he told The Dispatch. 
Some foreign policy analysts view the task force as both urgently necessary and frustratingly futile. "The administration has known how bad the situation [with China] is for months and done nothing. The Senate has done nothing, and the House has done nothing, and the Biden campaign has proposed nothing," said Derek Scissors, a China expert at the American Enterprise Institute. The Senate passed Sen. John Kennedy's Holding Foreign Companies Accountable Act Wednesday, but similar legislation—from Sen. Marco Rubio, Sen. Ted Cruz, and Sen. Josh Hawley—has repeatedly stalled out in committee.
But Scissors questions just how much impact a group of 15 House Republicans in the minority can have. "The House Republicans can't do anything other than posture. And I'm not blaming them for that. I'm just saying that's the story," he told The Dispatch. "The number one goal I would have for the House Republican task force is they be the idea supplier. They marry up with somebody who will actually do something, because they can't."
Members of the task force, of course, view their involvement as far more than political posturing. "I don't get involved in things like this if I don't think it's going to do anything," Kinzinger said. He sees the group's role as not only pushing ideas, but legislation to accompany them. "Even if what we put out is not adopted under this current construct of government, I think it'll play kind of a long-term game in terms of how … we formulate our response from a legislative perspective."
"It may take 10 years to implement some of these things, but I think it'll make a big difference," he added. "Especially when you have changing presidents every four or eight years."
Cheney said some of these proposals will likely surface in the next National Defense Authorization Act (NDAA), an annual must-pass piece of legislation that funds the Department of Defense. "Issues like obviously Huawei, pharmaceutical supply chains for our service members, sort of a broad range of issues. I think you probably will see those in the NDAA," she said. "It's going to be difficult for anybody—no matter your party—to say, 'No, we're not going to hold the Chinese Communist Party accountable for this.'"
Appointees to the task force represent 14 different congressional committees, and hope to bring a cross-disciplinary approach to all aspects of the China challenge. Kinzinger alluded to the CCP's foreign aid and investment. Cheney talked about China's developing weapons systems, their actions in the South China Sea, and the country's Belt and Road Initiative. But among the task force's most pressing—and immediate—concerns will be the decoupling of the American and Chinese economies in a post-pandemic world.
"I think the coronavirus, as much as anything, it's just highlighted the problems that people didn't widely see," Kinzinger said, referencing exposure in pharmaceutical and personal protective equipment (PPE) supply chains. "Let's say there's 25 supply chain vulnerabilities, and we need to pick the top five or 10 that are most important to us and make sure that we have that sourced either here or in ... Australia, Britain, Canada, kind of close allies."
But disentangling the production of these products from China will be a monumental task. 
"What if we were making the PPE here, but the textiles that go into the products themselves came from China?" Scissors asked. "There's a big political debate that everyone can participate in about who do we trust for what goods, what goods are really important, and so on. But once you do that, someone has to then say, 'Well wait a minute. This production you have in the U.S. is just the final good." We're still reliant on these people, says Scissors, who in turn rely on the Chinese.
And in times of global shortages, even allies can't necessarily be counted on to act in the United States' best interests. "We've seen in COVID that our best friends try to keep stuff for themselves," Scissors noted. "Because they should! They should be trying to serve their own population."
There are differing schools of thought among analysts and policymakers regarding how best to bring about this targeted onshoring. Should the United States dangle tax incentives and other benefits (a carrot), or punish businesses that refuse to comply (a stick)?
"It's a stick. It's absolutely a stick," Scissors argued. "You can't out-subsidize the Chinese. … If you offer tax incentives, and the Chinese want to keep the production because it's something they think is critical, or they want to deny it to us because we think it's critical, whatever—they'll just offer more money! Of course they will. There's no democratic process they have to go through. There's no fight over whether this is important or it's not important, and Pelosi's in favor of it so McConnell's against it, or the other way around. They just hand you the money."
Instead, he says, the United States should mandate that—for certain products—companies cannot supply the United State from China. "They're going to scream bloody murder," Scissors said of these manufacturers. "And it's too bad. I don't want to do this for 150 products."
Policymakers were more nuanced—but not much. "I think the hope is to start with carrots, and incentives, and opportunities, and hope that patriotism wins the day," Kinzinger said, "but realizing that that's not always going to be the case. Then it may take a little bit of a stick."
"My party has to come to grips with, this is not the 1980s free market—or I guess we'll call it 2000 free market—anymore," he added. "There is going to have to be government support. There's going to have to be government programs. When half my party votes against the Ex-Im Bank, that kind of stuff is going to have to change."
"I think you have to do both," Cheney argued, adding that there will be some medicines and products the United States determines must be capable of being produced entirely domestically. "Some supply chains can be obviously in countries that are allies of ours. But I think that there will be certain critical needs that we know we can't count on anybody else and we'll have to produce here, and I think that will require prohibitions and mandates."
Underlying this debate—and the myriad others the task force hopes to have over the coming months and years—is a tacit understanding that American China policy over the past several decades—integration into the global economy in the hopes of sparking political maturation—has failed.
But it's growing less tacit.
"We have been asleep at the wheel while China hasn't been," Kinzinger said. "The big problem we have is, unlike the Cold War, there's no Berlin Wall, there's no symbol. There's no armies facing off. And so we've been asleep."
"I think that clearly for the last, I'd say 20 years or so, administrations of both parties got China wrong," said Cheney, whose father played a key role in one of those administrations. "There was sort of a consensus that, if we allow them into the WTO, enable them to open up economically, that we'd see them behave responsibly and that they might even open up politically. Obviously, that's not what's happened."
"The United States is the only thing that stands in the way of China's ambitions to become the global power. And I think that what's happened with the pandemic is that it has opened a lot of people's eyes, and it's made people recognize the danger and the threat in a very real way."
Andrew Egger contributed to this report.
Photograph by Mark Ralston/AFP/Getty Images.