A Congressional Fight Against Isolationism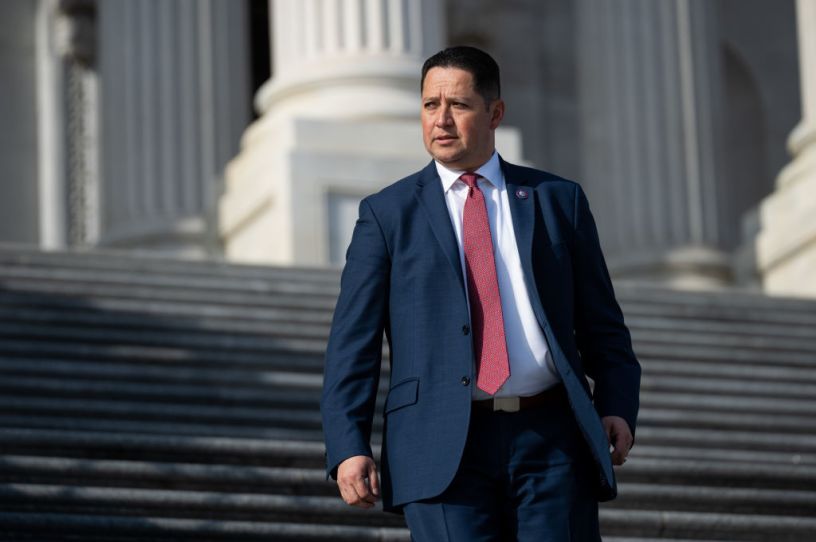 Rep. Tony Gonzales walks down the steps of the Capitol. (Bill Clark/CQ-Roll Call, Inc via Getty Images)
With today marking the one-year anniversary of Russia's full-scale invasion of its neighbor, whether Western backers will remain steadfast in supporting Ukraine is becoming a bigger question. Last week Florida Rep. Matt Gaetz, joined by 10 other House Republicans, introduced a "Ukraine Fatigue" resolution calling for an end to U.S. support to the embattled country.
Enter the For Country Caucus, a bipartisan group of veterans that since 2019 has met twice a month to workshop ways Congress can reclaim its role in crafting America's foreign policy and national security agenda. The war in Ukraine has reinvigorated that effort.
"We often punt to the executive branch and expect the executive branch to cover all these issues abroad, and then when they fail at that, shoot holes in them. I think this caucus in particular can be a leader," Rep. Tony Gonzales, a 20-year Navy veteran and the Republican co-chair of the For Country Caucus, said in an interview. "If you're gonna wait on the White House to deliver, you're going to be waiting a long time."
The working group of about 30 lawmakers—many of whom are also members of the House Armed Services Committee—has found its groove in advancing pragmatic, bipartisan legislation through the National Defense Authorization Act (NDAA). The 2022 defense bill included For Country Caucus-backed measures bolstering U.S. resilience against cyberattacks, supporting America's at-risk allies after the U.S. military withdrawal from Afghanistan, and requiring the Pentagon to review its posture in the Arctic, among other initiatives.
You're out of free articles
Create an account to unlock 1 more articles