Biden's State of the Union Misery Index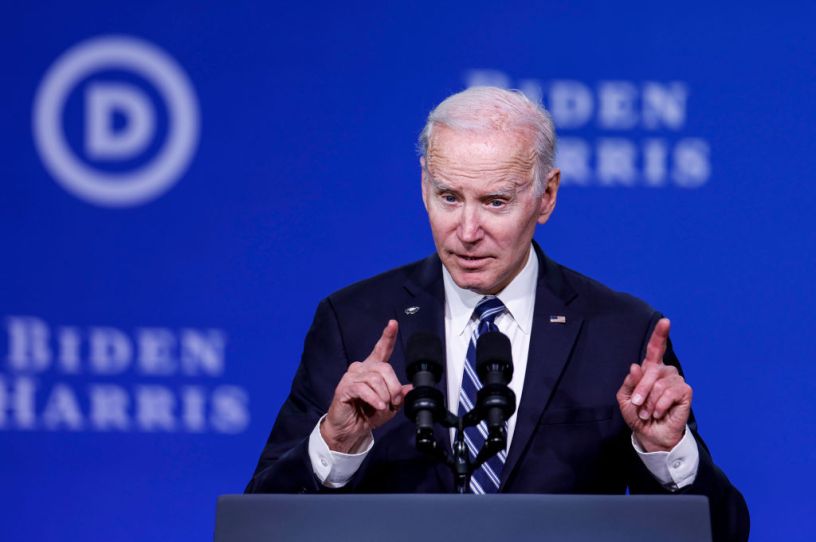 President Joe Biden speaks during the Democratic National Committee winter meeting on February 3, 2023, in Philadelphia. (Photo by Anna Moneymaker/Getty Images.)
President Biden will try to add some oomph to his reelection campaign this week with his State of the Union address, and he sure could use the boost.
According to NBC News' pollsters, fewer than a quarter of adults think the country is heading in the right direction, and just 28 percent say Biden has the "necessary mental and physical health to be president." In the most recent WashingtonPost/ABC News poll, only 31 percent of Democrats said their party should nominate Biden again, and in a hypothetical 2024 general election matchup, Biden actually trailed Donald Trump, the George Santos of former presidents, by 3 points.
Woof.
The things that are going right for Biden, like a boffo January jobs report and a successful bid to revamp his party's primary calendar, often seem to be overshadowed—literally so, in the case of a Chinese spy balloon that transited the continental U.S. last week. Biden is looking to Tuesday's speech for a clear shot to make his pitch for a second term, but he's instead facing predictable distractions, like the long hangover from the shady buckraking efforts by his troubled son, Hunter, and surprises, like the quest for classified documents kicked off by the probe into Trump's own purloining.
You're out of free articles
Create an account to unlock 1 more articles