Democrats Are Making a Risky Bet With Biden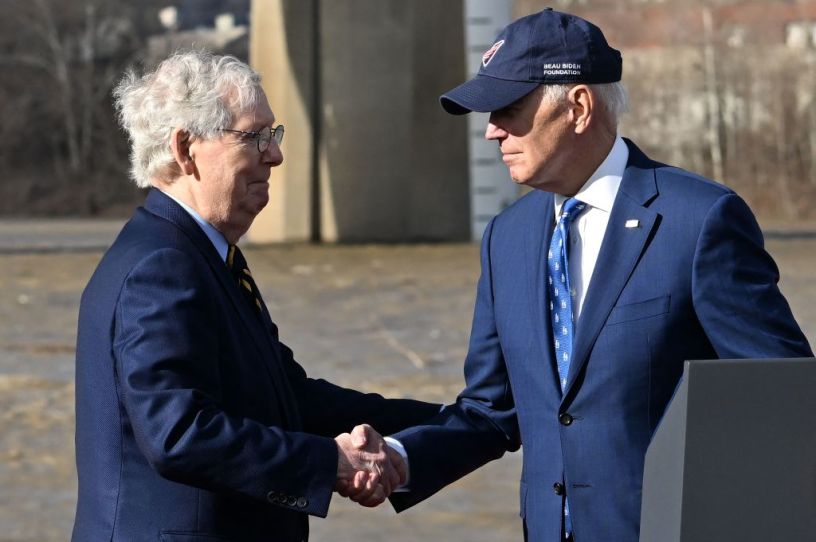 President Joe Biden shakes hands with Senate Minority Leader Mitch McConnell during an event about the bipartisan infrastructure law in Covington, Kentucky, on January 4, 2023. (Photo by Jim Watson/AFP/Getty Images)
In December 1998, Rep. Bob Livingston, Republican of Louisiana, was set to succeed Rep. Newt Gingrich as speaker of the House. Gingrich had announced his resignation from Congress and the speakership in the wake of a disastrous midterm election for Republicans as well as revelations that he'd been having an affair with a House staffer who was more than two decades younger.
This was a problem for the Republicans given the impeachment of then-President Bill Clinton over matters stemming from his own infidelity. But before Livingston could get the gavel, it was revealed that he, too, had cheated on his wife. Livingston responded by announcing he would resign immediately. Among those most opposed to Livingston's decision: President Clinton. The White House implored him to reconsider. The last thing Democrats wanted was for an adulterous politician to resign in contrition rather than put his party, his country, and his family through more needless drama.
That moment came to mind last week when Joe Biden gave his full support to Mitch McConnell, in the wake of a second disturbing episode in which the 81-year-old Senate minority leader briefly went catatonic when taking questions from reporters. "I'm confident he's going to be back to his old self," Biden told reporters. He dismissed McConnell's struggles since a concussion-inducing fall earlier this year, as simply "part of his recovery."
The last thing Biden—who will be 81 in November—needs is for Republicans to show some consistency on the issue of age and public service, particularly when the vast majority of Americans, including two-thirds of Democrats, believe Biden is too old to run again.