Fact-Check: Did Mike Pence 'Accidentally Admit' He Had the Authority to Overturn the 2020 Election?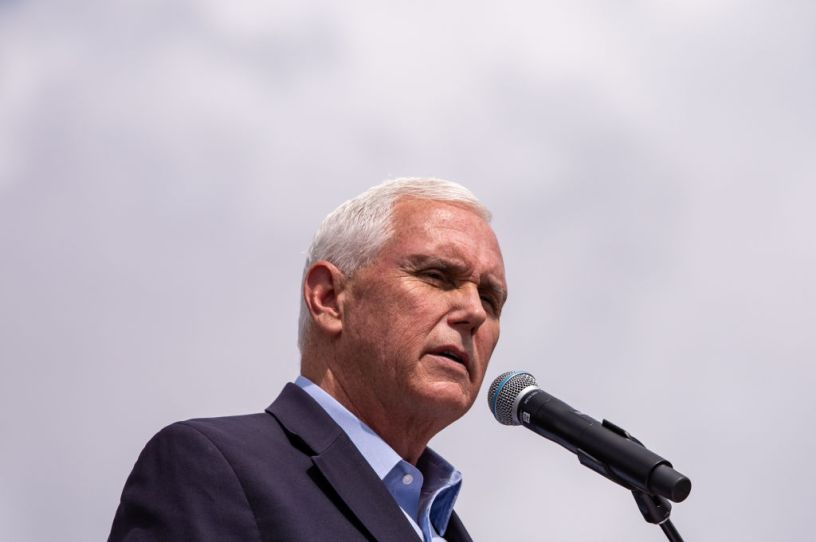 Republican presidential candidate and former Vice President Mike Pence on June 24, 2023, in Washington, D.C. (Photo by Anna Rose Layden/Getty Images)
Jack Posobiec, a senior editor at Human Events, recently made a false statement regarding Mike Pence's authority over the 2020 presidential election.
"Mike Pence is accidentally admitting that he did have the legal and constitutional authority to turn over the election results to the House of Representatives," says Posobiec in a video shared on Facebook by Donald Trump Jr.
Posobiec references a Fox News interview with Mike Pence. But in the attached clip Posobiec provides, Pence does not mention anything about possessing the "legal and constitutional authority to turn over the election results." In fact, Pence explicitly argues the contrary in the clip—that he had no such authority.
"It wasn't just that he asked for a pause. The president specifically asked me—and his gaggle of crackpot lawyers asked me—to literally reject votes, which would have resulted in the issue being turned over to the House of Representatives, and literally chaos would have ensued," says Pence in the clip.
Pence has consistently maintained that our Constitution does not permit the vice president to throw away, reject, replace, or otherwise oppose electoral votes.
"Article II [of the Constitution] says once the states send their electoral votes to the Congress of the United States, the vice president—as president of the senate—will preside over a joint session of Congress." said Pence, responding to an Iowa resident earlier this week.
"At that joint session, the electoral votes shall be opened and shall be counted. It doesn't say may. It doesn't say you can send them back to the states, it doesn't say you can reject votes. Even though my former running mate, and many of his outside lawyers, told me that that authority was there, I knew there never was," added Pence.
If you have a claim you would like to see us fact check, please send us an email at factcheck@thedispatch.com. If you would like to suggest a correction to this piece or any other Dispatch article, please email corrections@thedispatch.com.