Football That Really is a Matter of Life and Death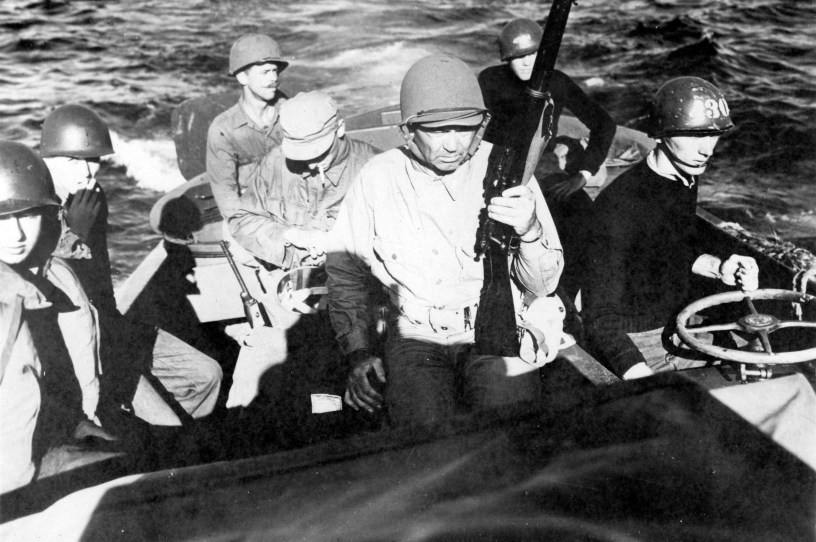 View of United States Coast Guard commander (and former professional boxer) Jack Dempsey (1895 - 1983) and his crewmates in a landing craft as they head for the beach, Okinawa, Japan, April 13, 1945. (Photo by Interim Archives/Getty Images)
My dad served in the Pacific theater during WWII. He was in the Army Air Corps, a radio operator on cargo planes flying "Over the Hump"—the Himalayas—from India to China to supply allied troops. It was dangerous duty, both because of enemy aircraft and the challenge of traversing such rough terrain, often in less-than-ideal weather conditions. He never talked about it. I never asked him. He died 20 years ago.
After reading Buzz Bissinger's new book, The Mosquito Bowl: A Game of Life and Death in World War II, I regret more than ever having missed that opportunity. The Greatest Generation is almost gone—all of the first-person accounts in the book came from men in their 90s—and this book is a powerfully disturbing yet necessary reminder of what those men did for us.
Bissinger is best known for having written Friday Night Lights, the definitive book about what is all-but-literally a matter of life and death to many Texans: high school football. Who better, then, to tell a story built around a nominally touch football game played on Christmas Eve of 1944 between two rather bored Regiments of the 6th Marine Division on Guadalcanal as they trained for the invasion of Okinawa, the bloodiest battle of the war in the Pacific. ("Nominally" touch football because the game quickly devolved into tackle; these were, after all, marines.)
Bissinger is a master portraitist. While Friday Night Lights portrays boys who see football as a way to give heft and meaning to a rather bland quotidian life—and perhaps a way out of it—in The Mosquito Bowl, Bissinger has us look through the other end of the telescope. On Guadalcanal the men knew that the Mosquito Bowl was just a two-hour diversion before they would have to enter the hellscape that awaited them: "Boredom led to anxiety; anxiety led to sights and sounds and smells you could not shed of shit and blood and once-human carcasses turning black with bloat or green with flies or white with a million squirming maggots, which led to fear, and fear never relented no matter how much you had already witnessed and how numb you already felt."
Get every newsletter and all of The Dispatch. Support quality, fact-based journalism.
Get Started
ALREADY HAVE AN ACCOUNT? SIGN IN