Iowa Swing Marks Ron DeSantis' Opening Salvo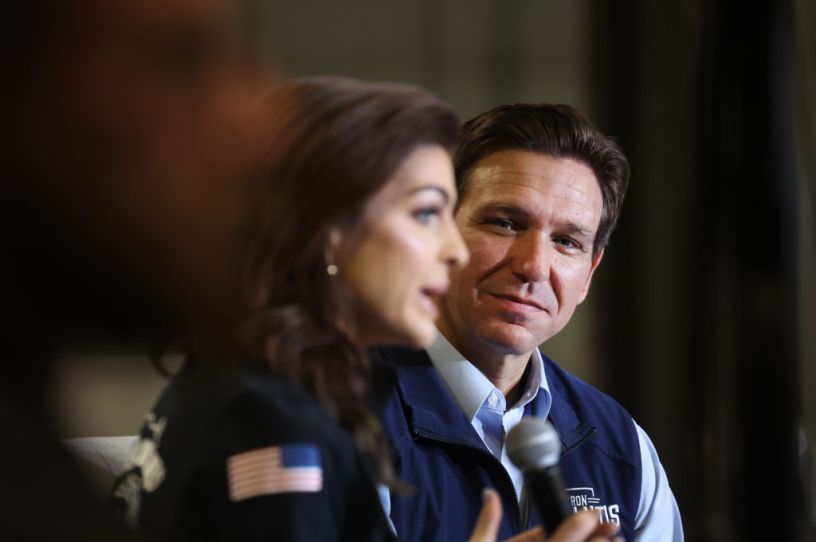 Florida Gov. Ron DeSantis listens as his wife Casey speaks during a campaign rally at Port Neal Welding Company last week in Salix, Iowa. (Photo by Scott Olson/Getty Images)
COUNCIL BLUFFS, Iowa—Ron DeSantis delivers his stump speech with all of the conviction of a preacher and none of the charisma. But Republican voters showing up in the Hawkeye State to see the Florida governor are entranced.
"I thought it was pretty amazing," said Liz Helle, 55, after hearing DeSantis speak for close to an hour at a campaign rally in Council Bluffs last week. "We're Trump supporters, but we thought we'd come out here, just say we were there, see what he had to say. I'm telling you, DeSantis is fantastic." Fantastic enough to switch their support to DeSantis from former President Donald Trump? "Absolutely," said Helle and her companion, Guy Brockey, 58, both clad in Harley Davidson gear.
"There's definitely going to be some things to think about," explained Helle, who works for the local Walmart and was among the more than 500 people in attendance here. "I'm telling you, based on today's speech, if the vote was supposed to be today, I'd probably go for DeSantis."
How, or whether, DeSantis can vault from a distant second place in the race for the Republican nomination to the winner's circle is being hotly debated in GOP circles. But his inaugural campaign swing across Iowa—five events over 24 hours before heading to New Hampshire and South Carolina—began to reveal what kind of candidate he is, and how he plans to get from here to there.
You're out of free articles
Create an account to unlock 1 more articles