The Battle Between Brazil's Familiar Faces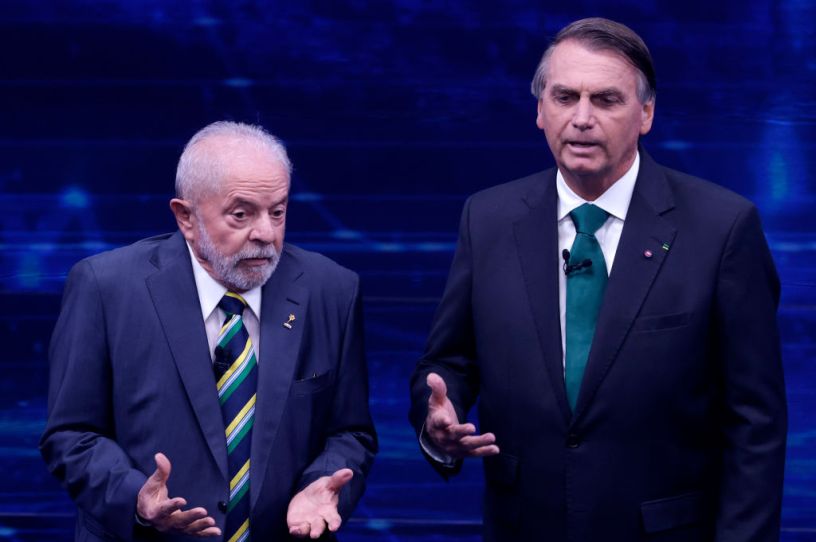 Luiz Inácio Lula Da Silva and Jair Bolsonaro gesture during a presidential debate. (Photo by Alexandre Schneider/Getty Images)
Brazilians will have a stark choice Sunday when they vote for president: a progressive, once-imprisoned former president who represents the political establishment or the incumbent Donald Trump-like populist already sowing seeds of election denialism.
This will be the second and final round of voting in the election. Ahead of the first round on October 2, polls showed former President Luiz Inácio Lula da Silva—known simply as Lula—with a commanding lead. But like Trump in 2020, the incumbent Jair Bolsonaro and his down-ballot allies outperformed the polls' expectations: He received 43 percent of the vote while Lula got 48 percent. Sunday's runoff was triggered because neither candidate received 50 percent of the vote.
The race has some considerable policy stakes—Bolsonaro is somewhat more isolationist in foreign policy, for instance, and Lula wants to do more to protect Brazil's natural environment—but it has greater implications for the future of Brazil's democracy.
"The two candidates represent powerful movements, but they're not really reconcilable." said Norman Gall, a longtime journalist in Latin America and the executive director of the Fernand Braudel Institute for World Economics in São Paulo.