Only the Church Can Truly Defeat a Christian Insurrection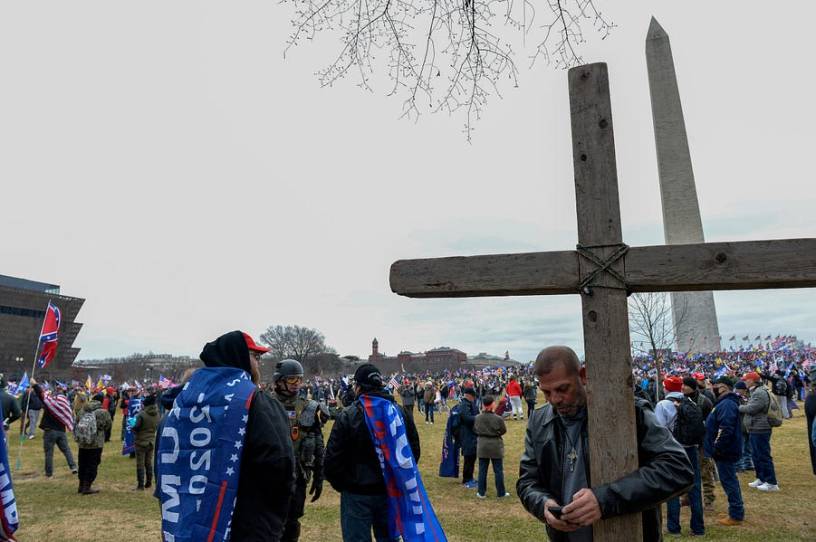 I'm going to be honest. I can't shake the sadness. I can't shake the anger. We have to be clear about what happened in Washington D.C. on January 6th. A violent Christian insurrection invaded and occupied the Capitol.
Why do I say this was a Christian insurrection? Because so very many of the protesters told us they were Christian, as loudly and clearly as they could. The Atlantic's invaluable religion reporter, Emma Green, compiled considerable evidence of the Christian presence in her excellent report. I saw much of it with my own eyes. There was a giant wooden cross outside the Capitol. "Jesus saves" signs and other Christian signs were sprinkled through the crowd. I watched a man carry a Christian flag into an evacuated legislative chamber.
I could go on and on. My colleague Audrey Fahlberg was present at the riot, and she told me that Christian music was blaring from the loudspeakers late in the afternoon of the takeover. And don't forget, this attack occurred days after the so-called Jericho March, an event explicitly filled with Christian-nationalist rhetoric so unhinged that I warned on December 13 that it embodied "a form of fanaticism that can lead to deadly violence."
Are you still not convinced that it's fair to call this a Christian insurrection? I would bet that most of my readers would instantly label the exact same event Islamic terrorism if Islamic symbols filled the crowd, if Islamic music played in the loudspeakers, and if members of the crowd shouted "Allahu Akbar" as they charged the Capitol.
You're out of free articles
Create an account to unlock 1 more articles