Inside the GOP Fight Over Ukraine Aid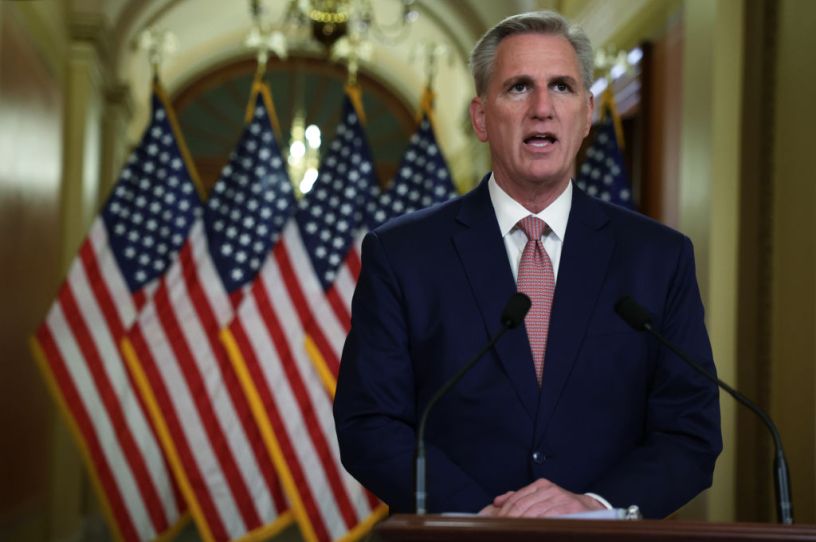 House Speaker Kevin McCarthy at the Capitol on February 6, 2023. (Photo by Alex Wong/Getty Images)
Nearly a year after Russia launched its bloody war against Ukraine, American lawmakers still broadly support aiding the country's defense. But the growing rift between a vocal, isolationist group of Republicans and the rest of the party suggests Ukraine assistance packages could face serious hurdles in the new Congress.
With Republicans controlling the House, future aid is an open question. House Speaker Kevin McCarthy has vaguely said the chamber won't advance blank checks to Ukraine, suggesting future spending will at least have more robust oversight provisions attached. But some of his members want to cut off Ukraine funding entirely, as they also seek to drastically reduce federal spending this year.
Eleven House Republicans, led by Florida Rep. Matt Gaetz, introduced a "Ukraine Fatigue" resolution last week calling for an end to America's assistance to the country. And on Thursday, Missouri Sen. Josh Hawley delivered a speech at the Heritage Foundation arguing the American military is overextended. Instead of arming Ukraine, he said, U.S. resources should be diverted to Taiwan and the Pacific to counter aggression by the Chinese government.
The speech—which outlined Hawley's idea of a "nationalist foreign policy"—was the culmination of months of such comments from Hawley.