Anatomy of a Screw-Up: The Story Behind the Letter Withdrawing Our Troops
Confusion gave way to claims of an 'honest mistake.'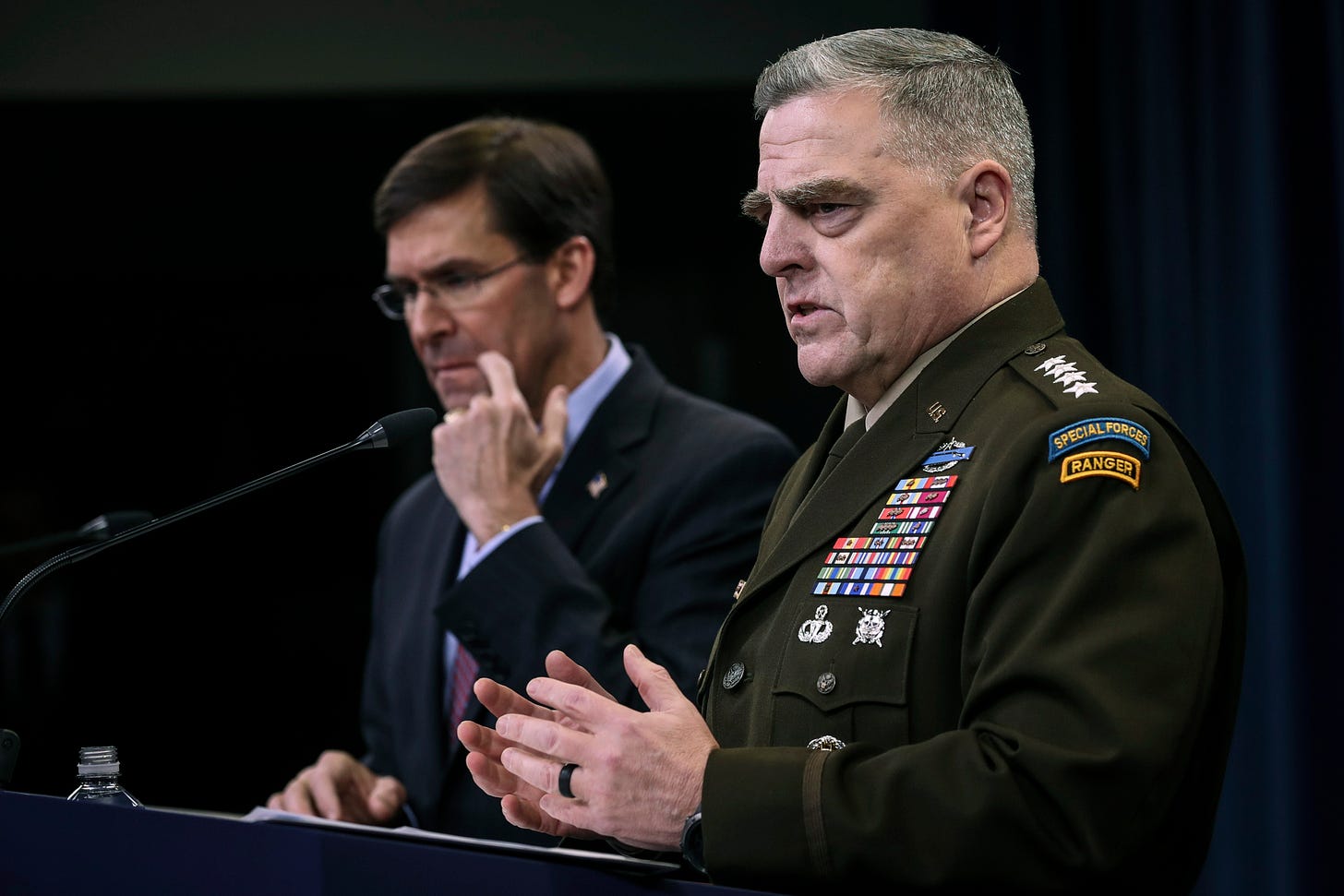 In a letter dated January 6, Brigadier Gen. William Seely III, the commanding general of Task Force Iraq, wrote to his Iraqi counterpart with big news: The United States military was preparing to leave Iraq. Two days earlier, the Iraqi Parliament had unanimously passed a non-binding resolution calling for U.S. troops to depart. Iraqi Prime Minister Adel Abdul Mahdi, a leader with close ties to the Iranian regime, had made the same demand. Their calls came less than 72 hours after a U.S. drone strike killing Iranian general Qassem Suleimani, the leading Iranian exporter of terror and havoc in the region. 
Seely wrote: "Sir, in due deference to the sovereignty of the Republic of Iraq, and as requested by the Iraqi Parliament and the Prime Minister, CJTF-OIR will be repositioning forces over the course of the coming days and weeks to prepare for onward movement." He closed the letter: "We respect your sovereign decision to order our departure." The letter was quietly delivered to Iraqi military officials. 
And there it was. After nearly 17 years of war—intense combat and difficult diplomacy over there, difficult debate and lasting division here, with frustration and heartbreak in both places—Americans would be leaving Iraq. 
The news was a propaganda coup for the Iranians and those in Iraq who support them. The story broke on the television channel of an Iran-backed Iraqi militia, Asaib Ahl al-Haq (AAH), after it was leaked by the Iraqi prime minister's office, according to Liz Sly, Beirut bureau chief for the Washington Post, who noted that the leader of AAH is a U.S.-designated terrorist and his militia is responsible for the deaths of dozens of Americans. 
The letter soon made its way into the American media. 
It would prove definitive for less than an hour. The posting of the letter online unleashed a mad, behind-the-scenes scramble at the Pentagon, the White House, and on Capitol Hill, as elected officials, policymakers, military advisers and journalists sought to understand whether the letter intended to communicate what its plain language suggested. 
Was the United States really moving to remove its remaining troops from Iraq? Nobody seemed to know. President Trump had told reporters on Air Force One Sunday night that he wouldn't be pushed around by the Iraqis. "If they do ask us to leave, if we don't do it in a very friendly basis, we will charge them sanctions like they've never seen before ever," Trump said in a surprise warning. "It'll make Iranian sanctions look somewhat tame." He added: "If there's any hostility, that they do anything we think is inappropriate, we are going to put sanctions on Iraq, very big sanctions on Iraq."
On Capitol Hill, lawmakers and staff seeking clarity on the letter reached out to contacts in the Trump administration. At 3:46 p.m., Annie Dreazen, a staffer in the Pentagon policy office, responded to an email inquiry from the House Armed Service Committee, writing that she'd consulted advisers with Operation Inherent Resolve (OIR), the name of the task force charged with fighting ISIS in Iraq and Syria. She, too, had big news: The letter that had captured the attention of Washington, D.C., was phony and likely part of an effort to sow information chaos.
"OIR has confirmed with us at the working level that this is active disinformation," Dreazen wrote, noting that the Pentagon was "fairly certain that this is a fake." It'd be a big deal if the letter had been fabricated by Iran or another malign actor and humiliating if the U.S. fell for such misdirection. And this assessment suggests some OIR officials believed the prospect of a U.S. withdrawal was so problematic that America's enemies had an incentive to create an information operation around that possibility. As word began to circulate on Capitol Hill, Mark Esper, the secretary of defense, and Gen. Mark Milley, chairman of the Joint Chiefs of Staff, met with reporters. 
They didn't declare the letter a fake but they couldn't offer much of an explanation of its provenance or meaning, either. Esper pleaded ignorance. "I don't know what that letter is," he said. "We're trying to find out where that's coming from, what that is. But there has been no decision made to leave Iraq, period." He declined to confirm its authenticity. "No, I can't."
Gen. Milley couldn't verify that the letter was real, either. "I do know that it's not signed," he said. "But I just looked at it right there; it's not signed."
If neither of America's top military officials could speak to the letter's authenticity, they both downplayed claims that the U.S. was leaving Iraq. "With regard to that letter, which I've read once, I can't tell you the veracity of that letter, and I can tell you what I read," said Esper, shortly before ending the press availability. "That letter is inconsistent with where we are right now."
A few minutes later, Milley returned and announced that the whole thing had been a screw-up. "It was an honest mistake," Milley explained. "That letter is a draft, it was a mistake, it was unsigned, it should not have been released."
A mistake? Why was it transmitted to the Iraqis? The United States had given Iraqi security forces formal notice that U.S. troops would be leaving the country … by accident? Apparently so. Esper explained that drafts are circulated all the time and this one just happened to get circulated to the wrong folks. (Dreazen referred inquiries from The Dispatch to the Pentagon press shop, where officials pointed us to the public statements from Milley and Esper but otherwise declined to comment on the "active disinformation" assessment provided Capitol Hill or the broader matter.)
So, what's next for the U.S. effort in Iraq? Esper downplayed reports from over the weekend that the U.S. and its partners have suspended combat efforts against ISIS as a result of fallout from the Suleimani killing. But, he acknowledged, changes in force posture were natural after such a major event. 
For Trump, the decisions he faces on Iraq and Iran highlight competing impulses evident since the 2016 campaign. On the one hand, he offered harsh criticism of America's involvement in distant conflicts and pledged to bring troops home and to refocus on problems here at home. But he also ran as a tough guy, a big-talker who defended torture and promised to make America's enemies regret their hostility. A survey of his decision-making and his rhetoric so far suggests those internal tensions have not yet been resolved. In addition to the Suleimani strikes, he has authorized airstrikes in Syria and surged troops in Afghanistan, but he's also declared he's fallen "in love" with Kim Jong-un, invited Taliban leaders to Camp David and adopted Rand Paul's language about America's "endless wars." 
The killing of Qassem Suleimani was long overdue and brings the possibility of strategic opportunity that might work to the advantage of the U.S. and its interests. But it also brings significant risk and the kind of downside that will be exploited by America's enemies. How it plays out will be determined, in part, by whether the Trump administration is able to shape events in a positive direction. And basic competence will matter—a lot.
Photograph of Mark Esper and Gen. Mark Milley by Drew Angerer/Getty Images.