Our Best Work From a Truly Ugly Week in America
Riots and looting and vigilantism have us all on edge.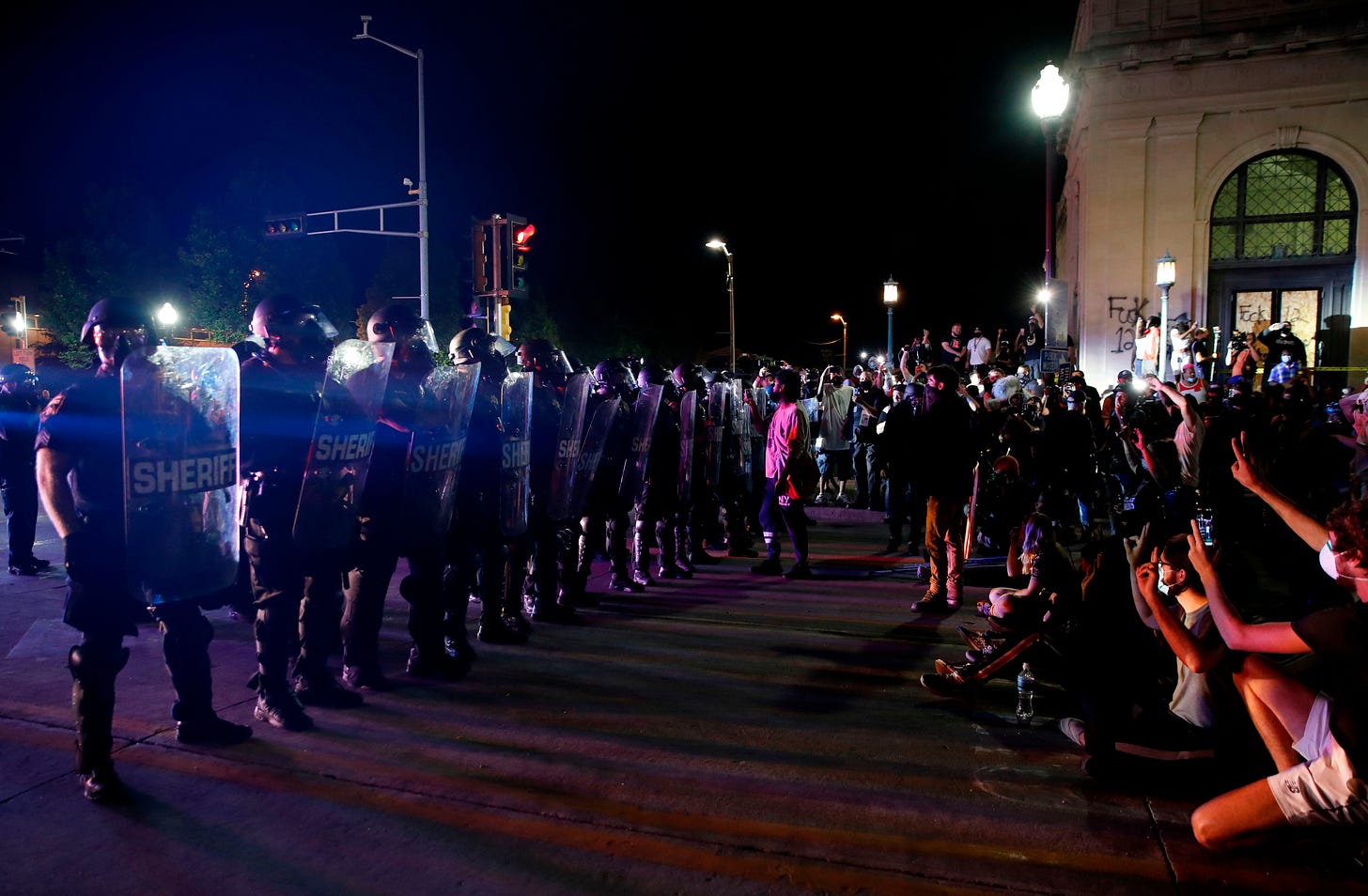 Back when protests first sprang up in response to George Floyd's death, I was actually a little optimistic. Let me explain. Even as riots and looting took place in Minneapolis and other large cities, peaceful demonstrations and marches were taking place in small towns and quiet suburbs all over the country. 
My hometown (Alliance, Ohio) was featured in national news stories for its successful protest. Our oldest son attended a Black Lives Matter rally and march in our suburb, and we live in a county where Donald Trump got 68 percent of the vote in 2016. Not only was it peaceful, the chief of police gave a heartfelt speech to the crowd, and thanked the organizers for helping increase his awareness. More people than I can count shared Dave Chappelle's 8:46 special. Occasionally, a fruitful and respectful conversation broke out on social media. It seemed like there was a glimmer of hope not only that we could make some headway on racism in America but that maybe people weren't quite as divided as we thought.
So much for all of that. Activists took advantage of sympathetic mayors in big cities, giving us the CHAZ/CHOP in Seattle (where protesters made demands about "defunding the police" behind blockades protected by armed civilians) and more than two months of nightly violence in Portland. As mayors became nervous about deploying police to maintain the peace, violent crime has increased.
The events of the past week were like a spark hitting the embers of a dying fire. The police shooting of Jacob Blake in Kenosha, Wisconsin, prompted a whole new round of protests, though news of such happenings being peaceful are sparse. Instead, we've seen protesters badgering diners at restaurants. We've seen looters destroy businesses owned by immigrants and minorities. And, worst of all, a teenager armed with a long rifle allegedly shot three people and killed two in Kenosha.
I can't help but feel we are in a precarious place as a nation now. We were too polarized as a nation already as we headed into what was sure to be a fraught election year. The pandemic and the violence have only exacerbated that.  And it seems like we've lost the ability to make obvious, rational arguments. It should be easy to condemn violence and looting in favor of peaceful demonstrations. Instead, we have mayors and city councils goading police chiefs into resigning, and NPR featuring authors who write books literally titled, In Defense of Looting. Similarly, it should be easy to condemn  vigilantism, but instead we have people trying to make a hero out of Kyle Rittenhouse. 
Andrew Sullivan wrote about the violence this week, and cautions that the Democrats are "walking into a trap" in terms of the election. Bridget Phetasy, a writer and podcaster who describes herself as "politically homeless" and whose work I've really come to enjoy, puts it in even starker terms: "Almost everyone I know here in LA is buying a gun, stocking up on water and wondering what the aftermath of the election results will look like. If Trump wins, I reckon America will burn. If Trump loses, America will burn. Either way, I'm preparing for America to burn."
I wouldn't say that I'm not quite that pessimistic yet. But I will say that in our conversations with our kids about these matters, it's getting a little harder to say with confidence that our country is better than the current moment would indicate, or that we're strong enough to overcome these struggles.
Some weeks, I have a lot of fun writing this newsletter. You indulge my oversharing about my family with kind comments, or I figure out which of you have affinities for my favorite sports teams. This wasn't one of those weeks. Just know that we will continue to work hard to provide you with the best reporting and analysis we can on the many challenges facing our nation right now. We thank you for your support.
Reading the daily updates on coronavirus cases in the United States--more than 40,000 new cases and 1,000 deaths most days--can leave even the brightest optimist feeling glum. And we have a ways to go. But James Capretta offered up a sliver of hope this week with a look at the latest developments on the vaccine front, both in testing and development and the efforts by the world's wealthiest countries to aid those efforts and procure the billions of doses we need in hopes of establishing immunity. He walks readers through the various forms of vaccines that are being developed and which ones are in Phase II or III trials. "The rapid advancement of the most promising COVID-19 inoculations is unprecedented in medical history. It normally takes years, and often decades, to move potential vaccines from the lab to regulatory approval, but the goal in this pandemic is to do so in 12 to 18 months. That this is not unrealistic reflects the sophistication of the global biopharma research network, the scale of the investments being made by governments and private enterprises, and the urgency of the moment."
For the latest entry in our series, "The Biden Agenda," Steven F. Hayward previews how Joe Biden might approach climate change policy. First up? Throwing a lot of cash at it. "Biden's climate change plan is long on aspirations and goals, and light on details beyond offering a large spending pledge—$1.7 trillion in his first term—as his down payment," he writes. Look for tax breaks to support renewable energy efforts, rejoining the Paris Climate Accords, and a pledge for the U.S. to be carbon-free on the electric front by 2035. "It is certain to be a rent-seekers delight, and a boon to the many private partnerships that currently harvest the tax code and renewable power purchase mandates for guaranteed profits. Treating energy as a jobs program is a recipe for policy mistakes and outright failures." Please check out earlier "Biden Agenda" pieces, from Scott Lincicome on trade and James C. Capretta on health care.
Protests and riots have become commonplace in Madison, Wisconsin, since George Floyd's death in May. The shooting of Jacob Blake in Kenosha caused an escalation in violent riots and looting this week in the state capitol. Christian Schneider reports:  "With fires raging and broken glass littering the ground, officers in riot gear finally appeared at 1:20 a.m., late enough to allow those who smashed windows and started fires to vanish. With officers on horses and in squad cars, they eventually pushed everyone back to the Capitol where a number of arrests were reportedly made."
For months, conventional wisdom has been that the U.S. needs to ramp up testing to better fight the coronavirus pandemic. So it was disconcerting enough when the CDC quietly released new guidelines suggesting that people who had potentially been exposed to a COVID patient but showed no systems didn't need to be tested. And then Dr. Anthony Fauci revealed he had been in surgery— and under general anesthesia—when the decision was made. Throw in the fact that President Trump has repeatedly complained that we are testing too much, and the spidey senses of experts started tingling. "As more information has come out about the CDC decision, it seems like a decision that was highly conflicted," said Dr. Meredith Matone. And, ""I see absolutely no public health case that can be made for this decision," said Dr. Megan Ranney.
And the best of the rest: