Experts Question CDC's New COVID Testing Guidance
The push for fewer tests runs counter to all available science.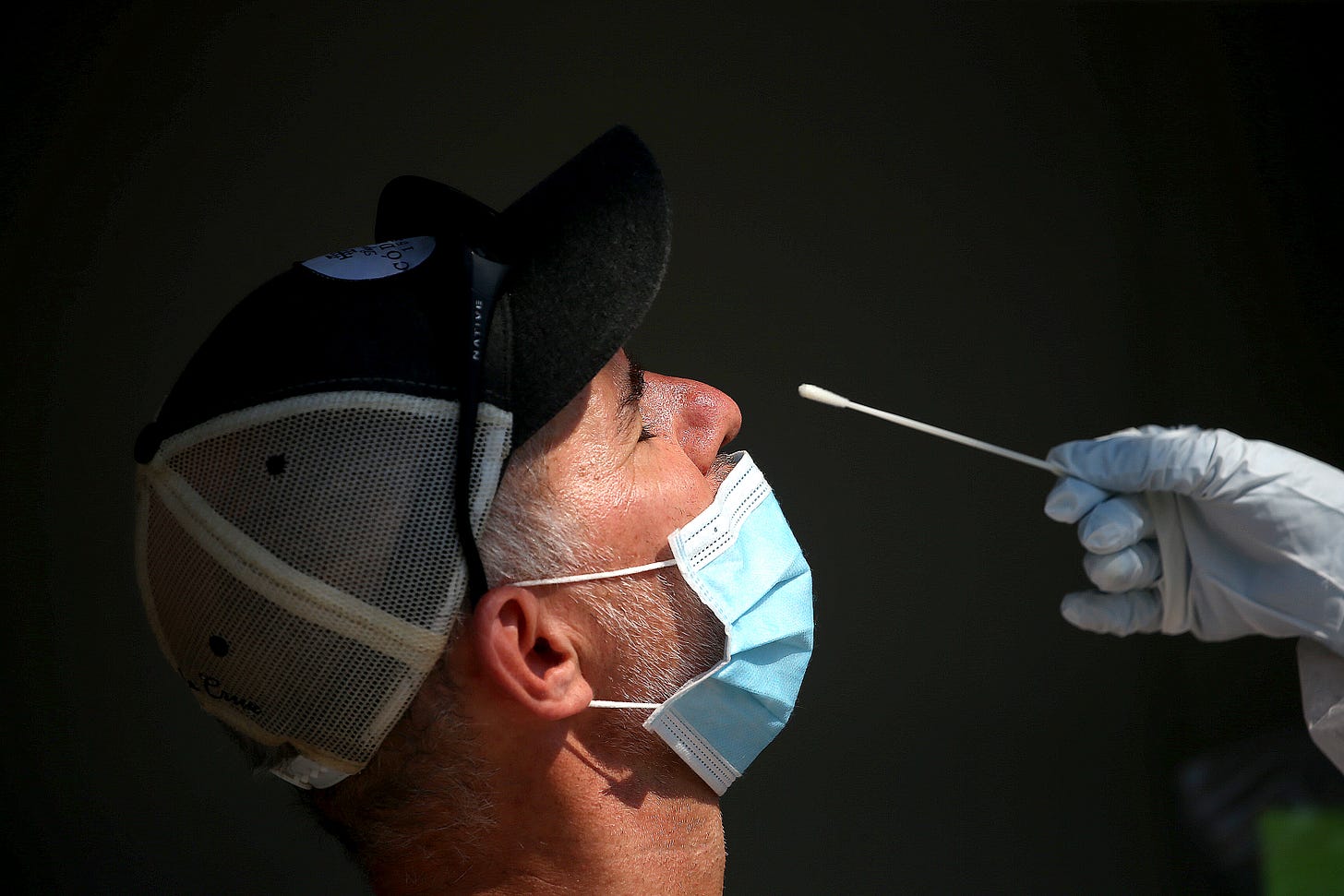 Even in a week stuffed with eye-popping headlines, one piece of news out of the Centers for Disease Control was enough to turn heads: The federal body overseeing the pandemic had quietly changed its guidelines on who ought to receive a coronavirus test. Formerly, the CDC had recommended that anyone who had come into contact with a confirmed carrier be tested as quickly as possible. The simple reason was that people infected with COVID tend to become contagious some time before they begin to show symptoms.
The new guidance, however, flips that on its head: If you aren't showing symptoms, the CDC now says, and aren't personally in a high-risk group yourself, there's no need to get a test.
What accounts for this change? Several outlets—citing anonymous sources—reported Wednesday that the change had been decreed to the CDC by the White House, a claim buttressed by the fact that President Trump has repeatedly griped that he thinks the U.S. is testing too many people for coronavirus.
Making things weirder, Dr. Anthony Fauci, the nation's top epidemiologist, has criticized the change and said that the CDC made the decision while he was undergoing surgery and anesthetized. 
"I was under general anesthesia in the operating room and was not part of any discussion or deliberation regarding the new testing recommendations," Fauci told CNN, adding he was worried the change would "give people the incorrect assumption that asymptomatic spread is not of great concern. It is." 
The administration denies pressuring its scientists, however. Trump's testing czar, Adm. Brett Giroir, told reporters that "the new guidelines are a CDC action." 
"As always," Giroir said, "the guidelines received appropriate attention, consultation, and input from task force experts. And I mean the medical and scientific experts, including CDC Director Redfield."
Anonymous sources dishing on internal White House affairs are, of course, a general scourge of Trump-era journalism; stories that rely too heavily on them should generally be taken with a grain of salt. But Giroir's story supposes there must be a scientific reason why the CDC would make such a change. Is there? Well.
"It is infuriating. I don't understand why they are doing this," Dr. Howard Forman, a radiologist and health policy professor at Yale, told The Dispatch. "The White House, major sports teams, all universities are apparently doing something wrong [if this guidance is wise], since their policies are in opposition to this."
"As more information has come out about the CDC decision, it seems like a decision that was highly conflicted," said Dr. Meredith Matone, scientific director for PolicyLab at the Children's Hospital of Philadelphia. "From a public health perspective, this decision is unwise and it is hard to understand the motivation."
"I see absolutely no public health case that can be made for this decision," said Dr. Megan Ranney, an emergency physician and professor at Brown University. "There is ample evidence that asymptomatic and presymptomatic spread can happen. I wish I had a more charitable interpretation."
On a press call with reporters Wednesday, Giroir characterized the change as designed to empower local health officials and clinicians to make their own decisions. But the guidelines in question don't tie doctors' hands one way or another—they're simply the federal government's attempt to provide the best available guidance to help patients and doctors make informed decisions about their health. How making that guidance actively worse helps them make those decisions is a question Giroir did not address.
The one conceivable situation in which the government might justifiably argue that fewer people should get tested for the virus would be if our testing capacity had grown so squeezed that the most important people to test—workers and patients at hospitals, residents at nursing homes—were unable to get tested.
But this isn't the case—and moreover, it's getting to be less and less the case every day. The enormous wave of new COVID infections that battered the nation all summer did stretch our testing capacity, but that wave peaked in late July and has been slowing ever since. We've been running fewer tests, not because of a new artificial barrier to testing, but because it seems fewer people are coming in contact with the virus than at this time last month. At the same time, both of the major testing labs handling U.S. COVID tests, LabCorp and Quest Diagnostics, continue to steadily scale up their testing capacity, as they have since the pandemic began.
A spokesperson for LabCorp told The Dispatch this week that, after some backlog issues in July, they're back to processing test results within one to two days. 
Further, she said, "we continue to prioritize testing for hospitalized patients and for residents and staff from nursing homes in 'hot spot' states. All other testing for patients is performed in the order in which it is received."
Not only is the White House pushing for fewer people to get tested, then, in defiance of all available science, they're also doing so at exactly the worst moment for such a switch, just as testing apparatus has caught up to the virus again and is back to doing its job of revealing new carriers as speedily as possible.
So why now? It's impossible to say for sure. But it's hard not to look at such a change and see the latest consequence of the president's magical thinking that the pandemic is over, simply because he wishes it to be so.
Earlier this week, Trump's chief economic adviser Larry Kudlow gave a speech to the Republican National Convention in which he referred to the virus exclusively in the past tense. "It was awful," he said of the pandemic. "Health and economic impacts were tragic. Hardship and heartbreak were everywhere."
Two nights later, for President Trump's speech accepting his renomination, GOP luminaries were packed into the Rose Garden to provide him the applauding, cheering crowd he wanted. A handful of masks dotted the crowd. 
Photograph by Barry Chin/Boston Globe/Getty Images.