The Morning Dispatch: Meet the People Keeping the Election Shipshape
We spoke to dozens of state election officials to get their sense of how this unprecedented election will go.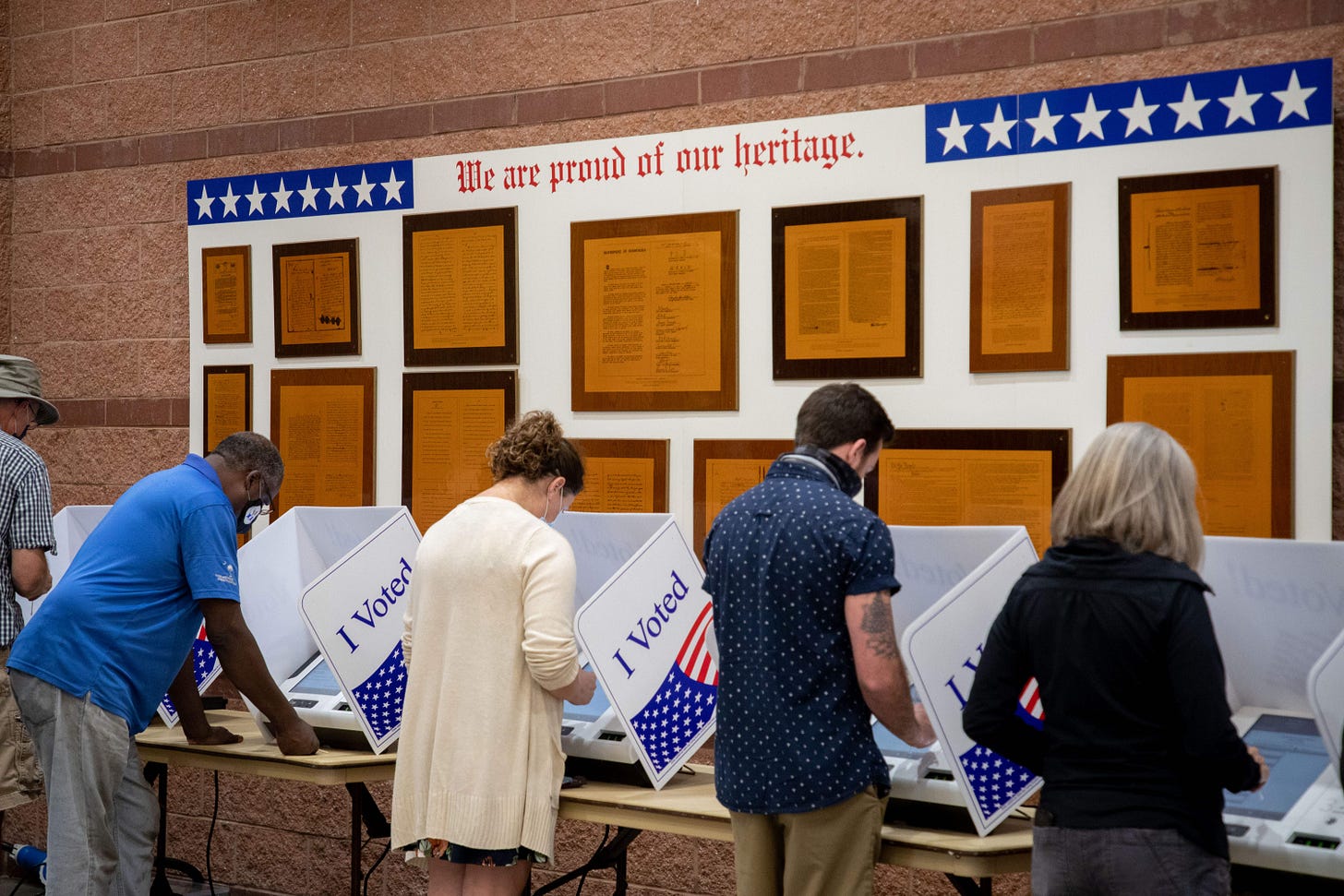 Happy Monday! We hope you enjoyed that extra hour of sleep Saturday night. You'll need it this week.
Quick Hits: Today's Top Stories


Meet the People Overseeing This Week's Elections
The 2020 election has been underway for about a month and a half now—early voting in states like Michigan, Virginia, Wyoming, South Dakota, and Minnesota began in late September—but all ballots must be cast (or postmarked) by tomorrow. Since the onset of the coronavirus pandemic in March, experts have cautioned that voting will look a little different this year, and indeed it has.
Around the country, state election officials and legislatures have amended their voter registration deadlines, and—to protect voters from crowded polling places on Election Day—expanded access to early, absentee, and mail-in balloting. The CARES Act appropriated hundreds of millions of dollars toward helping states and localities prepare to hold elections amid a pandemic. Dozens upon dozens of lawsuits have challenged—or sought to clarify—these changes, and countless entities have combined to launch the most comprehensive voter education effort in American history.
The result? Voter enthusiasm that appears on pace to smash 2016's record raw-vote total. An astounding 93 million votes have already been cast according to the U.S. Elections Project—nearly 68 percent of the total votes counted in 2016—with Election Day itself still to come. Battleground states Florida, Georgia, and North Carolina are close to matching their vote totals from four years ago, and Texas has already surpassed its 2016 tally.
But these changes didn't come unopposed. President Trump has railed against mail-in voting for months, referring to it as the "rigged ballot scam" and trashing the entire election as "rigged." "I think it's a terrible thing when people or states are allowed to tabulate ballots for a long period of time after the election is over," Trump said Sunday. "I think it's terrible when we can't know the results of an election the night of the election in a modern-day age of computers." (In reality, official ballot tabulation is always a multi-day process, although media organizations can typically use partial counts to project the eventual winner before that process is completed.) Combined with foreign adversaries determined to sow disinformation, the next several days will prove a real test for our electoral system, and voters' faith in it.
Nate Persily, the co-director of the Stanford Cyber Policy Center, told The Dispatch back in August the best remedy for this dishonesty and distortion is to "flood the zone of disinformation with real information."
To that end, we've spent the last several months going straight to the source of real information about the electoral process: Secretaries of state, lieutenant governors, election commissions, and county commissioners. All told, we've talked to officials in dozens of states, asking them a set list of questions about coronavirus safety, mail-in voting, the timing of results, election security, and their confidence in the systems they have built. We encourage you to read the full piece to get a sense of how different states have approached these challenges, but here are some snippets from our interviews—which were conducted from early September to the last week of October, and have been edited for length and clarity.
What changes has your state made to prepare to hold an election during a pandemic?
North Carolina State Board of Elections Executive Director Karen Brinson Bell: Through the spring, we worked with legislators and made a series of recommendations that became part of a bipartisan bill in June that reduced the required number of witnesses. We had previously required two witnesses in North Carolina, and they reduced it to one. We changed our absentee materials to align with that. We had actually started on a new look for our absentee by-mail return envelopes to be more user-friendly anyway, working with the Center for Civic Design. We launched our Democracy Heroes campaign in June. That was just an effort to solicit help from people, because many of our veteran workers were not going to be able to serve because they were in a vulnerable population. We knew that we would need 25,000 to 30,000 people across the state to work, not just because of the presidential election, but obviously because of COVID. We are over 50,000 people who completed that interest survey. Not only do we have the workers that we need, but we also have reserves. We launched an online absentee request portal, so for the first time, North Carolinians could make that request online and provide an online signature.
What steps have you taken to ensure citizens in your state will be able to vote by mail securely and easily?
Wisconsin Election Commission Public Information Officer Reid Magney: We integrated intelligent mail barcodes (IMB) into the system. So when the clerk is printing a mailing label, the IMB goes right on there. And that allows us then to essentially watch batches of mail move through the system. So if a tub of absentee ballots gets left in a corner in a post office somewhere, and doesn't move for a couple of days, we know. And so then we get to tell the clerk, "Hey clerk, the ballots that you sent out on this day, or at least a certain portion of them, aren't going anywhere. These are the voters who they were intended for. You need to be figuring out what's going on, contact these voters, see if they got their ballots. If not, issue them replacements." Because of the IMBs, we were able to give voters that information too, on our website, which is myvote.wi.gov. I don't normally order pizza online, but I've been told it reminds people of the Domino's delivery tracker. You can see where your ballot is in the processing. You can see the estimated delivery time.
Absentee ballots are invalidated at much higher rates than in-person votes. Is that something you're concerned about? And if so, what steps are you taking to mitigate the effects of this phenomenon?
Kentucky Secretary of State Michael Adams (R): We actually had a lower proportion of absentee ballots being voided in our primary election this year than we had in the last election in 2018, even though we had a much higher proportion of voters voting absentee. We engaged in an information campaign through social media and otherwise to inform voters of how to avoid common mistakes that they make that would get a ballot invalidated. Voters make mistakes all the time, and make them in person too. But when they're voting in person, they can spot that error and get a fresh ballot from the poll worker and they can void the prior ballot. It's hard to do if they're voting absentee: They don't have the use of a poll worker. So in the primary, we allowed for a cure process for voters. If their signatures didn't match, we enabled them to have a process to verify their signature after the fact. We look at it and make sure that they're not false voters. We expanded that cure process for the general election. It's not just signature issues that will trigger a cure option. It's also people making other mistakes that they make, like not sealing their ballot envelope, or failing to sign at all.
The final vote tally in an election is never fully certified on Election Night itself, but there are additional concerns this year that winners may not be known for days, or even weeks. When do you expect to know the outcome of elections in your state with some degree of certainty?
Minnesota Secretary of State Steve Simon (D): For the first time ever, our office is going to post and make available data on outstanding absentee ballots by Minnesota state house district. We wanted to get more granular than state, county, congressional district, so we went down to the house district. And so you'll know on Election Night, Candidate A is ahead of Candidate B in a house district, let's say by 500 votes. And you'll also know, "Hey, there are 300 votes outstanding. We don't know when they're going to come in the next week, or if, but the most that could come in is 300." And you and your colleagues will be able to make calls based on that information. So that's why I think we'll know winners and outcomes earlier rather than later. If not on Election Night, then shortly thereafter.
Have you seen any evidence in your state of attempted interference in voting systems—foreign or domestic?
Nebraska Secretary of State Robert Evnen (R): The place where I'm most concerned about foreign actors interfering in our elections is in a campaign of disinformation, directed to two objectives. One is to create mistrust in our systems of government for elections. And the second is to drive a wedge between us. The idea of robust debate in our country is fundamental. But the problem we're having now is that we're not just debating each other, we're hating each other. And foreign actors like to drive wedges that will increase our dislike for each other. There's also a campaign to try to create mistrust in the election process. My message to voters is: Go to your trusted sources and ask them your questions.
What security systems does your state have in place to protect against any meddling with the actual vote count?
Ohio Secretary of State Frank LaRose (R): The idea that some foreign actor can tamper with a voting machine and that that would go undetected is far-fetched to the extent of being nearly ridiculous. The voting machines in Ohio are never connected to the internet. They're kept in a vault at the board of elections or a secure room where they're under double lock and key: The Republicans have one key, the Democrats have another key. I always joke, it's like those submarine movies from the '80s where it takes two keys to launch the torpedo. It takes the Republican key and the Democratic key to get into the room. The machines are tested and certified at both the state and federal level before they were ever purchased. Of course, they've got seals and tamper evidence devices on them, so that you can tell if they have been messed with. If somebody were to take a screwdriver and crack open a machine, we would know about it, the board of elections would know about it. And then after the election, we do a full post-election audit because in Ohio, every vote has a hard copy paper trail that goes with it. And so you can compare the paper results to the electronic results.
Do you feel confident that the results tabulated in November in your state will be fair and accurate?
Iowa Secretary of State Paul Pate (R): Most certainly. Unequivocally. We've put so much into this. We do a lot of elections in our state every year. This just happens to be the biggest one. And we learn from each one of those to improve the process. And we learned a lot in the primary: How to deal with COVID and how to deal with civil unrest, hot topics. For the last four years, we've been dealing with cybersecurity, the bad actors. So all of those lessons, and the knowledge we've gained, is there for us to draw on, to make sure that we're successful on the third of November.
Is there anything you could see next week that would cause you to lose that confidence?
Michigan Secretary of State Jocelyn Benson (D): No, because I'm fully confident in the strength of the infrastructure that we've built. The biggest variable and uncertainty is misinformation and the pervasive attempts to try to diminish the truth. We've been successful so far, as I mentioned, it's reflected in the number of the people voting, at pushing back against disinformation and frankly investigating anything that rises to illegality in partnership with the Attorney General. So we're on it, is the bottom line. And because of that, I'm confident that we'll be able to ensure voters not only can have faith that our system is secure and accessible, but that efforts to undermine that faith will be unsuccessful.
Worth Your Time
In his latest for Politico, chief political correspondent Tim Alberta chats with key voters in battleground states to dig into the country's shockingly low confidence in the electoral process this cycle. It stems, he contends, from President Trump's relentless rhetoric about a "rigged" election and widespread voter fraud. "Despite incredible advances in technology that have afforded voters more security and more transparency than ever before, a rising tide of distrust has swamped an institution that has kept our democracy afloat for a couple of centuries," Alberta writes. "Trump's agenda is not to fix our electoral problems; Trump's agenda is to scare away enough voters to win or sow enough doubt in the minds of those who do vote to preemptively justify a loss."

Is Rep. Liz Cheney the Republican party's "last gasp of its Bush-Cheney past," or the face of its path forward for a post-Trump GOP? Alex Thompson charts Cheney's path to political prominence—and aspirations to become the first Republican woman House Speaker—in a comprehensive profile. Cheney's adherence to her father's "unapologetically muscular foreign policy" and backing from prominent Trump skeptics make her a breath of fresh air for conservatives disillusioned by Trumpian nationalism, despite her public support for many of the president's policy decisions.
Presented Without Comment
Also Presented Without Comment
Also Also Presented Without Comment
Toeing the Company Line
Jonah pubbed his last G-File before the election on Friday, and you'll want to make sure you've read it before tomorrow: He hits the rank punditry—hard. Trump "couldn't define or explain a second-term agenda that people could vote for," Jonah argues. "My own theory is that plenty of folks tried to design a second-term agenda for him, but he resisted it because he couldn't stomach the idea that people needed more reason to vote for him other than his Magnificent Himness." He expands on this piece—and more—in Saturday's episode of The Ruminant.

"The longer I live, the more I realize that we simply don't know who we truly are until we're tested," writes David in this Sunday's French Press. "We can vocalize our beliefs all day long, but when living those beliefs is hard—when upholding our principles carries a cost—that's when we learn what we truly value." The past four years have tested America in innumerable ways, breaking and dividing us in the process. Some people–who David calls "the remnant"—have weathered the storm, showing immense courage and integrity during the darkest of times. "But the critical truth is that a nation or a church heals not through the virtue of that remnant, as admirable as it may be," David writes. "The remnant might represent a foundation, but the repentant truly powered the church. That's how our church heals. That's how our nation heals. Not so much by exalting the righteous and giving them their due, but by embracing the repentant and forgiving them with joy."

What do Republican lawmakers want the GOP to look like in a post-Trump era? "There's a great fear of one scenario which is that Donald Trump loses in a race that is extremely tight," Axios reporter Jonathan Swan tells Sarah and Steve on Friday's episode of the Dispatch Podcast. "In that scenario, it would be much more difficult for elected Republicans to disown Trumpism and make the case that this was an aberrant cancer that needs to be excised." Tune in for a discussion of the GOP's spending problem, the state of the polling industry, and what will have happened if Trump wins tomorrow.
Let Us Know
Last chance for election predictions; let's get 'em all out there. Who wins the presidency (and with how many electoral votes), when is the race called, does the loser concede, and which state puts the winner over the top? Which Senate incumbents lose, and which party will control Congress' upper chamber come January? Anyone who guesses the exact Electoral College vote—whenever it is finalized—will get a shoutout in the next day's TMD.
Reporting by Declan Garvey (@declanpgarvey), Andrew Egger (@EggerDC), Audrey Fahlberg (@FahlOutBerg), Charlotte Lawson (@charlotteUVA), James P. Sutton (@jamespsuttonsf), and Steve Hayes (@stephenfhayes).
Photo by Logan Cyrus/AFP via Getty Images.
Correction, November 2, 2020: The number of Americans hospitalized with COVID-19 has been corrected.