Israeli Intelligence Failed, But So Did Hamas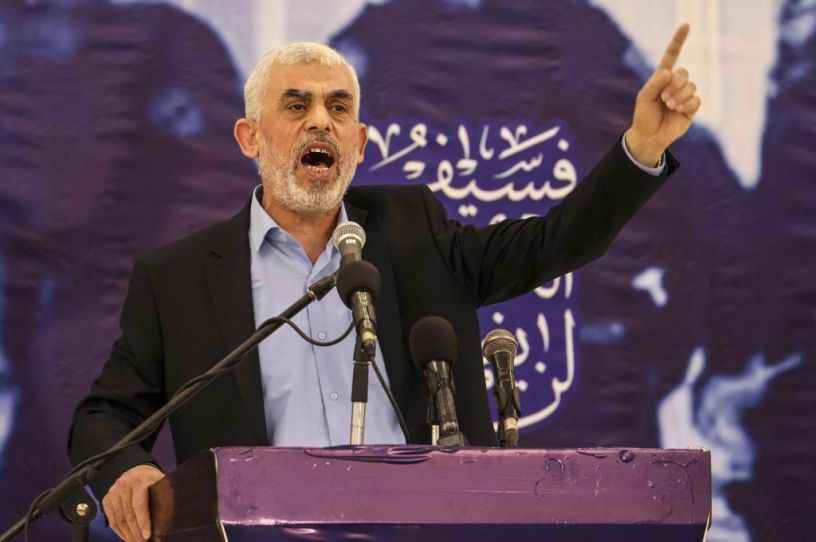 Head of the political wing of the Palestinian Hamas movement in the Gaza Strip Yahya Sinwar speaks during a meeting in Gaza City on April 30, 2022. (Photo by MAHMUD HAMS/AFP via Getty Images)
It's now clear that a rare Israeli intelligence failure enabled the Palestinian terrorist group Hamas to overrun the border and carry out the coordinated and bloody assault that claimed more than 1,300 Israeli lives and rocked the country to its core.
For more than a year, the Israeli intelligence services—the Mossad (foreign intelligence), the Shin Bet (domestic intelligence), and Aman (military intelligence)—were operating on the faulty assumption that Hamas no longer wished to invite painful wars upon the beleaguered population of Gaza. They believed Hamas was content to export violence to the West Bank, where political rivals in the Palestinian Authority cling to power and where the Israel Defense Forces (IDF) had been struggling to contain unrest that has been steadily building since March 2022.
The logic was hard to argue with. And the conventional wisdom was buttressed by intelligence assessments that Gaza-based Hamas leader Yahya Sinwar was looking for a modus vivendi with Israel that would enable him to provide more services to the exhausted and impoverished people of Gaza.
It was all wrong. Not unlike the "concept" that in 1973 had convinced Israeli leaders and intelligence professionals that the surrounding Arab states were deterred from attacking Israel, the government of Benjamin Netanyahu and the Israeli security apparatus fell prey on October 7 to a similar brand of groupthink with horrific consequences. And not unlike the soul-searching that followed the 1973 war, the government of Israel will without a doubt establish a commission of inquiry to explore the errors in the lead-up to the Hamas assault. This is serious business in a tiny and embattled country where the margin for error—if it exists at all—is razor thin.
You're out of free articles
Create an account to unlock 1 more articles