Our Best Stuff on Hunter's Indictment and Romney's Retirement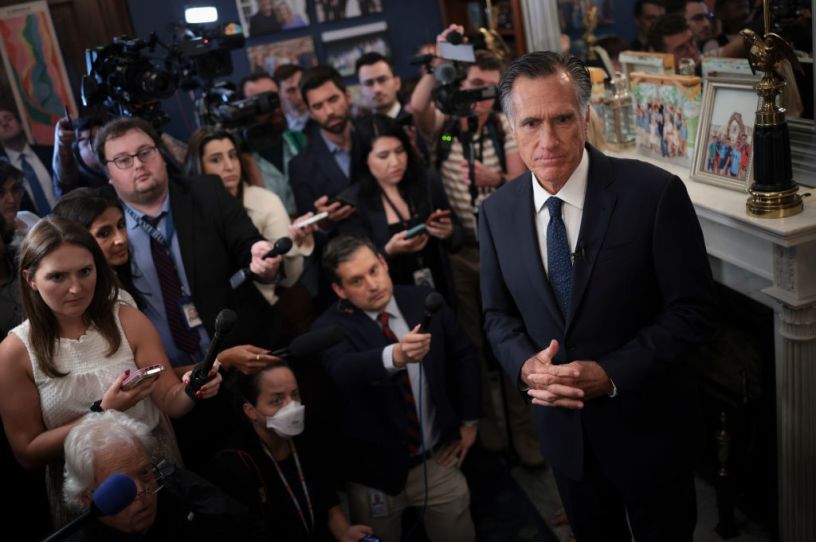 Sen. Mitt Romney answers questions in his office after announcing he will not seek re-election on September 13, 2023 in Washington, D.C. (Photo by Win McNamee/Getty Images)
Hello and happy Sunday! I hope you're lucky enough to be enjoying the crisp air and cooler temperatures of late summer. In the Ohio bureau we've got the A/C off and the windows open, and it's delightful. The transition from summer to fall is one of my favorite times of year: The heat dissipates but the sun is shining, we don't have to yell at the kids to mow the lawn quite so often, and I get to watch a lot of football.
Not all transitions are so welcome—political transitions in particular. I've been thinking about that a lot since Mitt Romney announced Wednesday he would not seek reelection to the Senate in 2024. We've seen more than a few Republicans with integrity depart Congress in recent years—either retiring or losing primary elections to Trump-aligned candidates—but Romney's decision to step away hits harder than most. If this marks the end of his political career, his legacy may well be that he was the right man at the wrong time—twice.
He had the misfortune of earning the Republican nomination in 2012, running against an incumbent president with a loyal base and plenty of support from the mainstream media. Remember when he said that Russia was our biggest geopolitical threat and President Barack Obama said, "The 1980s are calling to ask for their foreign policy back"? And when the New York Times editorial board wrote that, "His comments display either a shocking lack of knowledge about international affairs or just craven politics. Either way, they are reckless and unworthy of a major presidential contender"? I do.
Romney didn't need to run for the Senate in 2018—he could have easily stayed out of the spotlight and enjoyed time with his grandchildren. But he surveyed the landscape and realized that someone had to speak out against Donald Trump—and that he was uniquely suited to do so. And so he ran.
You're out of free articles
Create an account to unlock 1 more articles