Israel's Multifront War on Terror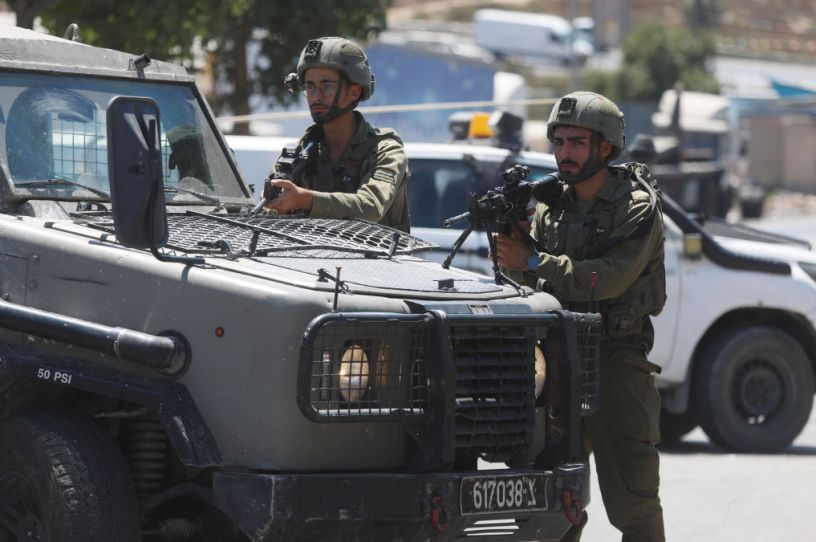 Israeli forces man a checkpoint after killing a Palestinian who allegedly attempted to run over Israeli troops in Hebron, West Bank, on August 30, 2023. (Photo by Mamoun Wazwaz/Anadolu Agency via Getty Images)
TEL AVIV, Israel—The Biden administration officially notified Congress Monday of its controversial plans—which came to light last month—to allow the release of $6 billion in frozen Iranian funds and release several Iranian citizens held in the U.S., all in exchange for the Islamic Republic's release of five Americans detained there. Meanwhile, the administration continues its behind-the-scenes negotiations to scale back Iran's nuclear program.
But some warn that policies like those seem only to undercut the United States' most important ally in the region—Israel—even as Iran's network of terrorist proxies are openly coordinating offensives against it on multiple fronts.
"The U.S. policy right now is undermining Israel's counterterrorism response by strengthening Iran's hand while disconnecting Iran's sponsorship of terrorism from its nuclear activities," Richard Goldberg, a former National Security Council official and senior adviser at the Foundation for Defense of Democracies, tells The Dispatch.
Israel plans to step up its counterterrorism measures after the heads of the terrorist web's heavy hitters—Lebanese Hezbollah head Hassan Nasrallah; Saleh al-Arouri, the leader of Hamas' West Bank operations; and Palestinian Islamic Jihad chief Ziyad al-Nakhalah—met earlier this month to affirm their opposition to the "Zionist" enterprise. "We are preparing for all-out war," al-Arouri told a pro-Hezbollah outlet ahead of the September 1 meeting. "Israel will suffer an unprecedented defeat."
The threat will come from multiple places—and will endanger U.S. forces.
In Iraq and Syria, Iranian-armed militants are plotting attacks against U.S. troops. Hezbollah's Nasrallah, a close ally of both Iran and the Bashar al-Assad regime, vowed last month to drive out Americans "east of the Euphrates" in reference to the some 900 U.S. military personnel currently deployed to northeast Syria to conduct counterterrorism operations against the Islamic State and other militant groups.
"The conflict there is a regional conflict and could lead to an international conflict," the Lebanese Hezbollah leader warned in an August 28 address. "If the Americans want to fight, they're welcome, and this is the real battle that will change everything."
In this theater, where American troops are most immediately at risk, Israel has been waging a yearslong "war between wars" against Iran and its allies. Just last month, suspected Israeli Air Force warplanes struck a number of military sites across the Syrian capital of Damascus, wounding at least one Syrian soldier. The aerial campaign has also been critical in taking out Iranian and Iranian-sponsored fighters and their weapons transit routes across the country.
"We must be more prepared than ever for a multifront and extensive military conflict, which will include maneuvering in close contact and with high friction with the enemy, will involve losses and casualties, and where the home front is also a front," Israeli Defense Forces chief Lt. Gen. Herzi Halevi said Monday. "We must respond to every declaration of our enemies, in words or actions, not to underestimate them, and not to exalt ourselves."
On Israel's northern border, a string of provocations by Hezbollah has raised the specter of a broader conflict with Lebanon after a 17-year-period of relative calm. After more than 30 rockets were fired from southern Lebanon and into Israel in April—an attack attributed to Hamas but very likely launched with a green light from Hezbollah—Israeli fighter jets retaliated by hitting militant targets in Lebanon and the Gaza Strip, the latter of which is under Hamas control. The cycle repeated after a cross-border rocket attack out of Lebanon in July.
Recent intelligence indicates the Islamic Republic plans to dig in even deeper. Israeli Defense Minister Yoav Gallant just revealed that Iran is building an airport in southern Lebanon—just 12 miles from the border with Israel—to fuel its terrorist activities. "In other words: The land is Lebanese, the control is Iranian, and the target is Israel," he said on Monday. "If it comes to a conflict, we will not hesitate to activate the lethal force of the IDF. Hezbollah and Lebanon will pay heavy and painful prices."
Iran's efforts to surround Israel also include the West Bank, where it's believed to be supporting various armed factions vying for influence amid 87-year-old Mahmoud Abbas' failing governance of the Palestinian National Authority. "Gaza is the center of resistance, but it is the West Bank that will bring the enemy to its knees," Iranian Supreme Leader Ali Khamenei was quoted as saying in June, adding that "good progress has been made in this region so far."
Last week, Israel's Shin Bet security service said that it had disrupted efforts by Arab-Israeli citizens, claiming to be members of Palestinian Islamic Jihad, to smuggle military-grade explosives and firearms into the West Bank by way of Jordan in August. A group calling itself the al-Ayyash Battalion—an apparent tribute to a Hamas bombmaker killed by the Israeli military—has also sought to carve out its corner of the West Bank resistance network. The militants have reportedly been behind a number of failed rocket launches targeting Israeli West Bank settlements in recent months.
"The West Bank is a priority theater for the Islamic Republic. You can tell from the supreme leader's recent remarks that he is laser-focused on developing a resistance network in the West Bank, namely through Palestinian Islamic Jihad and offshoots," Jason Brodsky, the policy director of United Against Nuclear Iran, tells The Dispatch. "They are focused on resourcing and radicalizing these elements to create a front against Israel."
It only compounds the omnipresent threat of terrorist attacks in the West Bank. Last month, a 42-year-old preschool teacher from a Jewish settlement near Hebron was shot dead by a suspected Palestinian gunman in front of her 12-year-old daughter.
"We are in the middle of a terrorist onslaught that is encouraged, guided, and funded by Iran and its proxies," Israeli Prime Minister Benjamin Netanyahu said after the attack. "A significant portion of this wave of terrorism came from external guidance." Gallant, the Israeli defense minister, likewise pinned blame for the attack on "Iranian funding, and to the proliferation of weapons" under the direction of Iran.
Such strong rhetoric from Israeli government officials indicates that the forecast for continued violence is only growing more dire, analysts say. "Clearly the intelligence picture is indicating to the Israelis that the Iranians are feeling emboldened and are preparing for potential terrorist operations," says Goldberg.
The Israeli Defense Forces (IDF) have responded to the growing threat with a series of anti-terror operations in the West Bank, including drone strikes and troop deployments. One Israeli soldier and 12 Palestinians—all militants, according to the IDF—died in a July raid at a United Nations refugee camp in Jenin that Jerusalem accused of harboring Iran-directed terrorist cells. And similar efforts have persisted throughout the summer. An army raid last week killed at least one Palestinian fighter and destroyed a stockpile of explosives.
Continued attacks on Israelis at home and abroad will be met with retaliation targeting Iran's "highest echelon," the head of Israel's intelligence agency Mossad said Sunday, a direct threat against the Iranian government itself, not just its terrorist proxies in the region. Some analysts think U.S. officials would be wise to take a similar approach to deterring Tehran, given the shared threat posed by Iran's regional and global reach—including attempts to harm Americans on U.S. soil.
"As we head to the anniversary of the 9/11 attacks, our mindset has reverted to the pre-9/11-era. Terrorist safe-havens, wherever they are, pose threats to U.S. security," Michael Rubin, a Middle East expert at the American Enterprise Institute, tells The Dispatch. "The only difference between 2001 Afghanistan and 2023 West Bank is that the latter is closer to key transport and economic infrastructure that will have direct bearing on American and European security."
"Israel is like the isolated firefighting post that can put out a wildfire before it spreads into a conflagration," he adds. "Unfortunately, Biden's team are essentially bureaucrats living in a tinderbox that questions whether Israel really needs so much water."