Hostages and a Nuclear Illusion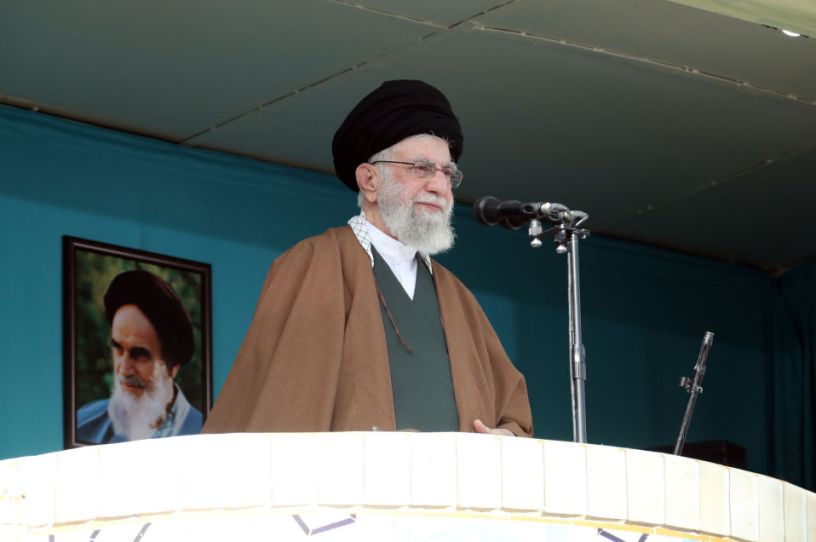 Iranian Supreme Leader Ali Khamenei leads the Eid al-Fitr prayer at Grand Mosalla Mosque of Tehran on April 22, 2023. (Photo by Iranian Leader Press Office / Handout/Anadolu Agency/Getty Images)
It's now official: The Biden administration has concluded a hostage-exchange deal with Iran in which the U.S. will get back five Americans and Iran will receive five Iranian or Iranian-American citizens held in the U.S.—assuming all these detainees want to leave jail for the Islamic Republic. Most crucially, the clerical regime also gets access to $6 billion in hard currency held in South Korean banks, which will be transferred to Qatar. Washington says the unfrozen funds can be used only for humanitarian purposes; Tehran says the cash will be unrestricted. If Qatar—which isn't known for being a rigorous fiduciary—is overseeing Iran's use of this sanctions relief, Tehran's take on the transactions will surely be closer to the truth. And Iranian President Ebrahim Raisi made clear in a recent NBC News interview that the Islamic Republic views the unfrozen funds as illegally seized and may be allocated as the government sees fit.
Although the Iranian theocracy has repeatedly used hostage-taking against the United States (the embassy takedown after the revolution and Iran-Contra have so far been the most politically consequential), this may be the first time American aspirations have little to do with what was actually traded. Even for those who don't see hostage-taking as addictive, $1.2 billion per hostage is a lot of money. The White House clearly hopes that this deal is a prelude to a new nuclear "understanding" in which the clerical regime would voluntarily restrict uranium enrichment to something less than bomb-grade in exchange for more sanctions relief.
Unfortunately for President Biden, the Iranian theocracy separates kidnapping and ransom from the nuclear issue.
The White House has stubbornly persisted in its diplomatic outreach to the Islamic Republic even after it became clear that Supreme Leader Ali Khamenei has no interest in reviving Barack Obama's nuclear accord. A sensible question lies behind the administration's diplomacy: Why hasn't the clerical regime already gone nuclear? It's a hopeful question based on the undeniable fact that Iran is a nuclear threshold state. It has a sizable stockpile of highly enriched uranium, functioning advanced centrifuges in underground sites, and engineers who've probably mastered an atomic trigger.