How Serious Is the Threat to Kevin McCarthy's Speakership?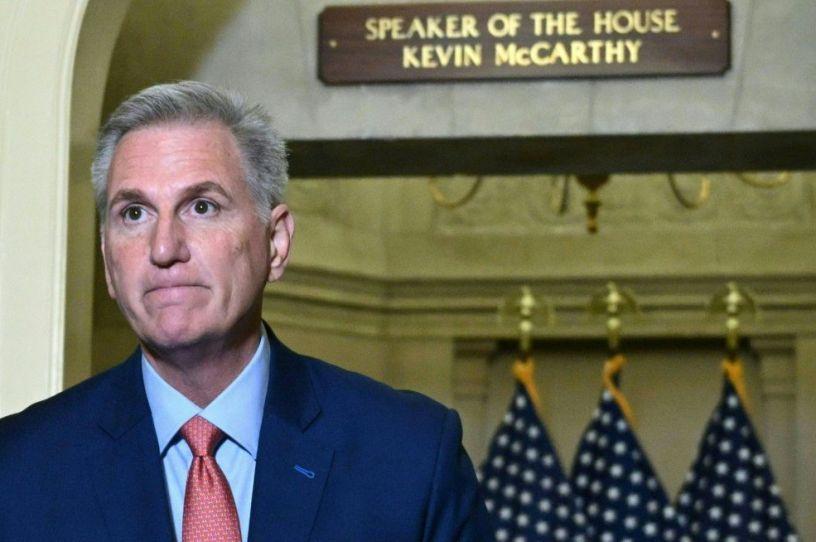 House Speaker Kevin McCarthy addresses reporters outside of his office at the U.S. Capitol on September 12, 2023. (Photo by ANDREW CABALLERO-REYNOLDS/AFP via Getty Images)
Stop us if that sounds familiar: A group of far-right House Republicans is threatening Kevin McCarthy's grip on the speaker's gavel in an effort to extract concessions.
It's happening again, this time on the House's first day back from summer recess. Nine months after his grueling fight for the role, Speaker McCarthy is now fighting back his detractors on two fronts: whether to shut down the government at the end of the month, and whether to launch an impeachment inquiry into President Joe Biden. He relented on the latter earlier today. The question now is how much power McCarthy's critics in the House Freedom Caucus (HFC) have to force the speaker to give in on their demands—and whether they can oust him from his perch if he doesn't.
Issue 1: Funding the government or shutting it down.
Now that the House is back from recess, lawmakers have only 11 working days until funding for the federal government expires on September 30—unless lawmakers can negotiate a deal before then. McCarthy needs 218 votes to pass a spending compromise, meaning he can only afford to lose four of the 222 Republican members of the House, assuming Democrats vote unanimously in opposition to the GOP plan.