Could Control of the Senate Come Down to North Carolina?
Voters in the state say they are more concerned about the political map than Cal Cunningham's sexting scandal.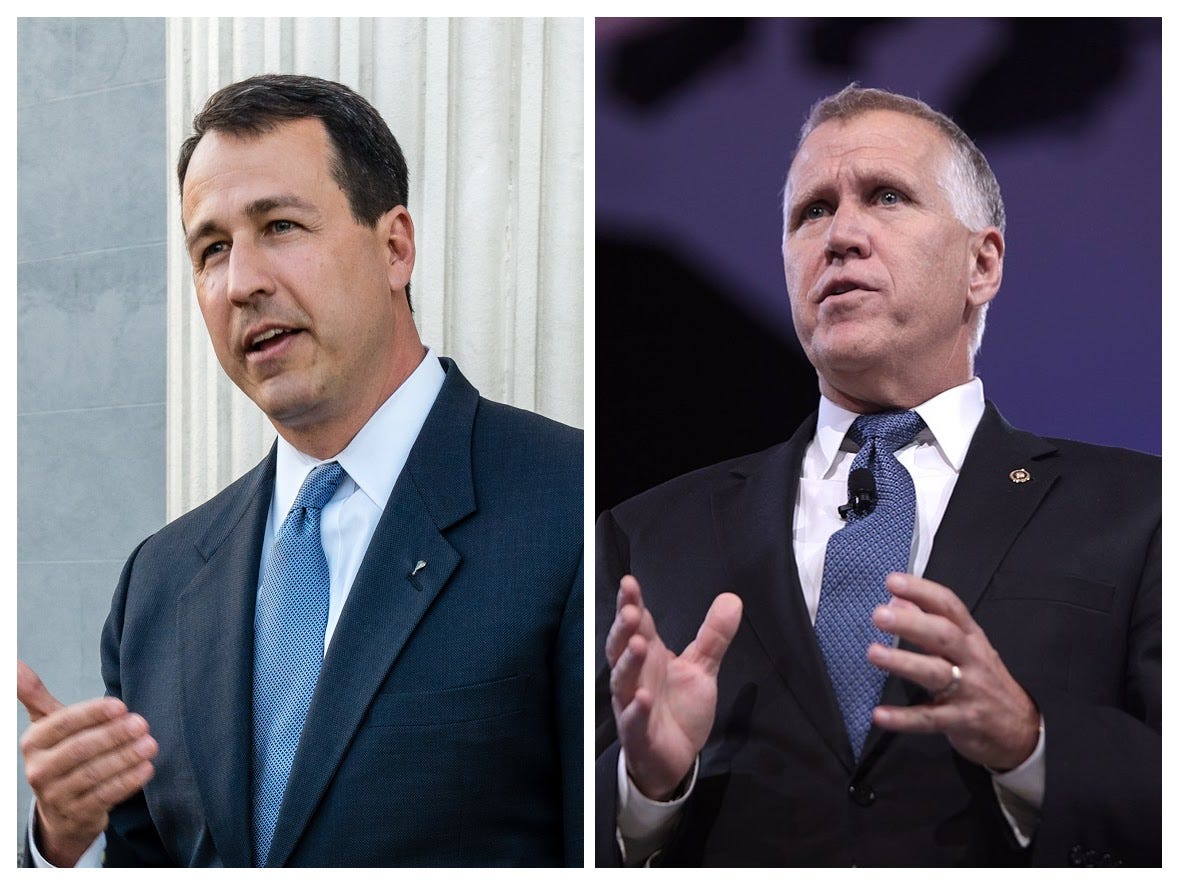 More than 3 million North Carolinians have already voted in what has become one of the most expensive, scandal-ridden Senate races of 2020: a tight matchup between first-term Republican Sen. Thom Tillis and Democratic challenger Cal Cunningham, an Army Reserve officer and former military prosecutor who served tours in Iraq and Afghanistan.
With the GOP's 53-47 Senate majority hanging by a thread—the incumbents in Maine, Arizona, and Colorado are in serious jeopardy of losing—Republicans are hoping that North Carolina will be the linchpin that prevents Democrats from winning the four seats they need to regain the Senate. (Democratic Sen. Doug Jones of Alabama is expected to lose reelection to Republican challenger Tommy Tuberville, adding a slight cushion to the Senate Republicans' fragile three-seat majority.) 
Though Trump narrowly won the state in 2016, a growing number of unaffiliated voters in North Carolina have moved the once reliably red state into purple territory: Biden is now carrying the state by 1.2 points, according to today's RealClearPolitics average. 
But the first week of October threw a wrench into Senate Democrats' plans to unseat Thom Tillis—a fairly anonymous senator who has suffered from consistently poor approval ratings since 2014—with Cal Cunningham, a moderate Democrat who has centered his campaign around health care and his military service. Just hours after Tillis told reporters he had tested positive for COVID-19 on October 2, news broke that Cunningham, a married father of two, was sending romantic text messages to a woman who is not his wife. 
Cunningham didn't waste any breath denying his affair with Arlene Guzman Todd, who is married to a combat veteran and is an Army Reserve lieutenant colonel herself. "I've taken responsibility for the hurt that I've caused in my personal life. I've apologized for it," Cunningham told reporters on Oct. 9. "I've said what I'm going to say about it." The Army Reserve is currently investigating Cunningham. Though the details surrounding the investigation remain unclear, adultery is a punishable offense under the Uniform Code of Military Justice. 
"Chuck Schumer has spent over $80 million trying to paint one picture of Cal Cunningham, but North Carolinians are now realizing it was all one big lie and that Cunningham's candidacy is riddled with hypocrisy," Tillis tweeted on October 8 alongside an attack ad.
But for some odd reason, Cunningham's scandal hasn't put much of a dent in his steady 2 point average polling lead over Tillis. FiveThirtyEight's North Carolina forecast gives Cunningham a 64 percent chance of winning the race. Both the Cook Political Report and Sabato's Crystal Ball have labeled the race a toss-up. 
Will Cunningham's infidelity be a deal-breaker for North Carolina voters? Even though nearly half of North Carolina voters live in households in which a family member has military experience—think Camp Lejeune and Fort Bragg—the electoral cost of Cunningham's affair with a military subordinate's wife doesn't seem like it will be very steep. Only 26 percent of registered voters in an Oct. 12-17 Washington Post-ABC News poll said Cunningham's extramarital affair is "extremely" or "very important" to their vote, with 41 percent of Republicans, 11 percent of Democrats, and 24 percent of independents reporting the affair as electorally significant. Surprisingly, there is no gender gap on the issue, with only 1 in 4 male and female North Carolina voters saying the affair is "very important" or "extremely important" to their vote.
"I do think maybe there is something bigger going on in a race like that [Tillis v. Cunningham], where people are kind of tired of the 'gotcha' politics and they just want to try and get past it all," GOP strategist Dave Kochel told The Dispatch. "So maybe it's just one of those things where it's not going to help Tillis or hurt Cunningham at this point because voters don't think it's important enough in the race." 
The small proportion of voters who care about Cunningham's affair pales in comparison to the 81 percent of registered voters in North Carolina—including roughly 9 in 10 Republicans and Democrats—who say that control of the Senate is "extremely" or "very" important to their vote.
President Trump's own history of sex scandals and hush money lawsuits also weakens Republicans' electoral focus on Cunningham's affair. "With who's sitting in the White House, I mean Republicans really don't have a leg to stand on" when it comes to Cunningham's affair, a national Republican strategist told The Dispatch. "When you're living in a glass house, you can't pick up a brick."
Tillis is clinging to Trump's coattails, knowing full well the electoral price that comes with distancing oneself from the president. "Thom Tillis needs every single Trump voter he can get in order to win, because if the president wins by three, Tillis needs probably 2.5 of those three in order to win," the Republican strategist said. "A strategy of distancing oneself from the president in a state like North Carolina doesn't make sense."
Tillis has always struggled to consolidate his base. "The Republican base has never fully trusted Tillis because before he was in the Senate, he used to be the speaker of the state house [in North Carolina] and he was seen as more of a business type of conservative," said J. Miles Coleman, an associate editor of Larry Sabato's Crystal Ball at the University of Virginia's Center for Politics. Tillis' approval rating fell to just 53 percent among GOP voters in the first quarter of 2019, which coincided with Tillis' decision to write a Washington Post op-ed in February of 2019 criticizing the president's national emergency declaration for the border wall—before reversing himself and backing it.
Aside from his waffling on the border wall, the North Carolina senator has largely marched in lockstep with Trump since 2017, with a 93.4 percent Trump vote score to show for it. In a nod to Trump loyalists last month, he threw his support behind Amy Coney Barrett even before Trump formally nominated her for the Supreme Court.
With North Carolina's Senate seat, gubernatorial contest, state legislature majority, and 15 Electoral College votes all up for grabs this November 3, both parties are pouring advertising money into the state this election cycle. Though Biden is slightly favored to win in North Carolina, there's a lingering hope for the GOP that a narrow Trump victory in the state could pull down-ballot Republicans like Tillis across the finish line. 
Photograph of Cal Cunningham and Thom Tillis from Wikimedia Commons.