Happy Monday, and happy birthday to President Joe Biden, who turns 81 today and breaks his own record, as he does every day, for oldest president in U.S. history. We hope it's a double-ice-cream-scoop day.
Quick Hits: Today's Top Stories
What Makes a 'Stalemate'?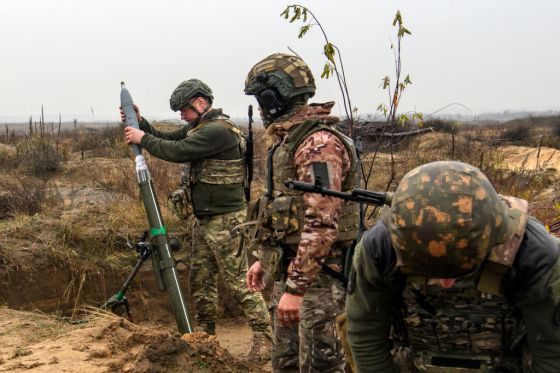 Last week, the Ukrainian military released footage of fighting around the town of Bakhmut in eastern Ukraine. The now-leveled area had been the site of one of the few Russian military successes in the spring, largely due to the efforts of mercenary Wagner forces that have more or less been disbanded. The roughly minute-long video clip showed Ukrainian soldiers in full tactical gear, moving across a burned-out landscape as machine gun fire interrupted the bright, clear day. A tree stripped of its branches smoldered from the inside, and the ground was covered in ash and craters—a literal "no man's land" between Ukrainian positions and abandoned Russian trenches. A handful of Ukrainian soldiers dove into a trench. Later during the video (several jump cuts make it difficult to tell how much time has passed) a mortar exploded ahead of them.
It's a small slice of the kind of fighting that's been happening almost every day since Russia's invasion in February 2022. Ukraine's summer counteroffensive did not achieve the significant, desired progress into Russian-occupied territory, but also wasn't without its modest Ukrainian successes. Military analysts and Ukrainian officials have been careful about labeling the conflict a "stalemate," but there's almost no question the war will be long—bringing to the fore questions about the durability of …
---
As a non-paying reader, you are receiving a truncated version of The Morning Dispatch. Our full 1,502-word story on the state of the Russia-Ukraine war is available in the members-only version of TMD.
You're out of free articles
Create an account to unlock 1 more articles