A Disappointing 'Frasier' Reboot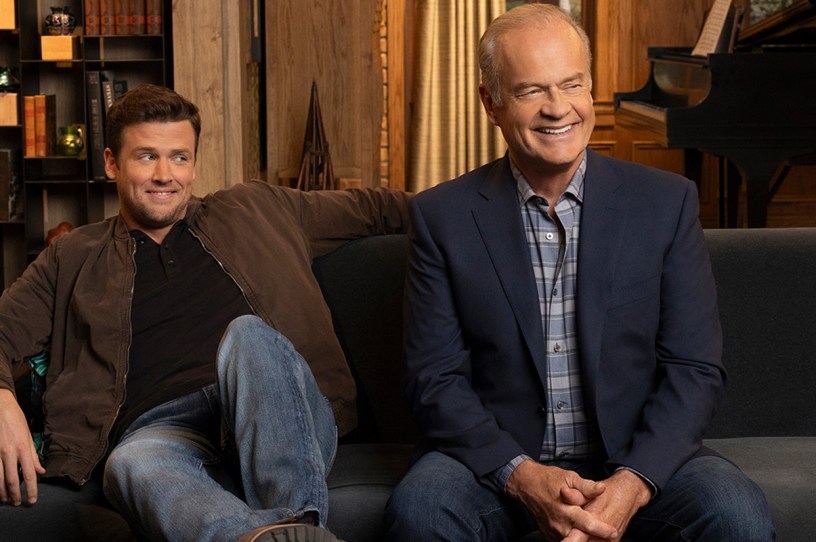 Jack Cutmore-Scott and Kelsey Grammer in 'Frasier.' (Picture via Paramount+)
It's been 30 years since Frasier premiered on NBC, but the force of time hasn't blunted its sharp wit. Even today the original series embodies live-action comedy at its televised peak. Its characters spoke in rapid repartee that offered more urbane wit than the complete Cole Porter songbook, but that sophistication was accompanied by a healthy amount of slapstick. No other sitcom could alternate between pratfalls and "O. Henry" references to the same hilarious effect, all the while maintaining a robust emotional core around its relatable characters.
Now it's 2023, and during an age in which nostalgia is Hollywood's favorite marketing tool, snobbish radio psychiatrist Dr. Frasier Crane (Kelsey Grammer) is back for another broadcast. For the most part, though, the first seven episodes of this revival could only be compared to the original if it suffered a frontal lobotomy.
A Frasier reboot never sounded particularly necessary. The original series ended with closure for all of its main characters, even if Frasier's fate was somewhat questionable. After spending the final season desperately searching for love while his father, Martin (John Mahoney, who died in 2018), and his brother, Niles (David Hyde Pierce), each found new wives, Frasier left Seattle for Chicago in pursuit of Charlotte (Laura Linney), a matchmaker who'd stolen his heart. But throughout the series, Frasier had vainly attempted to form lasting relationships with an endless parade of women, and it was never clear why Charlotte was more compatible with him than any of them.
Unfortunately, the writers of this reboot have no interest in even raising that question. In fact, they're so eager to disentangle themselves from past continuity that Charlotte's role in Frasier's life is dismissed immediately in less than a sentence. The reboot makes light references to its predecessor to earn a few cheap smiles, but otherwise there's little connection between them. Niles, Daphne (Jane Leeves), Roz (Peri Gilpin), and other primary members of the old cast are absent here, replaced by a new assortment of eccentrics who, seven episodes in, still mostly resemble walking punchlines.
You're out of free articles
Create an account to unlock 1 more articles