Is Tim Scott Running on Fumes?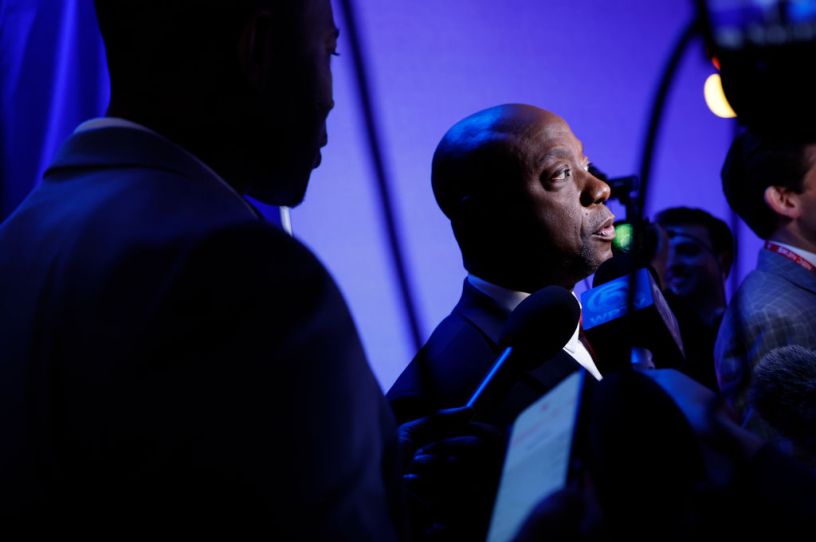 Sen. Tim Scott speaks to members of the media in the spin room following the third Republican debate on November 8, 2023, in Miami, Florida. (Photo by Anna Moneymaker/Getty Images)
Happy Friday! Are you thinking of trying to make an independent run at the presidency? Buddy, get in line.
Up to Speed
Five of the top six Republican presidential candidates took the stage in Miami Wednesday night for the third presidential primary debate of the year. With a slightly narrower field and tighter moderating, the debate was arguably cleaner and more incisive than the first two, but the basic dynamics remained the same as before. Florida Gov. Ron DeSantis argued he was the most electable guy in the race. Former South Carolina Gov. and U.N. Ambassador Nikki Haley talked about her foreign policy bona fides and tangled with entrepreneur Vivek Ramaswamy. Ramaswamy himself new found ways to make himself the evening's villain (sneering at Haley and DeSantis as "Dick Cheney in three-inch heels" and calling Ukrainian President Volodymyr Zelensky a Nazi). And South Carolina Sen. Tim Scott tried to reestablish himself as a top-flight candidate in a race where Haley and DeSantis are increasingly seen as tangling for second place.
House Republicans may have a new top dog, but they've still got the same old problems. With government funding set to expire in a week, Speaker Mike Johnson was forced to backtrack on two appropriations bills due to building opposition from caucus centrists. The bills would not have averted a shutdown alone, but Johnson had hoped to pass them as an olive branch to his party's conservative wing to keep them happy going into negotiations about yet another short-term spending package.
West Virginia Sen. Joe Manchin announced Thursday he will not run again for the seat he has held since 2010. A popular former governor, the Democrat held onto his Senate perch for two full terms as his state veered more sharply toward the GOP, but he would have faced a formidable challenger next year in the form of Gov. Jim Justice, who is running in the Republican Senate primary. Although Manchin would have been the definite underdog had he stayed in the race, his decision is an undeniable blow to Democrats' hopes of holding the 51-49 Senate.
In a video announcing his decision, Manchin said he will be "traveling the country and speaking out to see if there is an interest in creating movement to mobilize the middle and bring Americans together." The statement seemed like an apparent nod to his affiliation with No Labels, the nonpartisan group that has long plotted a centrist presidential ticket to run in the event of a Trump-Biden rematch. And a PAC affiliated with former Maryland Gov. Larry Hogan, a No Labels co-chair, released a foreign policy-focused ad this week touting Hogan's Reaganite "peace through strength" worldview, stoking new speculation that the Republican might still be eyeing a presidential bid.
And the presidential contest got yet another notable entry Thursday: Jill Stein, the doctor and climate activist whose 2016 Green Party bid attracted 1 percent support nationally and arguably helped Donald Trump inch past Hillary Clinton in key swing states that year. Stein said she would once again seek the Green Party nomination.
For Tim Scott: Iowa or Bust—Or Just Bust?
MIAMI—It's easy to identify the candidates running behind in the Republican presidential primary. They show up in the spin room post debate to chat with reporters and make the full round of interviews with television news and conservative talk radio networks. That was Tim Scott Wednesday evening.
Singling out the affable United States senator from South Carolina is unfair. Wealthy biotech entrepreneur Vivek Ramaswamy also worked the spin room aggressively, here inside the Adrienne Arsht Center for the Performing Arts overlooking Biscayne Bay, following the third televised Republican debate of the 2024 nominating contest. (And Ramaswamy was accompanied by his wife, Apoorva, who wasn't just there for moral support. She was an active surrogate, making her husband's case in multiple interviews.) He, too, is losing.
But for a contender many prominent Republicans believed held so much promise at the outset of his campaign, Scott conscientiously traversing the spin room from one interview to next offered a blunt reality check. There's a reason the senator recently scaled back the breadth of his White House bid to focus on Iowa: "Iowa or bust," he told Salem Radio's Hugh Hewitt recently. He's struggling and stuck, an asterisk in national polling and a distant fourth in the Hawkeye State.
You're out of free articles
Create an account to unlock 1 more articles