Did Trump Officials Commit Violations of the Hatch Act during the RNC? An Explainer.
How the law came to be, and why it's so difficult to enforce.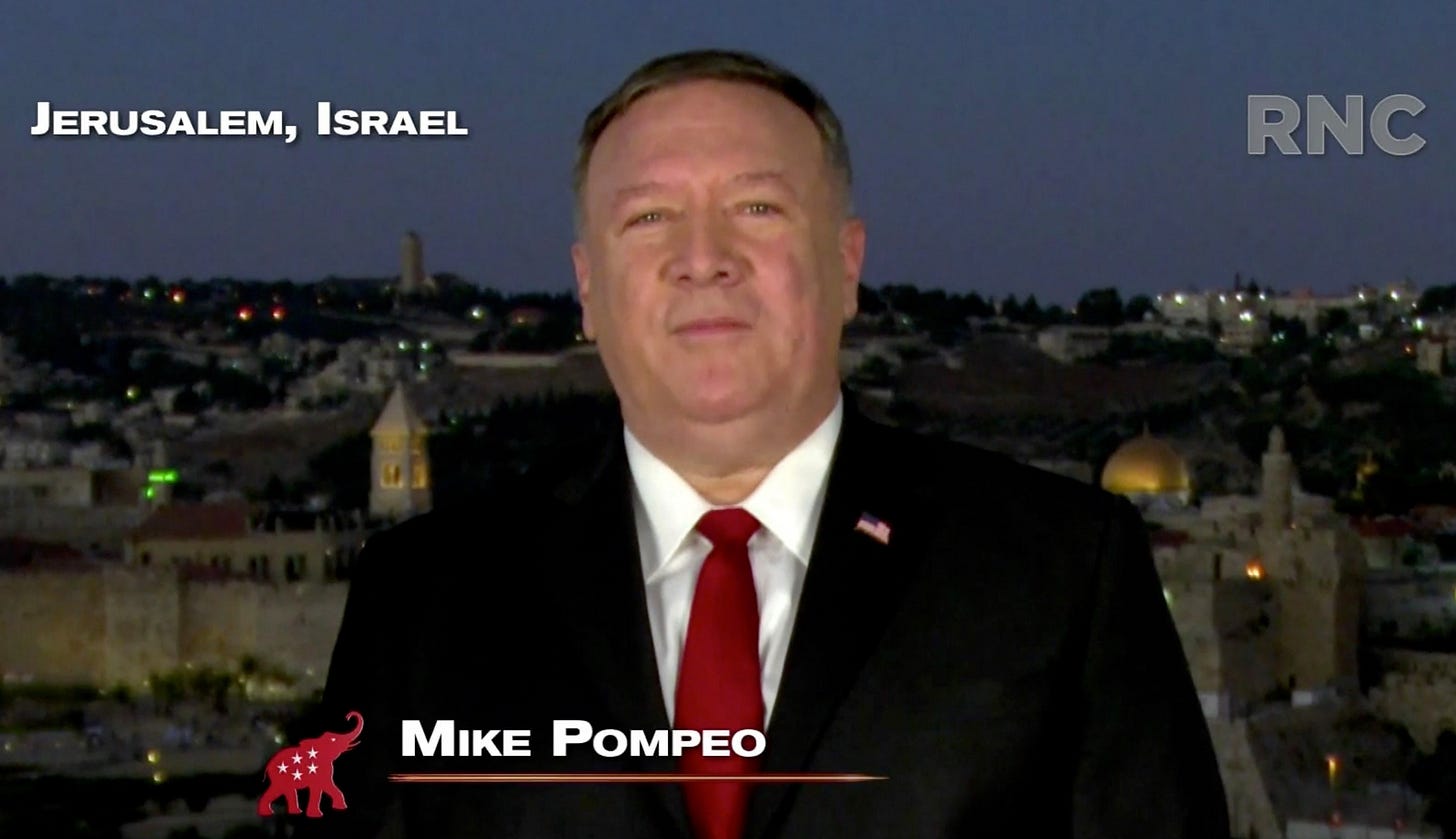 The Trump administration is facing charges of two new ethics violations as the Republican National Convention enters its final day. A speech by Secretary of State Mike Pompeo from Jerusalem and a naturalization ceremony performed by Acting Homeland Security Secretary Chad Wolf in the White House—both aired during the convention on Tuesday night—have revived calls for enforcement of the Hatch Act, a law designed to prevent federal employees acting in their official capacity from engaging in overt political activity.
How did the Hatch Act come to be? And how does it square with First Amendment speech protections? It all goes back to 1938.
As President Franklin D. Roosevelt approached his third term in office, Democratic New Mexico Sen. Carl Hatch introduced his namesake act after uncovering the substantial use of federal funds by the Works Progress Administration—a centerpiece of the New Deal—for the election of Democratic candidates in 1938. Congressional Republicans quickly took up Hatch's cause, disturbed by the seemingly unbreakable cycle of Democratic victories through the 1930s, and the bill passed in 1939 with substantial bipartisan support. 
The Supreme Court upheld the law in 1947, dismissing challenges on various constitutional grounds. And it affirmed it in United States Civil Service Commission v. National Association of Letter Carriers (1973), saying it is designed to ensure that federal service "depend upon meritorious performance rather than political service, and that the political influence of federal employees on others and on the electoral process should be limited." Citing Thomas Jefferson's concerns regarding executive overreach in political spheres, the Burger Court's decision solidified the act's limitations on federal employees—such as Cabinet members—to engage in partisan politics.
After Tuesday's convention, pundits claimed that Trump officials violated the Hatch Act in both letter and spirit. Although Pompeo refrained from using his official Sec. of State title ("I have a big job … as Susan's husband and Nick's dad," he said with a grin), he delivered an unmistakably partisan speech praising the president's many foreign policy achievements. "Delivering on [the] duty to keep us safe and our freedoms intact, this president has led bold initiatives in nearly every corner of the world," Pompeo said from Jerusalem, before outlining Trump's past and ongoing global initiatives. 
Pompeo's symbolic location in Israel's capital, while holding a high-ranking and traditionally apolitical office, has alarmed legal experts. "He was on an official diplomatic mission. He and his costs were paid by the taxpayer," Richard Painter—the chief White House ethics lawyer under President George W. Bush, who switched parties in 2018 to run for Senate in Minnesota as a Democrat—told The Dispatch. "It's very clear that he's using his official position to promote a candidate. … He used the backdrop of a city with very strong religious, cultural, and political connotations."
With the famous Western Wall behind him, Pompeo touted Trump's successful diplomatic relations with Israel—referencing the relocation of the U.S. embassy from Tel Aviv to Jerusalem and the American-brokered Israel-United Arab Emirates peace agreement. "This is a deal that our grandchildren will read about in their history books," he said. 
Democratic politicians have already stated their intentions to launch an investigation. "It's absolutely unacceptable that a sitting U.S. Secretary of State, American's top diplomat, would use official taxpayer-funded business to participate in a political party convention," wrote Texas Rep. Joaquin Castro, the chairman of the House Foreign Affairs subcommittee.
In another apparent breach of the Hatch Act, acting Homeland Security Chad Wolf appeared during the convention in a pre-recorded video of a surprise naturalization ceremony in the White House. The footage featured Wolf administering the oath of allegiance to five new citizens as President Trump looked on. "The violation of the Hatch Act is not having an official function at the White House," explained Painter. "It's having an official function, then taping it and providing preferential access to that tape of the official function to the RNC."
Mississippi Democratic Rep. Bennie Thompson, the House Homeland Security chairman, has since pushed the Office of Special Counsel, the independent body responsible for overseeing the Hatch Act, to open an ethics investigation into Wolf. "This is an unprecedented politicization of the naturalization ceremony – an official function of the Department of Homeland Security," he wrote in a letter to OSC. "Mr. Wolf's participation appears to constitute engaging in political activity while acting in an official capacity."
Personally and publicly held political convictions among Cabinet secretaries are not new—and certainly not unique to the Trump administration—as defenders of Pompeo and Wolf have pointed out. Six Cabinet members spoke during the 2012 Democratic National Convention in Charlotte, for example. Secretary of Agriculture Tom Vilsack, Secretary of Education Arne Duncan, Secretary of Health and Human Services Kathleen Sebelius, Secretary of Interior Ken Salazar, Secretary of Veterans Affairs Eric Shinseki, and Karen Mills of the U.S. Small Business Administration all delivered addresses in support of incumbent President Obama. 
"What it's really designed to do is to make sure people like myself and others do not use their political position to try to convince other employees, other federal employees that they need to vote one way, need to register one way or need to campaign in one way," White House chief of staff Mark Meadows told Politico. "Nobody outside of the Beltway really cares." 
As much attention as actions by the Trump administration have called to the Hatch Act, there are few punitive measures available to remedy the problem. Although OSC is charged with identifying Hatch Act violations, it lacks any meaningful enforcement mechanism. Painter—who filed a federal Hatch Act complaint on Wednesday—pointed to repeated infractions by other members of the Trump administration, highlighting 60 violations by White House counselor Kellyanne Conway.
And just last month, Attorney General Bill Barr faced Hatch Act complaints after he authorized force to remove protesters from Lafayette Park, clearing a path for Trump's campaign photo opportunity outside of St. John's Church. Ivanka Trump, Jared Kushner, Sarah Sanders, and Nikki Haley have also been accused of breaching the federal law.
What distinguishes the illicit intermingling of federal positions with partisan politics under the Trump administration, Painter contends, is its overwhelming regularity. "It's just part of a broader pattern of conduct, and to look at the broader pattern is critically important," he said.
Photograph courtesy of the Committee on Arrangements for the 2020 Republican National Committee via Getty Images.